Reporting from Anaheim
Gold Star father Khizr Khan, who clashed with Trump during the election, goes after him again in California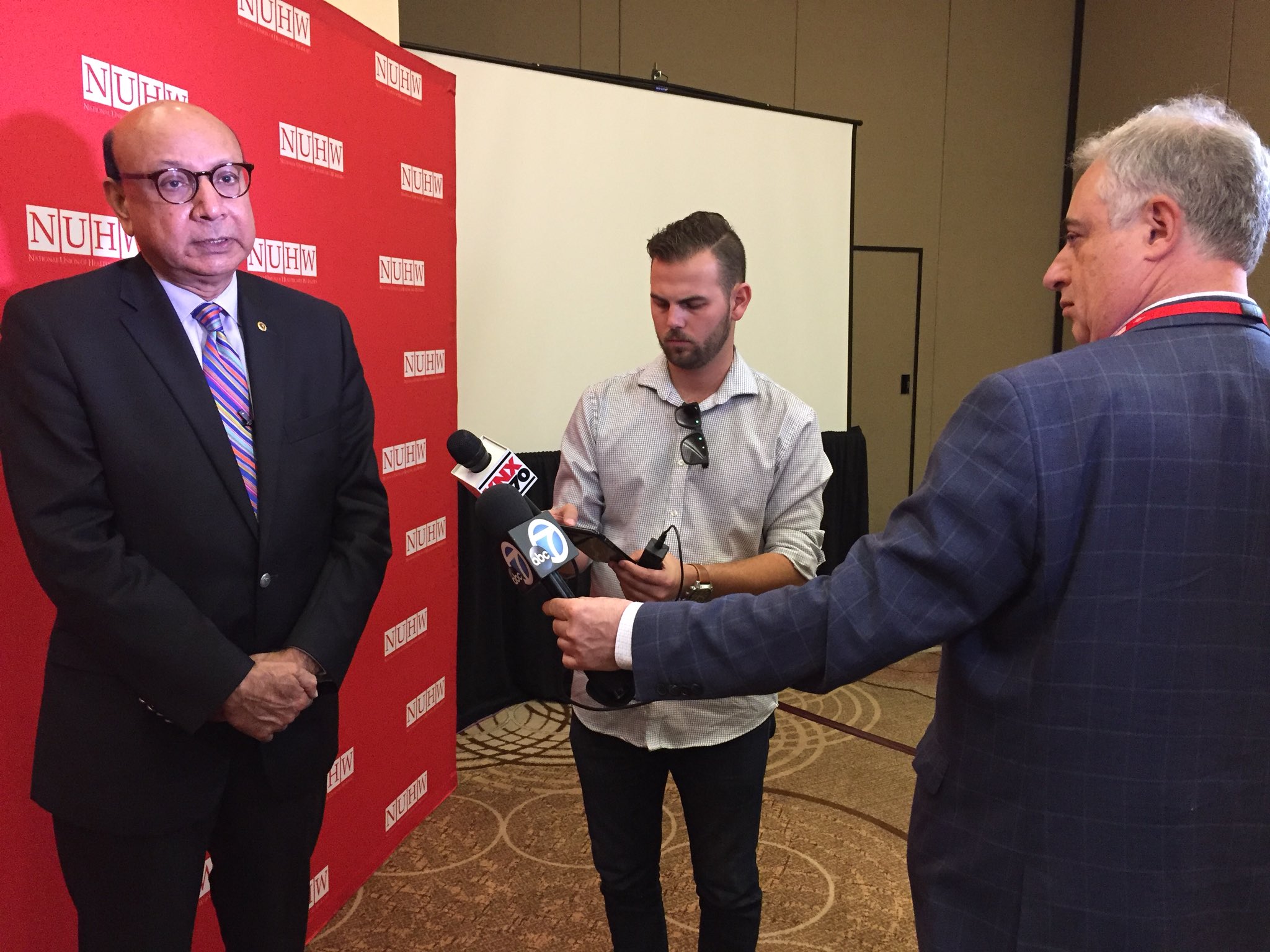 Khizr Khan, the father of a Muslim U.S. Army captain killed in Iraq who feuded with Donald Trump during the 2016 presidential campaign, on Saturday criticized the Trump White House for its clash with a widow of a fallen soldier this week.
Khan, speaking to reporters after addressing a National Union of Healthcare Workers conference in Anaheim, said the families of all military members killed in combat deserve to be treated with dignity and respect, especially in the days and weeks immediately following the death of their loved one.
"It was disappointing to see the behavior of [the White House]," Khan said, before criticizing Trump administration officials for standing "in front of the cameras and providing a defense for the indefensible behavior."
Khan's comments came just days after the uproar over Trump's call to the widow of Army Sgt. La David T. Johnson of Florida, one of four U.S. soldiers who died in an Oct. 4 ambush in Niger.
Rep. Frederica S. Wilson of Florida was with Johnson's wife, Myeshia Johnson, in a car when the widow took Trump's call on speakerphone. Wilson publicly described Trump's comments as insensitive, saying he suggested that the sergeant knew what he was getting into when he joined the Army.
White House Chief of Staff John F. Kelly, whose son was killed in combat, defended the president's comments, saying that he advised Trump on what to say and that the president was trying to praise Johnson's unselfish military service as well as offer words of comfort to his widow.
Khan avoided attacking Trump directly or expanding on his remarks, saying he will address the controversy in more detail after Johnson's memorial services.
The clash between Khan and Trump ignited after Khan's speech at the 2016 Democratic National Convention in Philadelphia. There, Khan ripped into Trump, then the Republican nominee for president.
"Hillary Clinton was right when she called my son 'the best of America.' If it was up to Donald Trump, he never would have been in America," Khan said at the convention. "Donald Trump consistently smears the character of Muslims. He disrespects other minorities — women, judges, even his own party leadership. He vows to build walls and ban us from this country."
Trump responded by questioning whether Khan's wife, who stood by her husband's side during the couple's high-profile appearance, was silent because of her Muslim faith. The controversy ignited by Trump's jabs at a Gold Star family dragged on for days, and he drew rebukes from Sen. John McCain (R-Ariz.), House Speaker Paul D. Ryan (R-Wis.) and Senate Majority Leader Mitch McConnell (R-Ky.).
During his speech to the healthcare union Saturday, Khan lamented the loss of "civility" in national political discourse and pointed squarely at the president. He said the current White House has "sown division" by attacking immigrants and belittling political rivals. 
Latest updates
Copyright © 2017, Los Angeles Times