It's the end of a big year for classical music. It's the end of a big decade for classical music.
The biggest story of all has been the stellar rise of the Los Angeles Philharmonic, becoming surely the most successful arts organization of the century so far through an insurmountable belief in the value of music to the betterment of humanity. The vision has been if you build a better concert hall, make new music widely available, and view the world through the lens of music and give it to kids who wouldn't otherwise have it, good things happen. Esa-Pekka Salonen and Gustavo Dudamel, through the L.A. Phil, became transformative conductors, empowering a new generation that includes Mirga Grazinyte-Tyla, Lionel Bringuier and most recently Paolo Bortolameolli.
This year the L.A. Phil's centennial season ended after five-dozen-plus commissions, fanciful Fluxus events (including the making of a giant salad onstage for the audience) and numerous ambitious projects. Most important, it inspired others here and elsewhere, championing the efforts of young groups and simply showing that pursuing dreams matters.
Awards-season highs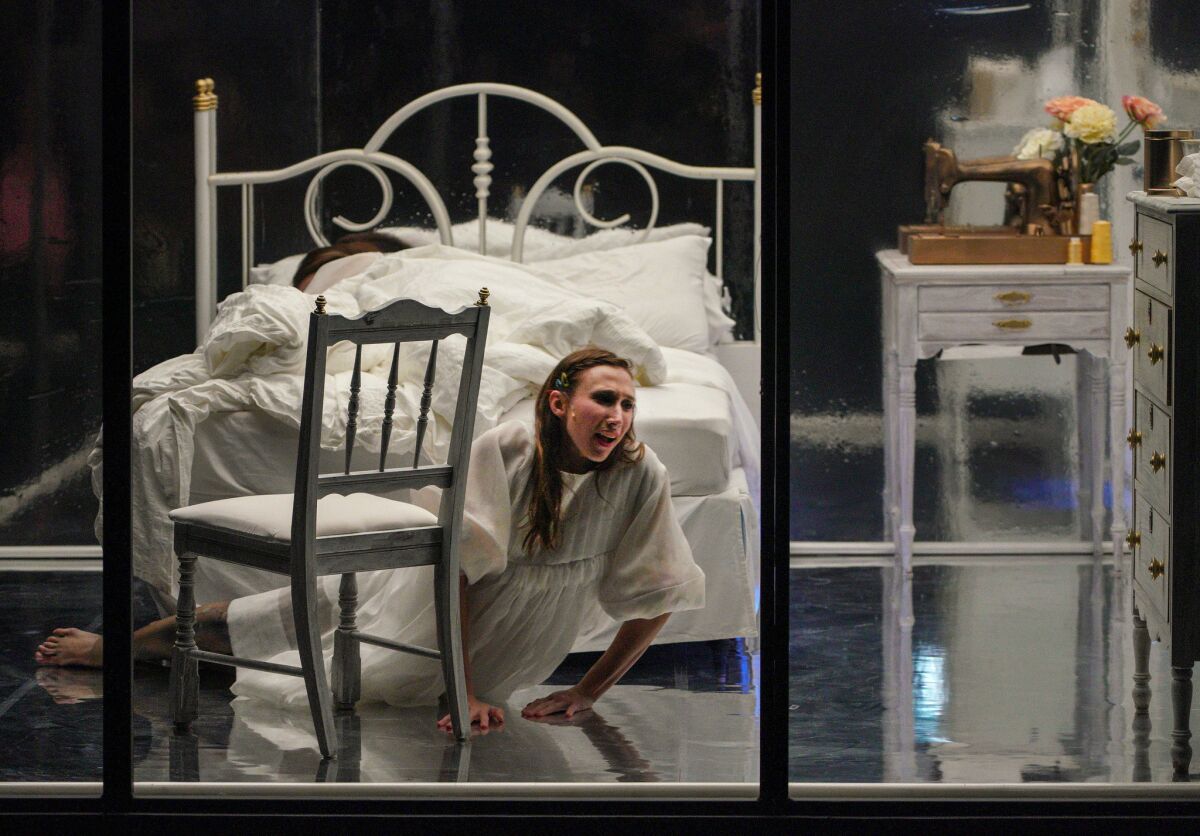 It was a great year for locals. Ellen Reid nabbed a Pulitzer Prize for "prism," given its world premiere by Los Angeles Opera. "A Thousand Mountains, A Million Streams" proved worth $100,000 for UC San Diego composer Lei Liang, courtesy of the Grawemeyer Award. Andrew Norman's "Sustain," commissioned by the L.A. Phil, was a Pulitzer finalist and has two Grammy nominations. Grammy contenders also include the L.A. ensemble wildUp, as well as soprano and UCSD professor Susan Narucki and Tobias Picker's opera "Fantastic Mr. Fox," which was commissioned by L.A. Opera and given its premiere way back in 1998. Dudamel got a star on Hollywood Boulevard. Angeleno Michael Tilson Thomas received Kennedy Center Honors. Wadada Leo Smith was honored with a centennial UCLA Medal.
Awards-season lows
It was an awful year for locals. The Academy Award and Emmy ceremonies associated classical music with death, not life. The Oscars relegated Dudamel and L.A. Phil to accompany, however movingly, its annual memorial of stars who died. The Emmys, in its memorial, inexcusably confused the very much alive Leonard Slatkin with the recently deceased André Previn.
Opera, L.A. style
Los Angeles happens to be home to the two most important American opera directors. Peter Sellars stole the Salzburg limelight, opening the 99th iteration of the Austrian festival with his intense Los Angeles Master Chorale production of "Lagrime di San Pietro," followed by a stirring keynote speech on art and the environment and startlingly original, environmentally pointed production of Mozart's "Idomeneo." Meanwhile, Yuval Sharon may have angered big-time the unamused first-night European critics with his startlingly original, marvelously manga-ized production of Mozart's "The Magic Flute," but young audiences have rightfully flocked to it. Sharon also ended his three-year L.A. Phil residency as artist-collaborator with a wondrous revival of Meredith Monk's neglected "Atlas," reminding us that it is one of the most startlingly original American operas.
Out with the old, in with the not-so-new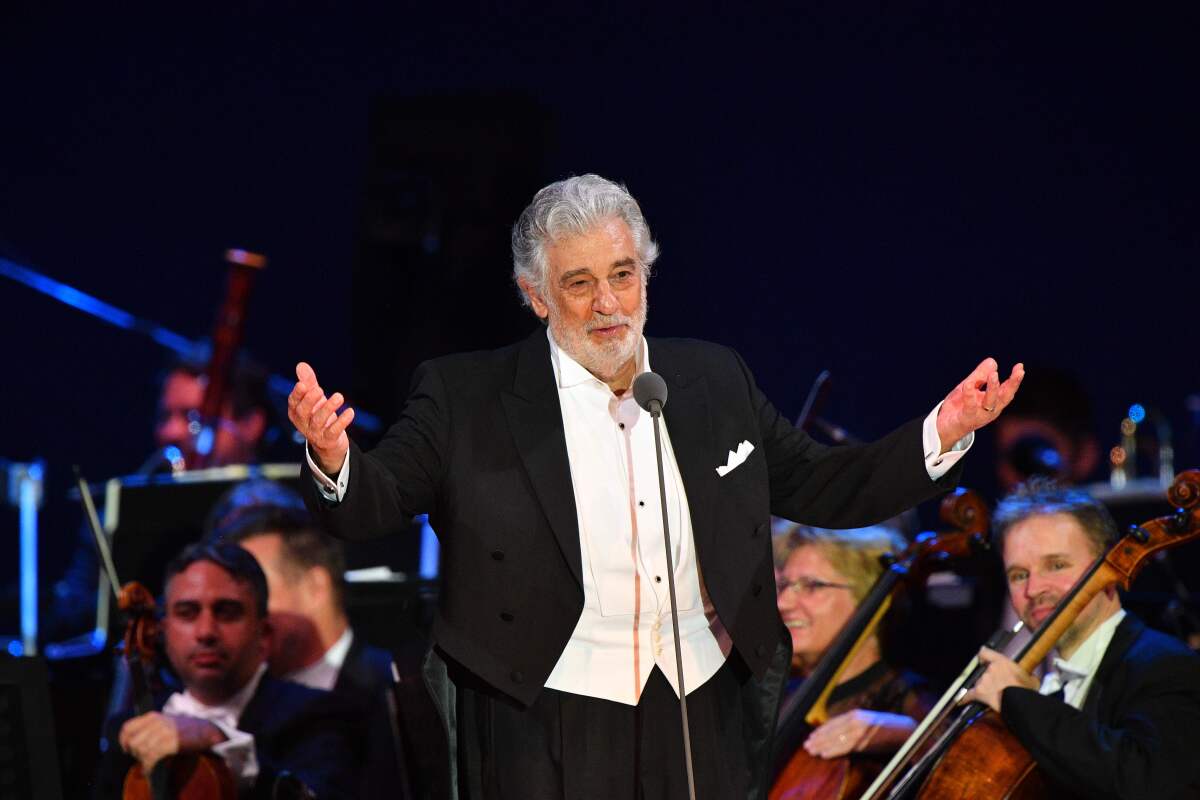 It was a year of near-contagious institutional cleaning house. The heads of the L.A. Phil (Simon Woods), L.A. Opera (Plácido Domingo), Los Angeles Chamber Orchestra (Scott Harrison), Long Beach Opera (Andreas Mitisek) and REDCAT (Mark Murphy) resigned. Domingo found himself facing the #MeToo movement. No real explanation was offered for the other departures. The L.A. Phil and L.A. Opera had a smooth transition, their exceedingly capable seconds-in-command, Chad Smith and Christopher Koelsch, respectively taking over. Sharon will become a transitional head of LBO. LACO and REDCAT remain in search mode.
In with the actual new
The fall season saw two new Latino music directors. The gregarious Spanish conductor Jaime Martín arrived at LACO little known, but that won't last long after his winning opening concerts. Venezuelan Rafael Payare is already electrifying the San Diego Symphony.
Gustavo Dudamel
The L.A. Phil music and artistic director ended his first decade with the orchestra conducting the world premieres of memorably major new works such as Tan Dun's "Buddha Passion," John Adams' piano concerto "Must the Devil Have all the Good Tunes?" (with Yuja Wang as magnificent soloist) and Thomas Adès' irresistible ballet "Inferno." He ended the L.A. Phil's centennial season with a gloriously propulsive Mahler Eighth ("Symphony of a Thousand") and began his next L.A. Phil decade spectacularly reimagining Aaron Copland. He toured the world with the orchestra. He expanded his commitment to YOLA (Youth Orchestra Los Angeles), taking nearly a hundred students to Mexico City, several of them sitting side-by-side with L.A. Phil players.
Zubin Mehta
After more than a year away from the podium for cancer treatment, a frail Zubin Mehta began the year with shaky but highly affecting heartfelt Brahms at the L.A. Phil and then over the next 11 months gained amazing strength. He spent nearly two months in spring and fall conducting and touring with the Berlin Philharmonic, ended his historic 50-year music directorship of the Israel Philharmonic with triumphant concerts in Tel Aviv and an extensive South American tour. Fully vital by the L.A. 100th birthday weekend in October, he conducted what longtime Mehta-mavens all agreed was not only his finest performance of Mahler's Second Symphony, but just possibly his best performance, period.
John Williams
The world's most beloved composer hardly needs a hand up. But this year, he got a new kind of respect in a rapturous tribute concert and recording by Dudamel and the L.A. Phil that revealed an inner essence even in his best-known film scores. That was followed by a gorgeous recording by no less than Anne-Sophie Mutter of arrangements of film scores for violin and orchestras, conducted by the composer.
The year in entertainment: 2019's best movies, music, TV shows, games and more
Over the Moon
The L.A. Phil Centennial may have been grander than any orchestra season in history, but even the richest and most daring orchestra can't do it all. In November the Vienna Radio Symphony gave a rare performance of Dieter Schnebel's truly epic "Sinfonie X," which begins before the audience enters and keeps going as it leaves more than two hours later. It includes a crazed mishmash of music history and intellectual thought. You clearly needed to be there, but even hearing it broadcast over Austrian radio proved a mind-reeling experience. Over in Amsterdam in June, a decent-sized chunk of Stockhausen's cosmic seven-day operatic cycle, "Licht," was said to be life changing, a claim easily believed from the excerpts available on the streaming site Idagio.
Under the Stars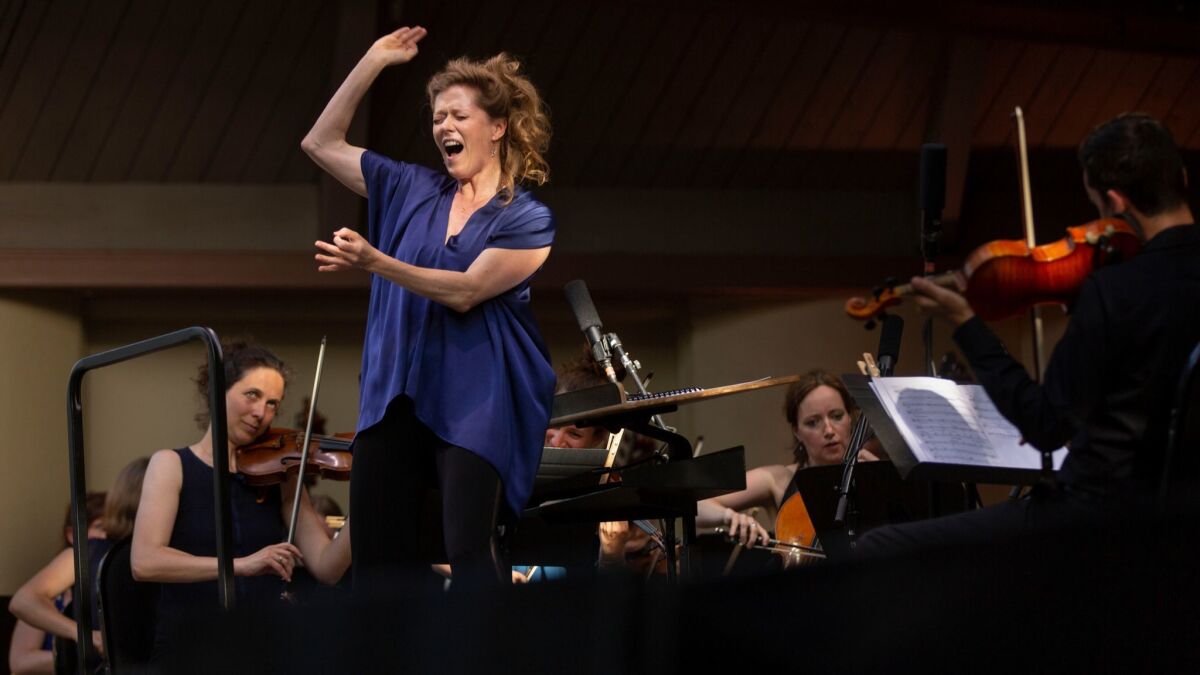 There is one soprano, however, who can do it all. This summer's music director of the Ojai Music Festival, Barbara Hannigan, conducted and trained the singers in a production of Stravinsky's "The Rake's Progress," which opened a festival in which she wore her many hats. She sang and conducted a range of music from John Zorn to Gershwin with plucky ease. However close Ojai thinks itself to the heavens, Mt. Wilson is closer. The observatory commemorated the 50th anniversary of the Apollo moon landing with a you-are-there electronic sound installation by Jeff Talman.
Violinists on fire
Illuminating, breathtaking performances by two 42-year-old violinists, Patricia Kopatchinskaja and Leila Josefowicz, confirmed their shared capacity for making new music matter and old music new. Kopatchinskaja all but reinvented Tchaikovsky's Violin Concerto in an extraordinarily inventive L.A. Phil performance conducted by Grazinyte-Tyla, and she gave unparalleled dramatic life to Schoenberg's Violin Concerto with the Berlin Philharmonic led by the orchestra's new music director, Kirill Petrenko, at the Salzburg Festival. Josefowicz offered a one-of-a-kind sublime yet spectacularly sassy performance of Oliver Knussen's Violin Concerto as part of a much-needed year-end Knussen tribute she and conductor Susanna Mälkki devised for the L.A. Phil.
'Rites' of spring and fall
As part of his revelatory springtime Stravinsky festival with the L.A. Phil, Salonen led a "Rite of Spring" that had everything: visceral thrills, analytical thrills, a sense of the moment, utter freshness, a performance so compelling there seemed nothing more to be said about the "Rite." Then in October, Dudamel produced a radically different L.A. Phil "Rite," energetic yet luscious, and so earth-quakingly earthy one feared it could activate a fault line.
The three music books of the year
None is about music, which makes each one all the more meaningful. Lucy Ellmann's nearly 1,000-page, single-sentence novel, "Ducks, Newburyport," has to be the most musical novel since Joyce's "Finnegans Wake." "The Collected Poems of Bertolt Brecht," which requires even more than 1,000 pages, is a primer on paying attention to everything that makes the world around us tick, and hence the music within. "Love, Icebox," John Cage's rapturous love letters to Merce Cunningham, are an opening into the soul of a great musician.
New generation
Assuming climate change doesn't spoil the future, the next generation of classical artists is a harbinger of hope. In his first U.S. recital, the British cellist Sheku Kanneh-Mason left no doubt that he was born to play. In his Disney Hall recital and on a Deutsche Grammophon recording, Islandic pianist Vikingur Ólafsson made Bach not just seductively elegant all over again, but downright hip. The spectacularly versatile soprano and punk diva Nora Fischer dazzled in the L.A. Phil premiere of Louis Andriessen's "The Only One" (as did her father, Hungarian conductor Iván Fischer, in his Hollywood Bowl appearances with his Budapest Festival Orchestra). The Calidore String Quartet played Beethoven at the Colburn School with depth beyond the years of the young ensemble. Igor Levit released a radiant cycle of Beethoven piano sonatas on Sony Classics.
Towers of Babel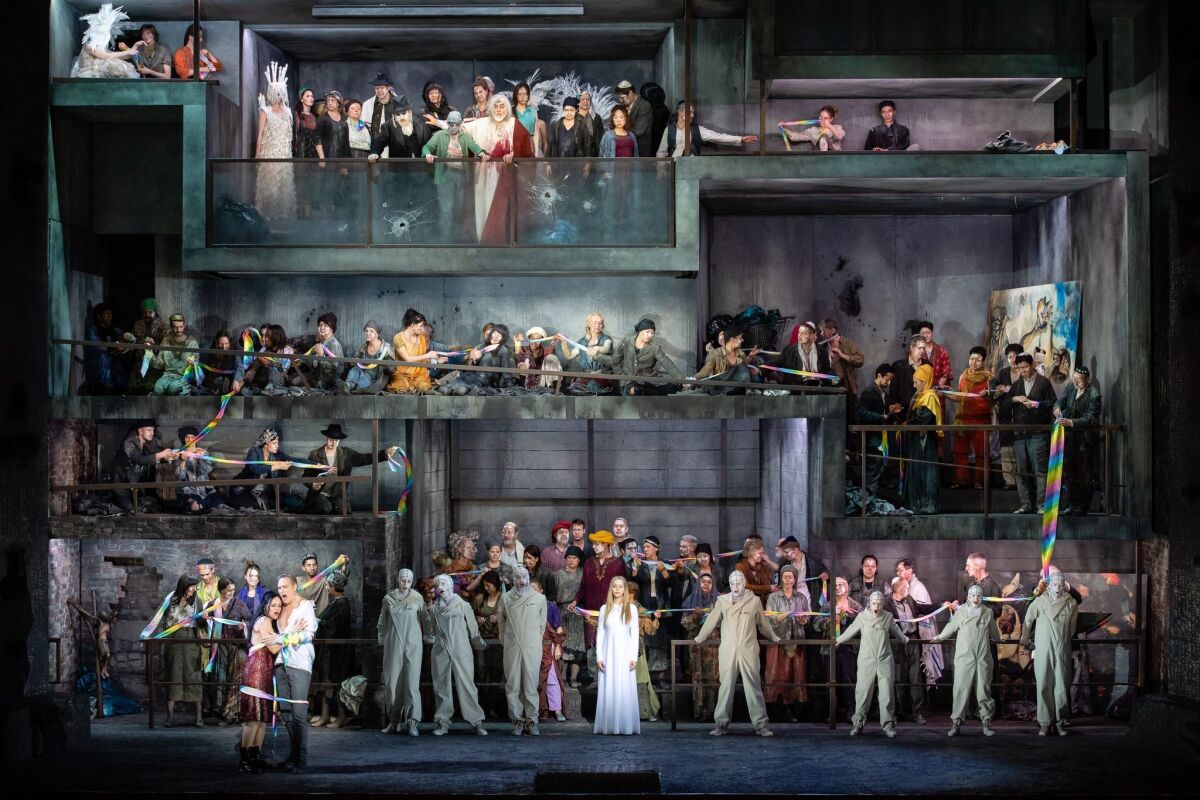 Babel has become the lingua franca of our divided societies, reflected in operatic ways of looking at Babylon in 2019. Russian director Kirill Serebrennikov remotely staged a Hamburg production of Verdi's "Nabucco" from his Moscow apartment while under house arrest for running afoul of Putin's government, with King Nebuchadnezzar portrayed as a corrupt Donald Trump-like leader. Trump man Kanye West popped up with his "Nebuchadnezzar: A Kanye West Opera" at the Hollywood Bowl, the rapper reading from the Bible as narration for a Gospel-based passion-like play. In Berlin, an extravagant, glorious new production of Jörg Widmann's operatic extravaganza "Babylon" underscored the origins of our world's stupendous disarray.

---