Newsletter: Essential Arts: Gustavo Dudamel's Hollywood star, Betty Buckley's 'Dolly,' Isabella Rossellini's 'Circus'
It's been a busy week. Gustavo Dudamel got his star on the Hollywood Walk of Fame and Isabella Rosellini is bringing her animal play to the Broad Stage. I'm Carolina A. Miranda, staff writer at the Los Angeles Times, with the week's essential arts news:
THOUGHTS OF VENEZUELA
For the record:
10:25 a.m. Jan. 28, 2019An earlier version of this article attributed an article about painter Robert Pruitt to reviewer David Pagel. It was written by Leah Ollman.
Los Angeles Philharmonic director Gustavo Dudamel got his star on the Hollywood Walk of Fame this week. But his comments at the event showed that his mind was on the political situation in Venezuela in advance of the election there. "Tomorrow is a crucial day in which the voice of the majority should be respected and heard," Dudamel said in his remarks. Times classical music critic Mark Swed chatted with Dudamel after the ceremony. Los Angeles Times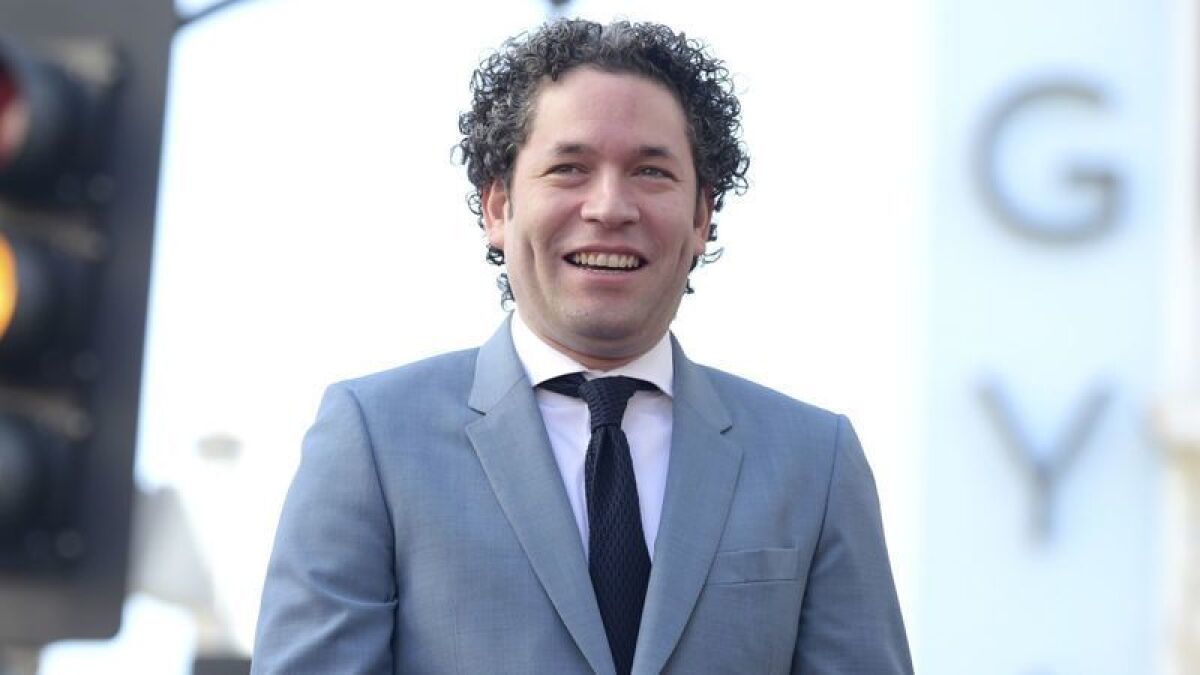 Because too much Dudamel is never enough, Swed also caught the director leading a night of music by "Star Wars" composer John Williams. "It takes a lot to make a John Williams tribute stand out," Swed writes. "But there could be little question that Gustavo Dudamel's Los Angeles Philharmonic celebration of Williams at Walt Disney Concert Hall on Thursday was the greatest." Los Angeles Times
CLASSICAL NOTES
In "Black Cat," early Viennese music specialist and organist Martin Haselböck created a work for tenor, two dancers and video that blends Baroque and contemporary music to re-imagine Edgar Allan Poe's murderous tale. The production was hindered by the U.S. government shutdown (tenor Nicholas Mulroy didn't complete his visa paperwork in time). But the show, reports Mark Swed, went on. Los Angeles Times
Messiaen's "Turangalila," writes Swed, is the sort of composition that can lean toward the "vulgar," a "10-movement exposé of lurid eroticism, devout religiosity, epic monumentalism and flower-power delicacy." But under the direction of Susanna Mälkki in a recent show at Walt Disney Concert Hall, "there was never the slightest hint of vulgarity." Los Angeles Times
HELLO, BETTY!
Ahead of Betty Buckley's Jan. 29 arrival at Hollywood's Pantages Theatre in the national touring production of "Hello, Dolly!" (at Costa Mesa's Segerstrom Center for the Arts this weekend), Times theater critic Charles McNulty talks with the star about the recent stage and screen roles that bloomed after what she calls her "shocking coming of age" as an "older actress." Writes McNulty, "She's a musical theater virtuoso who burrows deep into the psychology of whatever part she is playing." Los Angeles Times
ANIMAL CIRCUS
Isabella Rossellini raises chickens, has done documentaries on animal procreation and is months away from getting a master's degree in animal behavior. Now she's in L.A. to perform her one-woman show "Link Link Circus," about humans' complex relationship to domesticated animals, at the Broad Stage. "Evolution," she tells The Times' Jessica Gelt, "is not only the survival of the fittest but survival of the friendliest." Los Angeles Times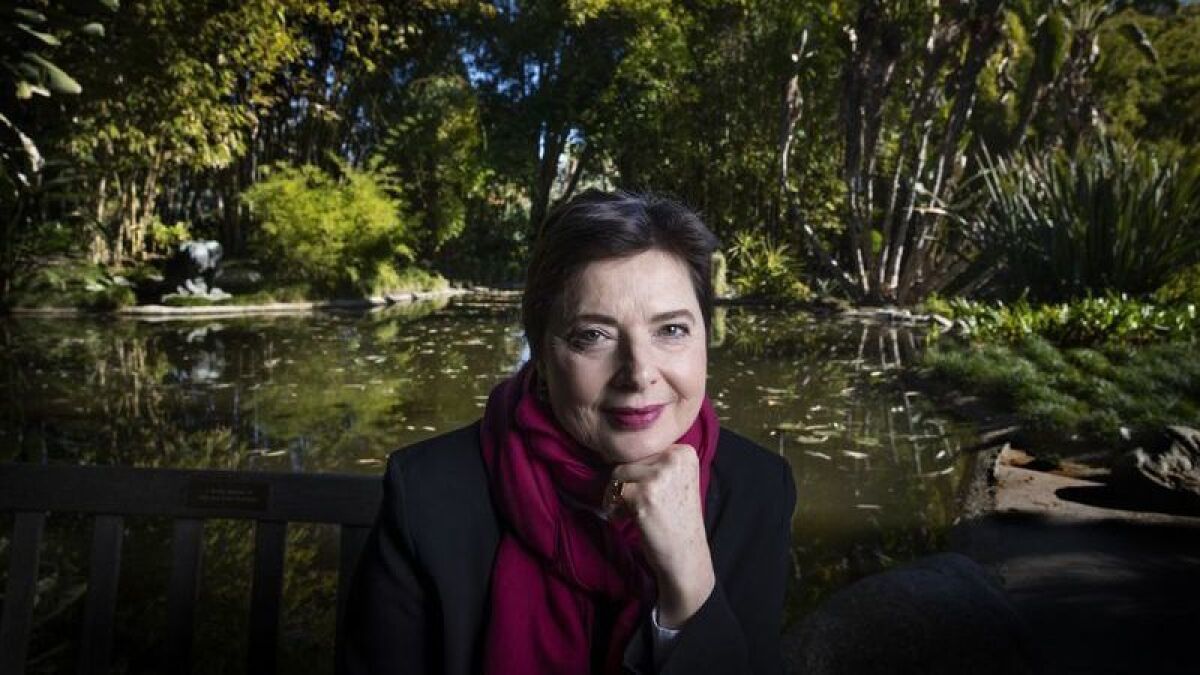 LONDON CALLING
Stephen Daldry's heralded staging of J.B. Priestley's "An Inspector Calls" has landed in Los Angeles at the Wallis Annenberg Center for the Performing Arts. "If what was once so bracing now seems quaintly nostalgic, the work hasn't lost its popular charm," writes Times critic Charles McNulty. "The theatrical effectiveness … even in a somewhat faded touring copy, is undeniable." Los Angeles Times
BIG FRIEZE
The Frieze Art Fair comes to Los Angeles next month for an onslaught of art, performance, gallery presentations and artist talks. The fair is a play for a toehold in the art world by Hollywood talent agency Endeavor, a majority owner of Frieze. The show, Endeavor president Mark Shapiro tells The Times' Deborah Vankin, "was very much a strategic play for us." Los Angeles Times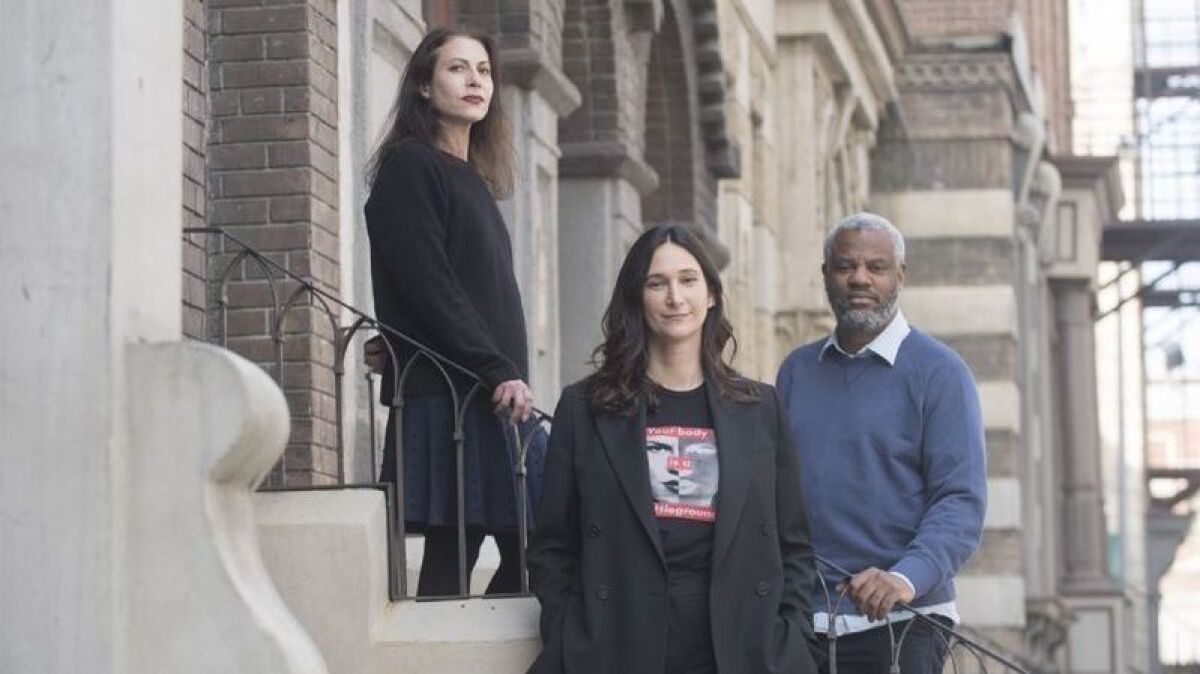 TRIBUTE TO JOHN MASON
John Mason, an artist who pushed the boundaries and dimensions of clay in bold, abstract works, died last weekend at the age of 91. Times contributor Suzanne Muchnic pays tribute: "Although [Peter] Voulkos would always be revered as the catalyst of the revolution," she writes, "Mason became known for transforming clay into expressive art on a grand scale." Los Angeles Times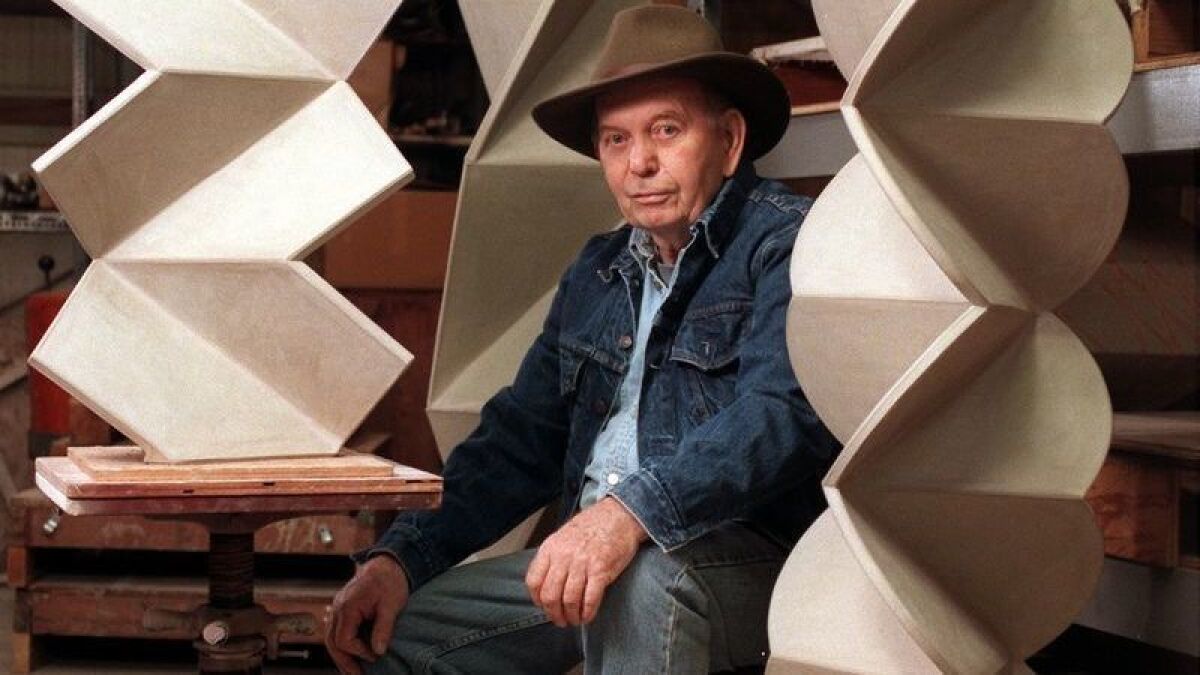 IN THE GALLERIES
Times contributor David Pagel has been making the rounds, checking out a 1,000-square-foot painting by Sarah Cain in her "sizzling" exhibition at Honor Fraser, the quietly "charged" paintings of Cole Case at E.C. Lina, as well as the "punchy, funny" universe — known as the "Moundverse" — that painter and sculptor Trenton Doyle Hancock has imagined at Shulamit Nazarian.
In the meantime, Leah Ollman popped in to the California African American Museum, where she reviews Robert Pruitt's "tremendous" solo show, centered on a series of paintings of human figures: "Although Pruitt draws each to be palpably human, he also endows them with the monumentality of deities." Los Angeles Times
Ollman also checks out a show of paintings by Paige Jiyoung Moon at Steve Turner. The artist, she writes, "paints with the precision of a jeweler and a reverence for the real that has its roots in the Northern Renaissance." Los Angeles Times
ANNALS OF PERFORMANCE
The Times' Daryl H. Miller takes us back to a musical about the roots of the republic that is not "Hamilton." The show "1776" landed on Broadway in 1969, and it is now being resuscitated in a rare production at the La Mirada Theatre that will then travel to the Soraya in Northridge. Los Angeles Times
Plus, we have a report by Catherine Womack on a performance protest by the Community Choir at the Los Angeles Women's March and Tim Greiving writes about the Four Larks opera that was shut down by the Woolsey Fire but is now back with a full premiere at the Getty Villa.
READY FOR THE WEEKEND
Matt Cooper has the week ahead in art, dance, music and theater, as well as his weekend picks.
Philip Brandes comes through with the 99-Seat Beat, which includes a staging of Martin McDonagh's early black comedy, "Cripple of Inishmaan." Los Angeles Times
Plus, I've got your visual arts needs covered in my weekly Datebook, which includes Beatriz Cortez's imagined space utopia. Los Angeles Times
IN OTHER NEWS…
— Jonas Mekas, the influential experimental filmmaker known for founding the Anthology Film Archives in New York, has died at the age of 96. New York Times
— Arts writer Paddy Johnson on why Mekas matters. Observer
— Text messages put into question whether artist Robert Indiana, known for his "LOVE" sign, truly had a hand in designing his final works. New York Times
— Rhinestones are a girl's best friend: Dolly Parton's costumes are coming to L.A.! Los Angeles
— The biologist who studied all the seashells on the Watts Towers. Los Angeles Times
— Hauser & Wirth has donated $1 million to Cal State L.A.'s TV, film and media studies department. Los Angeles Times
— Re-creating the musical "Rent" for live television. American Theatre
— To mark the 110th anniversary of the Bauhaus, Berlin's Academy of Arts is resuscitating a Bauhaus ballet. Artnet
— Audra McDonald and Michael Shannon to play titular roles in "Frankie and Johnny" in Broadway revival. Los Angeles Times
— The Related Co. wants to know what they should name Thomas Heatherwick's new architectural folly in New York City. Consider "Brutalist Laundry Hamper of Doom" my formal submission. Curbed
— Wanted: architect willing to contend with bureaucracy and government shutdowns. The U.S. Senate is looking for a new architect of the Capitol. The Architect's Newspaper
AND LAST BUT NOT LEAST…
Here's the design-conscious cat table you didn't know you needed. My Modern Met
Sign up for our weekly Essential Arts & Culture newsletter »
carolina.miranda@latimes.com | Twitter: @cmonstah
---
Get our L.A. Goes Out newsletter, with the week's best events, to help you explore and experience our city.
You may occasionally receive promotional content from the Los Angeles Times.