Indie Focus: Taking it all in with the Sundance Film Festival, Oscar nominations and 'The Kid Who Would Be King'
Hello! I'm Mark Olsen. Welcome to another edition of your regular field guide to a world of Only Good Movies.
I am writing this week's newsletter from Park City, Utah, where we have a big team covering the Sundance Film Festval. But before we get into that, the Oscar nominations happened earlier this week.
Glenn Whipp tried to examine both the progress that was and was not made with this year's nominations, noting, "This year's Oscar slate serves as a snapshot of a motion picture academy in transition."
Josh Rottenberg also tried to make sense of the noms, calling this, "[o]ne of the more unpredictable Oscar races in recent years."
Justin Chang looked at the international slant of the academy's new membership and how that has likely figured in a more expansive group of movies being recognized in major categories, from "Roma" to "Cold War" to "Never Look Away."
Kenneth Turan added, "In addition to being unsettling, what this year's nominations showed, as they do every year, is that the academy is a body with very pronounced preferences. It likes what it likes and it likes that again and again."
Ashley Lee spoke to Glenn Close about her best actress nomination for "The Wife." Mary McNamara wrote about that Close, now a seven-time nominee, "doesn't need an Oscar to prove anything; she's already proved it. But an institution that purports to reward excellence most certainly needs to give her one. For 'The Wife.'"
Amy Kaufman spoke to Lady Gaga, who was nominated for best actress and best song for "A Star Is Born."
Kaufman also surveyed the field of documentary nominees, coming off a powerful year for docs at the box office, and the surprise omission of the smash hit "Won't You Be My Neighbor?"
Jen Yamato spoke to Rami Malek about his best actor nomination for "Bohemian Rhapsody" and the resurfacing allegations of sexual misconduct against the film's credited director, Bryan Singer.
Jen also spoke to producer Kevin Feige, who received his first nomination for best picture with "Black Panther."
I interviewed Spike Lee, who received his first nomination for best director and had one of his films nominated for the first time for best picture with 'BlacKkKlansman."
I also spoke to Willem Dafoe about his fourth nomination, his first in the lead actor category, for playing Vincent van Gogh in "At Eternity's Gate."
Paul Schrader gave me a very candid interview about his feelings about receiving his first-ever Oscar nomination, with his recognition for the original screenplay of "First Reformed." He said, "This is a very difficult conversation because I have never really respected the academy for their choices. On the other hand, I'm enormously gratified that they have selected me. So you live in a kind of conflicted world."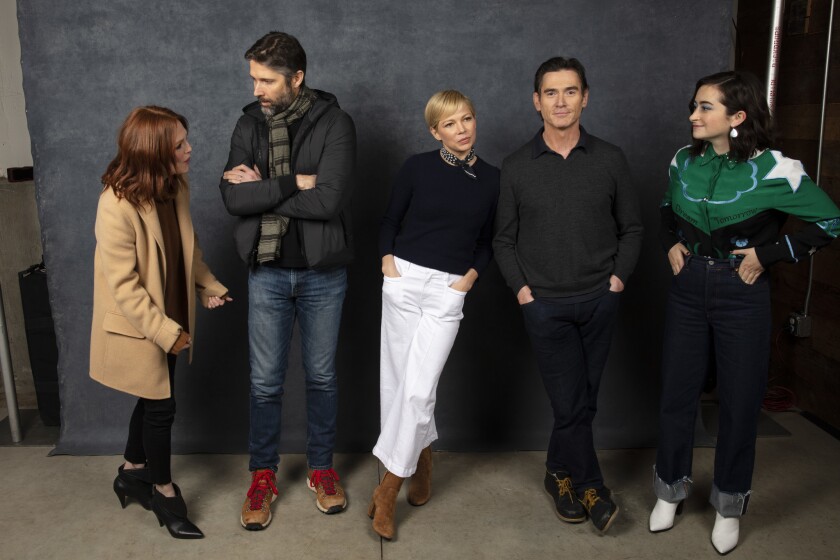 SUNDANCE FILM FESTIVAL 2019
The Sundance Film Festival is already in full swing, and we have a team on the ground to hit the most talked-about screenings, find the undiscovered gems, and talk to filmmakers. We also have our photo and video studio up and running to bring even more of the festival experience home to you. We'll have a special midweek edition of the newsletter to catch up with everything that is going on.
Kenneth Turan spotlighted 35 films from the program, including director Gurinder Chadha's "Blinded by the Light," Britt Poulton and Dan Madison Savage's "Them That Follow," Chinonye Chukwu's "Clemency" starring Alfre Woodard, and the Rachel Lears documentary "Knock Down the House," featuring future U.S. Rep. Alexandria Ocasio-Cortez.
I wrote an overview of the festival program as well, talking to cast and filmmakers from the movies "Premature," "To the Stars," "The Report" and "Now Apocalypse."
Turan also spoke to Mindy Kaling about "Late Night," a movie she wrote and co-stars with Emma Thompson in. The movie is a backstage workplace comedy set against a late-night talk show.
"Everyone thought the first thing I would write would be a romantic comedy because I love them so much, but this is a workplace movie," Kaling said. "I'm 39 years old and there's a girlishness about me, but I wanted to do something that was about my grownup ambitions and anger."
Amy Kaufman also had the first interview with Dan Reed, who directed the documentary "Leaving Neverland," which chronicles Wade Robson and James Safechuck's accusations of being sexually abused by superstar musician Michael Jackson.
Kaufman also wrote an overview of the abuse claims from Robson and James.
Kaufman spoke to the parents of the late actor Anton Yelchin, who is the subject of the documentary "Love, Antosha," directed by Garret Price.
Kaufman also spoke to Ursula Macfarlane, director of the documentary "Untouchable," about disregard movie mogul Harvey Weinstein.
Jen Yamato spoke to filmmaker Justin Chon and actress Tiffany Chu about Ms. Purple," a story set and filmed in the Koreatown neighborhood of Los Angeles. "The question I raise for the audience is, what are the cultural things that are great for us to bring with us from our old country — and which can we leave behind?" Chon said. "But it's not just Korean culture. For all of us Asian Americans, it represents the baggage that we bring that we don't need to carry with us."
Yamato also went to the premiere of "Honey Boy," directed by Alma Ha'rel and written by and starring Shia LaBeouf in an emotional fictionalized telling of LaBeouf's own childhood traumas.
'The Kid Who Would Be King'
Writer-director Joe Cornish made a splash with his urban sci-fi action picture "Attack The Block" in 2011. At last he returns with "The Kid Who Would Be King," a sharp, witty children's adventure film about a boy who discovers the sword in the stone and sets in motion a new version of the Arthurian myth.
For the Times, Justin Chang reviewed the film, writing, "The occasional creakiness of the narrative machinery is largely dispelled by Cornish's flair for brisk, energetic action and his ability to keep the journey flowing from one mini-adventure to the next, whether his characters are being whisked through a magic portal at Stonehenge or keeping Morgana's nasty minions at bay."
I spoke to Cornish about the film and how it presents an inspirational adventure story to the young people of today. As he said, "the other thing that's interesting about the legend is that Arthur arrives to save a divided country. The Britain of the 5th century when the legend is set is a country of warring tribes who are divided, that's desperate for leadership and, weirdly, that seemed to have a resonance in terms of the contemporary situation in Britain and all over the world, really, as well."
Email me if you have questions, comments or suggestions, and follow me on Twitter: @IndieFocus.
---
Get the Indie Focus newsletter, Mark Olsen's weekly guide to the world of cinema.
You may occasionally receive promotional content from the Los Angeles Times.