Newsletter: Essential California: Some curious donations to Los Angeles' district attorney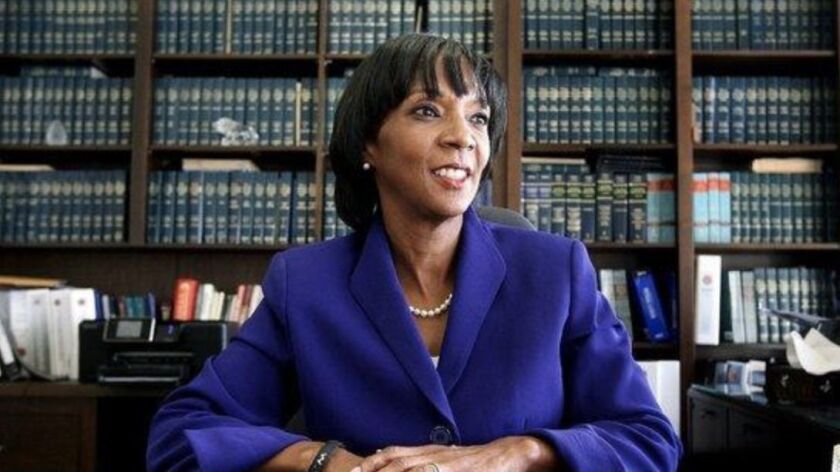 Good morning, and welcome to the Essential California newsletter. It's Tuesday, March 19, and here's what's happening across California:
TOP STORIES
When Jackie Lacey first ran for Los Angeles County district attorney, she loathed asking people for money. The veteran prosecutor eventually got comfortable working donors and settled on a pitch she could tolerate: "Can you invest in my campaign?" Now seeking a third term in 2020, Lacey seems to rake in contributions with ease. More than $125,000 flowed into her election coffers last year, even though Lacey did not hold public campaign events. Many giving to Lacey are longtime contributors to local politicians, but others include people accused of serious crimes or misconduct, or relatives and associates of the accused. After The Times asked Lacey about those contributors, her campaign returned donations to 13 individuals or business entities, totaling about $13,000. Los Angeles Times
Hollywood scandal recriminations
Warner Bros. Chairman and Chief Executive Kevin Tsujihara has stepped down after allegations that he had an affair with a young actress and tried to help her get cast in the Burbank studio's movies. Tsujihara's exit, announced by WarnerMedia CEO John Stankey, came less than two weeks after the publication of salacious text messages between British actress Charlotte Kirk and Tsujihara, 54. The texts were revealed in a lengthy Hollywood Reporter article that detailed the relationship and the ensuing campaign to get her meetings and auditions. Kirk appeared in minor roles in two Warner Bros. movies: the 2018 caper film "Ocean's 8" and the 2016 New Line Cinema romantic comedy "How to Be Single." Los Angeles Times
Lawyering up
Actresses Lori Loughlin and Felicity Huffman have hired big-name law firms to represent them in the college admissions cheating scandal. Huffman was initially represented by Hollywood's top criminal defense attorney, Blair Berk, but because the case is in Boston, she will be defended by Marty Murphy of Foley Hoag, while Loughlin is represented by Perry Viscounty of Latham & Watkins. Los Angeles Times
-- There have long been serious concerns about the fairness and equity of the admissions process to elite universities. But now, there are concerns about its very integrity. Los Angeles Times
-- Undergraduate tuition and fees at USC will total $57,256 in the coming school year, a 3.5% increase from the previous year, the university announced. Los Angeles Times
-- The students should be expelled, writes columnist Michael Hiltzik. Los Angeles Times
Get the Essential California newsletter »
L.A. STORIES
The great super bloom debate: Are crowds ruining California's super bloom? The explosion of wildflowers is drawing big crowds but also causing problems in the poppy fields of Walker Canyon. One day after Lake Elsinore announced it was closing access, city officials reopened the entrance to the hillsides. Los Angeles Times
Higher, further, faster … : How Stan Lee helped inspire a more inclusive Marvel Cinematic Universe. Los Angeles Times
Baseball starts soon: But Clayton Kershaw will not start for the Dodgers on opening day, manager Dave Roberts announced Monday, confirming what has been obvious for weeks and ending Kershaw's franchise-record streak of consecutive opening day starts at eight. Los Angeles Times
IMMIGRATION AND THE BORDER
Interesting: Agents from Homeland Security Investigations are feeling iced out by local law enforcement. Los Angeles Times
POLITICS AND GOVERNMENT
All for the wall: After weeks of delay, the Pentagon on Monday provided Congress with a list of more than 400 military construction projects around the globe, including dozens in California, that it could raid to help pay for President Trump's long-promised wall at the southwest border. Los Angeles Times
Online attacks over vaccinations: As measles cases pop up across the United States, public health advocates have blamed social media for allowing misinformation to take root and swiftly spread. But the platforms also facilitate far more antagonistic behavior, with doctors facing online harassment and even coordinated attacks for promoting vaccines. Los Angeles Times
A new migration: Are liberal politics pushing conservatives out of Silicon Valley? Mercury News
Wow! Lewd photos, harassment and retaliation allegations: Inside the meltdown at the L.A. Unified School District's watchdog agency. LAist
CRIME AND COURTS
More turnover at LASD: Ray Leyva, a longtime Los Angeles County sheriff's official who came back from retirement to serve as Sheriff Alex Villanueva's second-in-command, is leaving a little more than three months into the new sheriff's term, he said. Los Angeles Times
Bad data? The recent controversy over a spike in pepper spray use at Los Angeles County's juvenile detention facilities has sent officials scrambling to compile and release a cache of internal use-of-force data to satisfy calls for transparency. Los Angeles Times
Big scoop: "Federal authorities raided the Los Angeles office of Republican fundraiser Elliott Broidy last summer, seeking records related to his dealings with foreign officials and Trump administration associates." ProPublica
Hit and run: The Santa Monica Police Department is asking for the public's help in finding the driver who fled after striking a 41-year-old man who fell into the road while riding an electric scooter. Los Angeles Times
One year later: Stephon Clark lived and died in Meadowview. A year later, has the neighborhood changed? Sacramento Bee
THE ENVIRONMENT
Public takeover of PG&E? Sacramento's past provides important lessons. San Francisco Chronicle
CALIFORNIA CULTURE
Rocky times: Trouble is brewing at the "Flintstone House," but this time Fred, Wilma, Pebbles and Dino have nothing to do with it. Los Angeles Times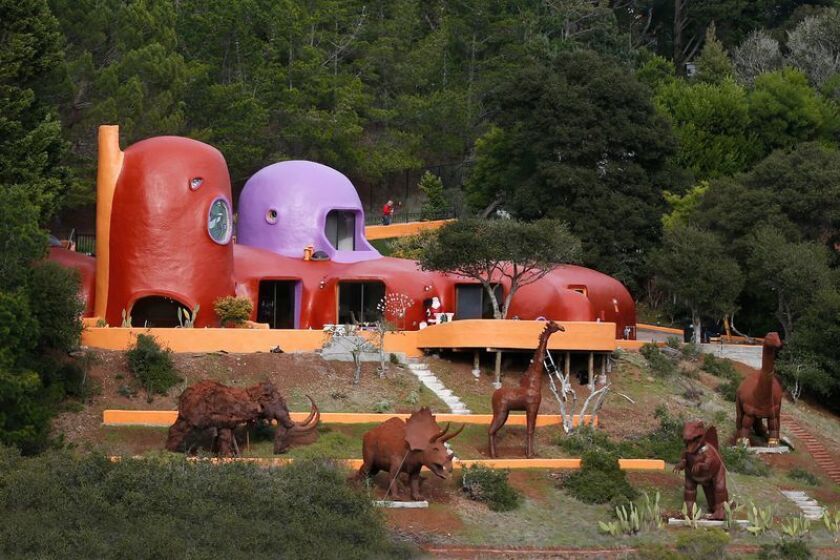 Mural fight revisited: The debate over a school mural in Koreatown has pitted community members who called the work racist against anti-censorship artists and free-speech advocates. Now a new and surprising voice has entered the fray: a coalition of artists, curators and local museum staffers advocating for the mural to be removed or substantially altered. Los Angeles Times
A real headache: California's Real ID driver's license? Still confusing. What you need to know now. Los Angeles Times
Hollywood takeover: Apple's big spending plan to challenge Netflix is taking shape. New York Times
Surprise, surprise: Facebook wants to feed users more local news. There just isn't enough of it. Wall Street Journal
Hmmm: Inside YouTube's struggles to shut down video of the New Zealand shooting — and the humans who outsmarted its systems. Washington Post
Living on pennies with a million-dollar view: How car campers survive in beach parking lots. San Diego Union-Tribune
CALIFORNIA ALMANAC
Los Angeles area: Partly cloudy, 70, Tuesday. Showers, 63, Wednesday. San Diego: Partly cloudy, 65, Tuesday. Showers, 63, Wednesday. San Francisco area: Cloudy, 62, Tuesday. Rainy, 57, Wednesday. San Jose: Cloudy, 70, Tuesday. Rainy, 58, Wednesday. Sacramento: Partly cloudy, 71, Tuesday. Rainy, 59, Wednesday. More weather is here.
AND FINALLY
Today's California memory comes from Apache Ing:
"In the 1950s, my father transplanted his passion from Chihuahua to L.A. He was a firefighter. His family held vast land ownership in Chihuahua. Yet his dream was to come to America! And he did. Becoming a naturalized citizen, marrying his first love, a gal from New Mexico, and setting up home in Boyle Heights. Neighbors I remember were from Russia, Costa Rica, Nicaragua, Mexico, Japan, Belgium, Germany, Spain and Italy. On Brooklyn Avenue the air was filled with the scents from Jewish delis and bakeries. I was showered with coins and pinched cheeks by bearded grandpas on their way to temple on St. Louis. Best of all were our weekly shopping trips with our father to fresh meat markets, truckloads of fresh fruits, and my favorite stop, Paddy's Egg Shack on Soto where Wabash starts and is today the freeway. Saturday mornings I was put on Paddy's counter and given mouth-watering root beer barrel candies. Paddy and my father would discuss all things baseball. He played in Latin American leagues before coming to California. He played, managed, coached and umpired municipal teams. Our second homes were baseball fields all over L.A. After work my dad would take us to Belvedere Park practices, then a swim at the public pool with his team and all their kids. Weekends we're spent exploring the back trails of Elysian Park and countless others where he played. We were warned to stay away from the hobos hopping off and on trains running through the hills behind Hazard Park. We plucked cattails and chatted up the hobos despite the warning. The grassy hills of Hazard Park were the very best for rolling down in the city. We had massive picnics, ice cream trucks and fountains to get soaked in! Every park was an amazing adventure!"
If you have a memory or story about the Golden State, share it with us. Send us an email to let us know what you love or fondly remember about our state. (Please keep your story to 100 words.)
Please let us know what we can do to make this newsletter more useful to you. Send comments, complaints and ideas to Benjamin Oreskes and Shelby Grad. Also follow them on Twitter @boreskes and @shelbygrad.
---