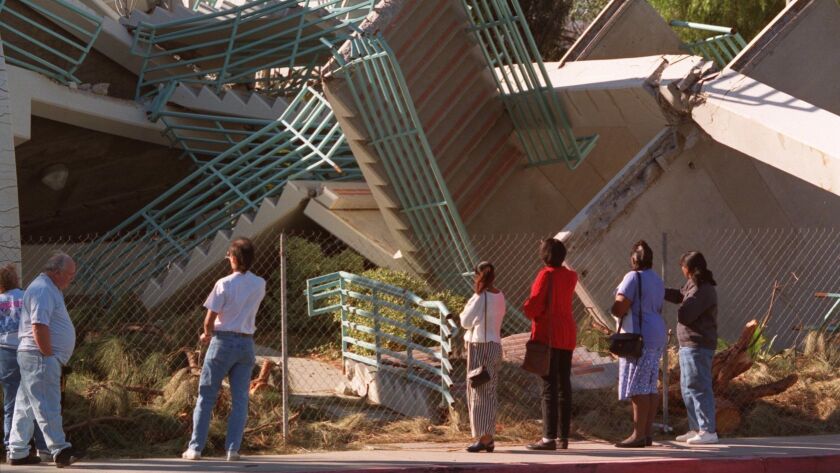 Good morning, and welcome to the Essential California newsletter. It's Friday, April 19, and here's what's happening across California:
TOP STORIES
California has experienced 10 times more earthquakes than previously known, according to groundbreaking new research that has helped scientists better understand the region's seismology. Scientists documented 1.8 million earthquakes in Southern California over the last decade — with 90% of them newly discovered and so small they had long been undetectable to modern computing systems. Previously, only 180,000 earthquakes were on record for the last 10 years. Researchers now have a better ability to identify undiscovered faults, detect patterns of moving earthquake swarms, and identify faint clusters of foreshocks that occur before a larger earthquake. Los Angeles Times
Plus: There's an ominous new fault in town. Wired
Food and family
Times writer Gustavo Arellano's mom is his culinary north star. Her food was a defining feature of his upbringing — particularly capirotada, the layered bread pudding that's the de facto Mexican dessert for Lent. She would only make it this time of year, and he writes that "this spring, I dug through my freezer and found a small bag of capirotada, from a batch my mom made two years ago. I don't think I'll ever eat that one, though, because it's from the last batch Mami ever made. She is about to enter hospice, with weeks to live." Los Angeles Times
What's in the budget?
Anticipating a rise in business and property tax revenue, Los Angeles Mayor Eric Garcetti is looking to spend more money on street repairs, homelessness and police overtime next fiscal year. Garcetti has unveiled his $10.6-billion proposed budget for the city, a spending plan that relies on increased cannabis sales in Los Angeles and state money to help the city's homeless crisis. The mayor said he wants to spend $348 million on fixing streets during the fiscal year that starts July 1, up from $312 million. Spending on homelessness would reach $457 million, up from $429 million, according to Garcetti and his aides. Los Angeles Times
Get the Essential California newsletter »
L.A. STORIES
Go Bruins: Kyla Ross, UCLA's most dominant gymnast, continues to keep fans spellbound. Los Angeles Times
Check me on IG: Overheard LA — the Instagram account that has L.A. talking (and eavesdropping). Los Angeles Times
Ugh: As numbers continue to climb, we decided to answer some questions that Californians may have about measles, especially if they're worried about catching it. Los Angeles Times
IMMIGRATION AND THE BORDER
In Calexico: After months apart, a handful of separated families tearfully reunite at the U.S.-Mexico border. Los Angeles Times
Plus: A federal appeals court handed California a victory, rejecting the Trump administration's bid to block state laws ensuring protections for immigrants who are in the country illegally. Los Angeles Times
POLITICS AND GOVERNMENT
Power play: San Francisco Mayor London Breed wants to use PG&E Corp.'s bankruptcy to take over some of the company's assets for the city's power needs, a move that would shake up California's largest utility and remake the state's energy landscape. Bloomberg
Cursing in session: The use of foul language at government meetings isn't new. But a Times analysis shows that, over the past few months, public speakers hurling slurs and curse words has been on the rise at L.A. County Board of Supervisors meetings — and there is no remedy in sight. Los Angeles Times
Following the money: In the first three months of this year, the campaign for Rep. Duncan Hunter spent about $30,000 on lawyers and paid hundreds of dollars more at the Trump International hotel in Washington, D.C., and at a liquor store on Hunter's birthday. San Diego Union-Tribune
From Sacramento: Columnist George Skelton says California gives out too many tax breaks. And it's losing billions on them each year. Los Angeles Times
2020 watch: Are Indian American voters ready to embrace Kamala Harris? Politico Magazine
CRIME AND COURTS
A new wrench: Just as a long-negotiated agreement for how California and six other Western states will deal with drought on the Colorado River was about to cross the finish line, the river's biggest user put up a roadblock. Los Angeles Times
Cold case cracked: DNA evidence has linked the cold-case rapes and slayings of two women on California's Central Coast to a man who died of cancer in a Washington prison nearly four decades after the killings, authorities said. Los Angeles Times
Growing criminal investigation: "Butte County prosecutors have collected equipment from several additional towers along the Pacific Gas and Electric Co. power line suspected of starting last year's deadly Camp fire, a sign that the county's criminal investigation into the historic disaster is progressing." San Francisco Chronicle
THE ENVIRONMENT
Classic bummer: The bright yellow flowers blanketing L.A. hills are actually invasive — and "evil." Curbed LA
Helluva story from helltown: "Last fall, when the deadliest blaze in America in a century blew through Northern California, thousands of people — including those in the tiny community of Helltown — were forced to flee. This is the story of four friends who stayed to fight." GQ
CALIFORNIA CULTURE
Happening in Hollywood: Lionsgate, the studio behind the "Hunger Games" movies, is struggling in the shifting Hollywood currents. Los Angeles Times
No sequel: In Game 3 of the Clippers-Golden State Warriors playoff series, there was no big comeback for the L.A. team, which lost handily. Los Angeles Times
Looking ahead: The Cannes Film Festival inches forward on gender parity, film critic Justin Chang writes, but Netflix remains shut out. Los Angeles Times
At the track: In an unusual show of cooperation, the three major groups that control horse racing and most of the major independent tracks announced an initiative that would eventually eliminate the use of a common race-day medication, Lasix, in horses in stakes races. Los Angeles Times
Behind the scenes: A Coachella portrait photographer shares the stories behind some rare festival images. Desert Sun
Pick this book up: Why Joy Division? Henry Rollins examines Jon Savage's oral history of the post-punk band. Los Angeles Times
History lesson: Did the great San Francisco earthquake of 1906 swallow a cow alive? SF Gate
CALIFORNIA ALMANAC
Los Angeles area: partly cloudy, 78, Friday; partly cloudy, 67, Saturday. San Diego: sunny, 72, Friday; partly cloudy, 66, Saturday. San Francisco area: cloudy, 63, Friday; cloudy, 59, Saturday. San Jose: partly cloudy, 77, Friday; partly cloudy, 65, Friday. Sacramento: partly cloudy, 83, Friday; partly cloudy, 72, Saturday. More weather is here.
AND FINALLY
Today's California memory comes from Salpi Adrouny:
"One of my most favorite memories about California is a 'rolling camping trip' that my husband and I did back in the mid-1990s. We flew out from Georgia to San Francisco for a family wedding, rented a car, and after the wedding, drove from one California state or national park to another up the coast from San Francisco all the way up to the Oregon border. Then we made a loop through the Mt. Lassen area and Humboldt Redwoods State Park and on and on, back to San Francisco. The internet was really not available then, so I had to call each park individually to make a reservation. It was September, so the nights were getting pretty cool up there, and I remember having a fun layover in beautiful Mendocino, to buy a warmer sleeping bag! An added joy in Mendocino was the beautiful botanical gardens there."
If you have a memory or story about the Golden State, share it with us. Send us an email to let us know what you love or fondly remember about our state. (Please keep your story to 100 words.)
Please let us know what we can do to make this newsletter more useful to you. Send comments, complaints and ideas to Benjamin Oreskes and Shelby Grad. Also follow them on Twitter @boreskes and @shelbygrad.
---