Newsletter: Essential California Week in Review: A state budget, a lost NBA title and scorching heat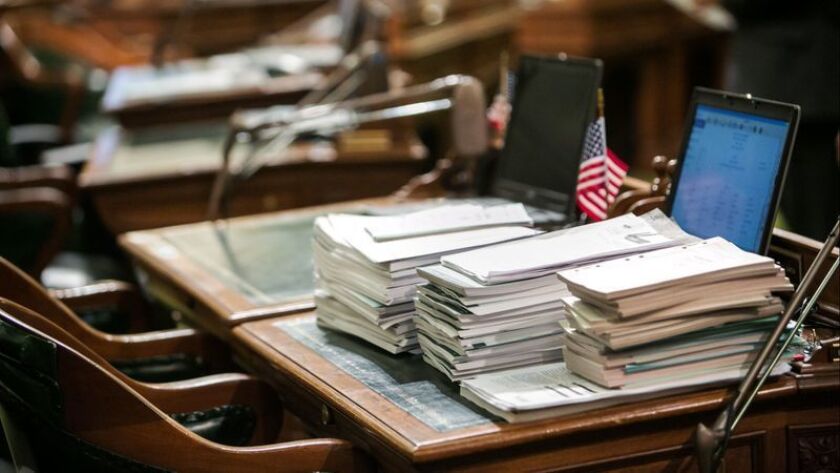 Good morning, and welcome to the Essential California newsletter. It is Saturday, June 15. Here's a look at the top stories of the last week.
TOP STORIES
Shooting in Corona. One man is dead and three others are injured after a shooting inside a Costco store here Friday evening. Police detained the shooter. The man who died has not been identified.
The homeless crisis in Los Angeles continued to dominate discussions. Steve Lopez took Mayor Garcetti to task for not doing more. A Times data analysis shows the huge rise in complaints about homeless camps. Meanwhile, there is evidence that suburban cities are pushing some homeless people into L.A., though they deny it. Here is why it's so hard to be homeless in your car. And what about that $339,000 price tag for each homeless restroom?
State budget. California lawmakers approved a $214.8-billion blueprint of the state budget and sent it to Gov. Gavin Newsom, but negotiations will continue. The state budget brought new spending on K-12 schools and healthcare while setting aside an unprecedented amount of tax revenue for future economic slowdowns. But there was debate about homeless funding and other issues.
Former UCLA gynecologist's arrest. The questions are growing about what UCLA knew about allegations against a gynecologist and why it took so long to alert the public.
Golden State Warriors lose their throne. After achieving a narrow victory in a nail-biter of a game Monday night, the Golden State Warriors managed to make it to Game 6 of the NBA Finals. But Thursday night, they forfeited the title to the Toronto Raptors in a 114-110 loss. Drake celebrated the Raptors' victory by releasing two new songs.
Gig workers or employees? In a rare show of unity for the two biggest rivals in ride-hailing, Uber and Lyft joined forces to fight California legislation that would re-categorize their California drivers (and other gig workers) as employees.
Sheriff's deputy shot. An L.A. County sheriff's deputy was fatally shot in the head while ordering food at a Jack in the Box. But that was just the beginning of a troubling story of a man accused of coming to L.A. set to hurt others.
San Francisco politics. San Francisco Mayor London Breed is all but assured to win her bid for a full term in office in a November election.
Lives upended. Farmers lost a lot of land when high-speed rail came to town. Many are still waiting to be paid.
Fiery heat. As an intense heat wave gripped the state, even the Bay Area soared past 100 degrees. There were nearly 240 wildfires across the state, and tens of thousands of customers lost power in Northern California. Meanwhile, one in four Californians live in a "high risk" wildfire area. Is the state ready for another fire season?
Bohemian Grove. A private 2,700-acre swath of redwood-covered land on the Lower Russian River that for generations was a spot for presidents, CEOs and political titans, is facing its own revolution. (Plus: the Essential California column on Bohemian Grove from earlier this week.)
Get the Essential California newsletter »
THIS WEEK'S MOST POPULAR STORIES IN ESSENTIAL CALIFORNIA
1. Southern California earthquake swarm takes an unexpected turn, and that's reason to worry. Los Angeles Times
2. A narrative deep-dive on the evolution of the Golden State Killer. Los Angeles Times
3. Twelve things you need to know about rattlesnake season. Los Angeles Times
4. Snowmelt this month in the Lake Tahoe Basin will be massive and dangerous. Sierra Sun
5. Ten dollars buys an abandoned mall in Bakersfield. Bakersfield Californian
ICYMI, HERE ARE THIS WEEK'S GREAT READS
The working witches of Los Angeles: "If you think being a witch is just sitting around doing spells all the time, you think wrong," she says. "Half my business is being on Instagram."  Los Angeles Times
Louise Linton, a.k.a. Mrs. Steven Mnuchin, is sorry: America's most controversial Cabinet wife sounds off, and the ensuing interview is really, really something. (Hats off to new LA Mag editor Maer Roshan, who personally wrote this piece, for Making Los Angeles Magazine Great Again.) Los Angeles Magazine
The Da Vinci of dirt? Road grime fuels this L.A. trucker's rolling masterpieces. Los Angeles Times
"Opportunity Zones" A "mind boggling" tax break was meant to help the poor. But trendy areas are winning too. CNN
LOOKING AHEAD
Saturday Recommendation: The breakfast pitas at this Highland Park pop-up
Today's recommendation comes from Jamie Feldmar, writing for the Los Angeles Times Food section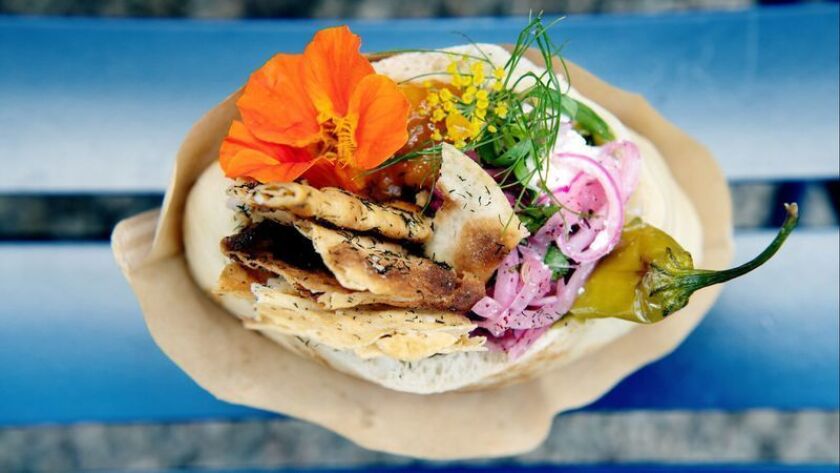 One of the best new pop-ups in Los Angeles comes from a chef who operates at the nexus of food, art and community in the backyard of a coffee shop in Highland Park.
Zoe Komarin, 35, is the founder of ZoeFoodParty, a new weekly breakfast sandwich pop-up at Collage Coffee. Her specialty is fluffy homemade pita, filled with an ever-changing combination of eggs, schmears, vegetables and more. One recent sandwich involved burnt onion labneh, carrots roasted with date syrup, puffed rice toasted in sorrel oil, and scrambled eggs adorned with edible flowers; another week there was an optional "make it rain" addition of molten halloumi cheese. "Eat it from the top down to experience all of the layers," Komarin said. "It should be like an archaeological dig."
Read the full story.
The pop-up is held every Wednesday from 8 a.m. until Zoe runs out of pita (usually around 1 p.m.). ZoeFoodParty is held in the backyard at Collage Coffee, 5106 York Blvd., Los Angeles.
Please let us know what we can do to make this newsletter more useful to you. Send comments, complaints, ideas and unrelated book recommendations to Julia Wick. Follow her on Twitter @Sherlyholmes.
---