Newsletter: Today: Where the Teachers Bear Arms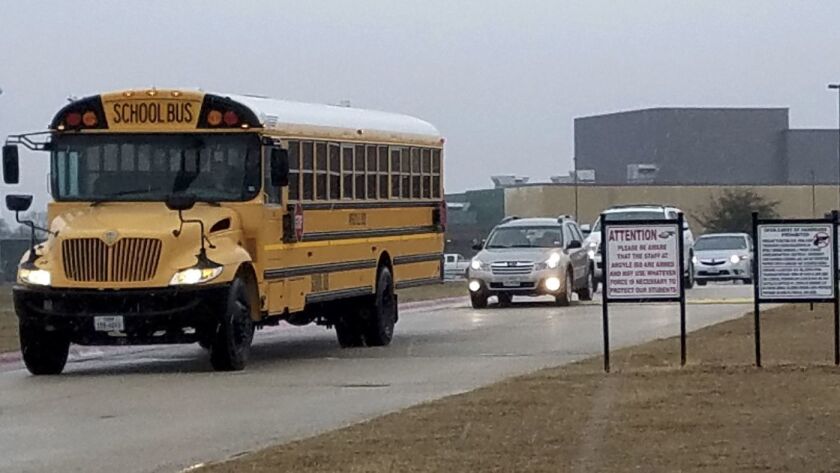 Amid the gun debate, we take a look at a school in Argyle, Texas.
TOP STORIES
Where the Teachers Bear Arms
Is a good guy with a gun the way to stop a bad guy with a gun? That familiar NRA talking point has become a key component of the national debate on school safety and weapons. In addition to calling for making 21 the minimum age to buy long guns, President Trump on Thursday again made his case for arming certain teachers (and suggested bonuses for those who carry) during another White House listening session. At Argyle High School in Texas, some educators already pack handguns. "Hopefully, it will make them think twice," one teaching assistant said of would-be assailants. And there was this news out of Florida: Officials say an armed sheriff's deputy tasked with protecting students at the site of last week's massacre waited outside the school, rather than confront the gunman who killed 17 people.
Trump vs. California: The War on Gangs
During that same listening session, Trump lashed out at a favorite target: California. This time, he accused local law enforcement of being soft on street gangs — MS-13, specifically — and suggested he might withdraw immigration agents. "I mean, frankly, if I wanted to pull our people from California, you would have a crime mess like you've never seen in California," Trump said. L.A. officials say police have made significant strides against gang violence and that MS-13 is not the force it once was.
More Politics
-- NRA spokeswoman Dana Loesch says, "Many in legacy media love mass shootings. You guys love it…. Crying white mothers are ratings gold to you." Columnist Robin Abcarian gives her own take on what the NRA is saying.
-- Former Trump campaign manager Paul Manafort and his deputy, Richard Gates, now face twice as many criminal charges after a new indictment from special counsel Robert S. Mueller III.
-- America is no longer a "nation of immigrants," at least in the mission statement of U.S. Citizenship and Immigration Services.
Mendoza Resigns but Does Not Go Quietly
Just minutes before his colleagues in the state Senate looked to expel him, Sen. Tony Mendoza resigned and lashed out. In a fiery resignation letter, Mendoza called an investigation of sexual misconduct accusations against him farcical and claimed Senate President Pro Tem Kevin de León "will not rest until he has my head on a platter to convince the MeToo movement of his 'sincerity' in supporting the MeToo cause." Investigators concluded that the allegations were "more likely than not" to be valid.
Neanderthals — They're Just Like Us!
For decades, researchers have argued that our Neanderthal cousins were intellectually inferior to their modern human contemporaries. This was used to explain why the Neanderthals disappeared from Eurasia about 40,000 years ago, not long after the arrival of modern humans there. But a new analysis of cave art has led scientists to believe that, cognitively speaking, they were about the same.
A Historic Victory on, and off, the Ice
The U.S. women's hockey team took the gold at the Olympics, a feat it hadn't accomplished since 1998. But before attaining that rare goal, the players endured a struggle that's all too familiar. The women were being paid $1,000 a month, less than one-tenth the men's reported stipends, among other disparities. So last spring, the female players threatened to boycott the World Championships if they weren't treated as equals. USA Hockey tried to break them. They stuck together.
More From the Olympics
-- Russian teenagers Alina Zagitova and Evgenia Medvedeva were in a class by themselves, taking gold and silver, respectively, in women's figure skating.
-- The American men's curling team defeated Canada to advance to the final against Sweden.
-- Cashing in medals for money is tough sledding for most U.S. Olympians.
FLASHBACK FRIDAY
On Feb. 22, 1923, about 1,000 members of the Los Angeles Police Department marched through downtown in a parade. One of the highlights, as reported in the next day's L.A. Times, "was the specially equipped car for the flying squad, carrying its own machine gun mounted at the right of the windshield." For a bigger view of the parade, including the old Times building, click here.
MUST-WATCH VIDEO
-- A wild police chase in which a pickup truck entered a subway tunnel results in six felony charges.
-- Film critic Kenneth Turan says "The Young Karl Marx" explores the unexpected early days of a historical figure, whatever you think of his theories.
CALIFORNIA
-- Allegations by a doctor at L.A. County-USC Medical Center that a fellow physician sexually assaulted her in the hospital have become the subject of a months-long criminal investigation.
-- An arrest has been made in a "swatting" call that sent police to the Peninsula Beverly Hills hotel.
-- Thousands of Democrats will gather today in San Diego for their annual convention, where potential presidential contenders will make appearances and state candidates will battle for endorsements.
-- What's Los Angeles Mayor Eric Garcetti been doing in the South Carolina town of Hopkins?
YOUR WEEKEND
-- There's more to Lone Pine than just making a road-trip stop.
-- An '80s bar pushing big hair opens in West Hollywood, plus more things happening in the world of food and drink.
-- Twenty-one great grilled fish recipes, including swordfish skewers.
-- K-beauty is red-hot: Where to shop for skincare in Koreatown.
HOLLYWOOD AND THE ARTS
-- The Hammer museum has received $50 million in gifts for an expansion, including $30 million from L.A. philanthropists Lynda and Stewart Resnick.
-- The new Netflix drama "Seven Seconds" puts a dramatic spin on tensions around law enforcement and race relations.
-- Quincy Jones has apologized for the "wordvomit" of "silly things" he's said in recent interviews.
NATION-WORLD
-- Prosecutors say Missouri Gov. Eric Greitens was indicted on felony invasion of privacy charges in connection with a nude photo he allegedly took of a woman with whom he was having an affair.
-- Texas Gov. Greg Abbott granted clemency to a man convicted of plotting the murder of his mother and younger brother, half an hour before the inmate was scheduled to be executed.
-- China's government is taking over Anbang Insurance Group Co., owner of New York's Waldorf Astoria, and will prosecute the company's founder.
-- At the "suicide cliffs" in Japan, this man has walked more than 600 people back from the edge.
BUSINESS
-- The Supreme Court appears poised to strike down mandatory union fees for public employees.
-- Kylie Jenner called Snapchat "so sad." Its stock promptly dropped more than 6%.
SPORTS
-- Veteran Isaiah Thomas has a lesson for rookie Laker Lonzo Ball: There are no days off.
-- The Clippers played well last night, but not well enough to stop Stephen Curry and the Warriors.
OPINION
-- Cleaner trucks are good. A higher sales tax to pay for private companies to get them isn't.
-- The problem with Happy Meals isn't the food. It's the way it gets kids through the door of McDonald's.
WHAT OUR EDITORS ARE READING
-- A radiologist who treated victims in the Parkland shooting describes how the AR-15 and other high-velocity weapons create devastatingly different wounds from handguns. (The Atlantic)
-- A study says midwives could improve care for mothers and babies in the U.S. (ProPublica)
-- Why you should talk with your kids, not to them. (Scientific American)
ONLY IN L.A.
During high school basketball games at Chatsworth Sierra Canyon, people's cellphones are trained on the stands as much as on the court. That's what happens when four former NBA players have sons on the team. Kanye West and Drake have shown up for home games too. But the school is used to celebrity sightings. After all, Kendall and Kylie Jenner are among the alumni.
If you like this newsletter, please share it with friends. Comments or ideas? Email us at headlines@latimes.com.
---