Newsletter: Today: The Road to Singapore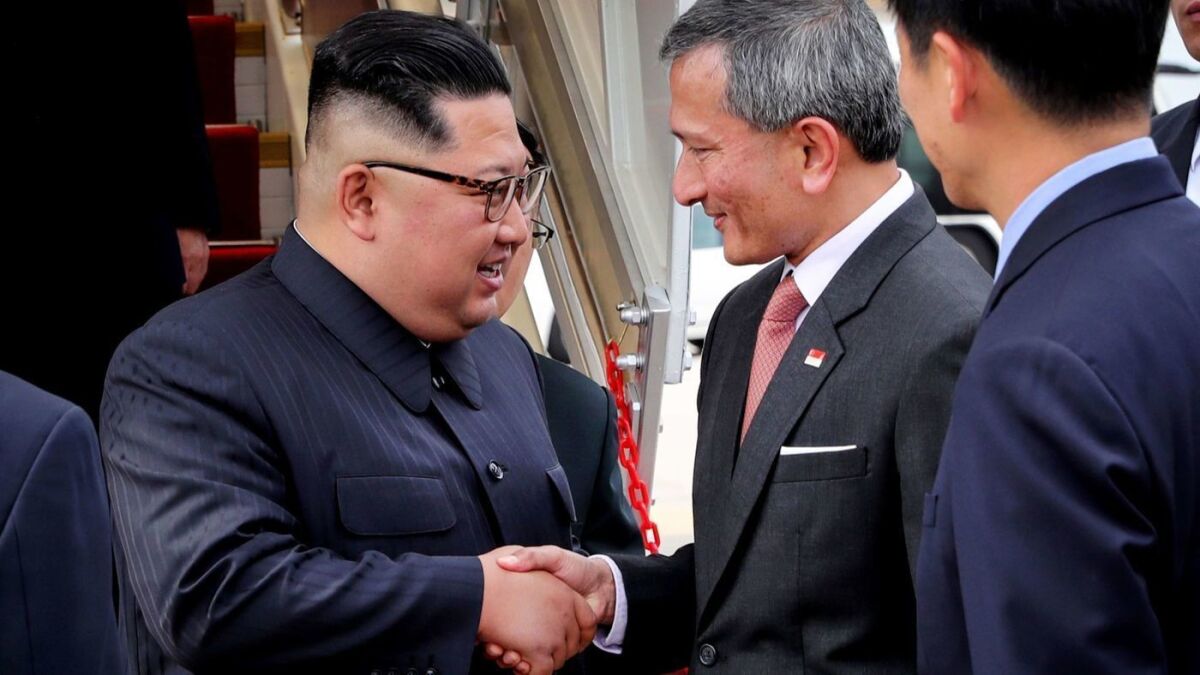 The stage is set for a summit between the U.S. and North Korea aimed at resolving the nuclear impasse and ending seven decades of official hostility.
TOP STORIES
The Road to Singapore
President Trump and North Korean leader Kim Jong Un have each landed in Singapore for their historic summit. For Trump, his much-touted negotiating skills will be put to the test. For Kim — described by one scholar as the "perfect dictator," "smart, pragmatic, highly realistic and brutal''— it's a spot on the world stage that eluded his father. In their first encounter, Trump is expected to meet Kim with only interpreters in the room, according to a senior administration official. Trump has already said a one-day meeting is unlikely to persuade Kim to give up his nuclear arsenal. Ending the Korean War will take more than a summit too. And if the history of summits is any judge, it will take time to see how this one plays out. Here's the latest.
OMG-7!
On his way to Singapore, Trump said he was "on a mission of peace." But before he left, his mission at the Group of 7 summit in Quebec appeared to be one of chaos. Trump alienated America's closest allies with his stance on trade and by suggesting Russia be let back in the G-7, despite having been expelled for invading Ukraine and annexing Crimea. Then, when Canadian Prime Minister Justin Trudeau criticized Trump's trade policies, Trump pulled out of the agreement forged at the meeting. On Sunday, White House officials lashed out at Trudeau, calling him a backstabber and accusing him of trying to make Trump look weak heading into the summit with North Korea. One said, "There's a special place in hell for any foreign leader that engages in bad-faith diplomacy with President Donald J. Trump."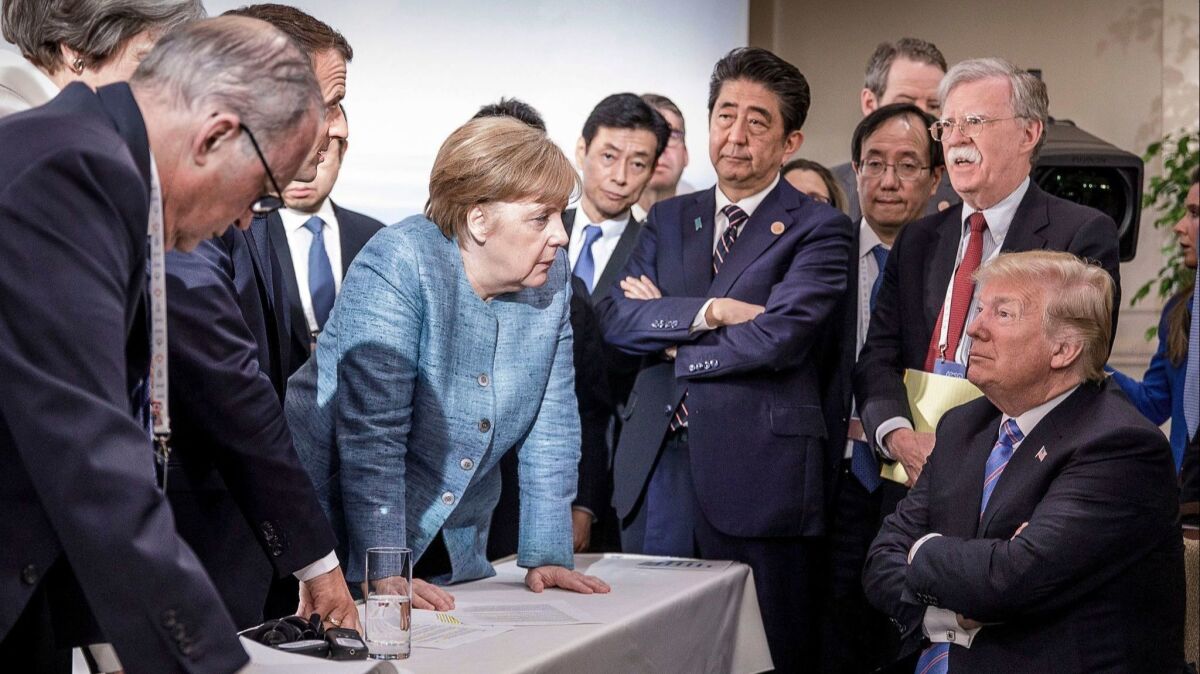 More Politics
-- Trump said he probably will support a congressional effort to end the federal ban on marijuana, a major step that could reshape the pot industry and put him sharply at odds with Atty. Gen. Jeff Sessions.
-- Special counsel Robert S. Mueller III ramped up the pressure on Paul Manafort on Friday, releasing a new indictment accusing Trump's former campaign chairman of obstructing justice and conspiring to do so by contacting potential witnesses in his case.
-- U.S. Customs and Border Protection Commissioner Kevin McAleenan gives his view of "zero tolerance" and family separations.
An Rx for Democrats' Woes?
Passage of the Affordable Care Act has been blamed for costing Democrats control of Congress, giving rise to the tea party movement and helping put Trump in the White House. Could Obamacare be an issue that helps them at the ballot box this year? A backlash to Republican repeal efforts has emboldened Democrats, who think they can flip back the House, expand coverage and turn healthcare from an albatross to an advantage even in some red states.
The Face of Child Poverty in L.A.
California is home to the world's fifth-largest economy, yet when the cost of living is factored in, its poverty rate leads the U.S. The statistics don't tell the human side of such disparity, though. For that, columnist Steve Lopez visited St. John's Well Child and Family Center in South Los Angeles, where doctors routinely see chronic preventable diseases common in Third World countries and developmental delays. "We pull cockroaches out of kids' ears every week," said St. John's CEO Jim Mangia.
Sign up to get Today's Headlines delivered to your inbox. »
OUR MUST-READS FROM THE WEEKEND
-- Anthony Bourdain was the eternal compadre of overlooked Latinos, writes columnist Gustavo Arellano.
-- Officials say a Honduran migrant separated from his wife and child under the Trump administration's new "zero tolerance" policy was found dead in his Texas jail cell of an apparent suicide.
-- In an industrial zone east of USC, the interaction between homeless encampments and businesses and homeowners has become especially up close and confrontational.
-- Israel shoots to wound, not to kill, in protests along the Gaza Strip's border. That has led to a wave of amputations.
-- Walt Disney Co. is ending its relationship with John Lasseter, the chief creative officer of Pixar and Disney Animation Studios, after allegations that he engaged in inappropriate workplace behavior.
MUST-WATCH VIDEO
-- Highlights from Gavin Newsom's and John Cox's speeches as they face off in the California governor's race.
-- Film critic Justin Chang calls "Hereditary" a new horror classic, and a triumph for star Toni Collette.
CALIFORNIA
-- Cal Fire investigators say downed power lines owned by PG&E and falling tree limbs largely were responsible for setting off the deadly fires that ripped through Northern California's wine country last year.
-- The U.S. Supreme Court is being asked to shield a Sonoma County deputy who killed a 13-year-old boy carrying a pellet gun that the deputy says he mistook for an assault rifle.
-- How did L.A. Mayor Eric Garcetti make his pick for police chief? An inside look at the process.
-- For the 48th Los Angeles Pride Parade, thousands of spectators clad in rainbow flags, face paint, hats, wings and tutus flooded the streets of West Hollywood.
HOLLYWOOD AND THE ARTS
-- At the Tony Awards, drama students from Marjory Stoneman Douglas High School in Parkland, Fla., delivered a poignant moment; Bruce Springsteen collected his award; Robert De Niro was bleeped; and "Harry Potter and the Cursed Child" and "The Band's Visit" dominated.
-- "Ocean's 8," the female-led reboot of the successful "Ocean's" heist franchise, opened at No. 1 at the box office.
-- "The Wire" creator David Simon, who says he was banned from Twitter for a week because of a tweet in which he wished death on a supporter of Trump's immigration policy, plans to tell Twitter CEO Jack Dorsey to drop dead.
-- At the Playboy Jazz Festival, a 17-year-old wonder and an 83-year-old master performed amid the tributes to Hugh Hefner and Miles Davis.
CLASSIC HOLLYWOOD
In 1963, Gene Wilder was starring alongside Anne Bancroft on Broadway when he met Bancroft's future husband, Mel Brooks. Five years later, Brooks cast him in "The Producers," and the rest was Hollywood history. "If it weren't for Mel," Wilder told The Times in 1990, "I'd still be doing temporary typing for a living, and selling toys at FAO Schwarz for $1.40 an hour." Wilder, who was born on this date in 1933, died in 2016 at age 83.
NATION-WORLD
-- Some mental health experts are concerned about "suicide contagion" after the deaths of Bourdain and fashion designer Kate Spade. They say research suggests media coverage of celebrity deaths, in particular, can influence those who are vulnerable or at risk.
-- "Swatting" hoaxes have targeted two students who emerged as vocal activists since the mass shooting at their high school in Parkland, Fla.
-- Hundreds of Taiwanese people living in the United States, including many in L.A., have gotten chilling telephone calls from scam artists. Could the calls be coming from mainland China?
-- A private rescue ship carrying 629 migrants remained at sea Sunday evening after more than a day of not receiving permission to dock in either Italy or Malta.
BUSINESS
-- In America's shale country, the oil industry has such a ferocious appetite for workers these days that it'll hire just about anyone with the most basic skills.
-- Comcast Chairman and CEO Brian Roberts has been the force behind the company's growth. Now he's in the hunt for 21st Century Fox.
SPORTS
-- Max Muncy has spent much of his career in the minor leagues. Now, he's helping lead the Dodgers' big-league resurgence.
-- Justify became the 13th horse to win the Triple Crown, but the shadow of American Pharoah lingers over his victory.
OPINION
-- Samantha Bee's "vile and vicious" language has nothing on the vile and vicious White House, columnist Virginia Heffernan writes.
-- Governments and society are unprepared to cope with Earth's tenuous water future that this hydrologist's research has mapped out.
WHAT OUR EDITORS ARE READING
-- That G-7 photo near the top of this newsletter wasn't the only one to come out, and the various images have given rise to opposing narratives. (South China Morning Post)
-- Fired government staffers say Trump has a habit of ripping up papers when he's done with them, so they taped them back together, lest the Presidential Records Act be violated. (Politico)
-- A National Endowment for the Arts survey shows poetry is making a big comeback in the U.S. (NPR)
ONLY IN L.A.
Adam Carolla claims he never set out to be the "Paul Newman collector car guy." But he bought one for $100,000 and just kept buying them. "I was interested in Datsun race cars, initially," Carolla said during a walk around his Glendale car collection. Here's how he accidentally made Newman's cars his own.
If you like this newsletter, please share it with friends. Comments or ideas? Email us at headlines@latimes.com.
Must-read stories from the L.A. Times
Get the day's top news with our Today's Headlines newsletter, sent every weekday morning.
You may occasionally receive promotional content from the Los Angeles Times.