Newsletter: Today: If Roe Vs. Wade Is Overturned
Many states are ready to outlaw abortion if a more conservative Supreme Court tosses the decision back to them.
TOP STORIES
If Roe Vs. Wade Is Overturned
When Donald Trump ran for president, he vowed that overturning Roe vs. Wade "will happen, automatically," if he were elected and could appoint justices to the Supreme Court. With the pending retirement of Justice Anthony M. Kennedy, that promise could soon be reality. Trump is expected to quickly nominate a replacement. At the same time, as many as 17 states are poised to effectively ban abortion, should the new court overturn the 1973 decision that guaranteed abortion rights nationwide. In the South and Midwest, doctors and possibly pregnant women could be subject to criminal prosecution. Here's a closer look at that scenario — and at two leading contenders for the court.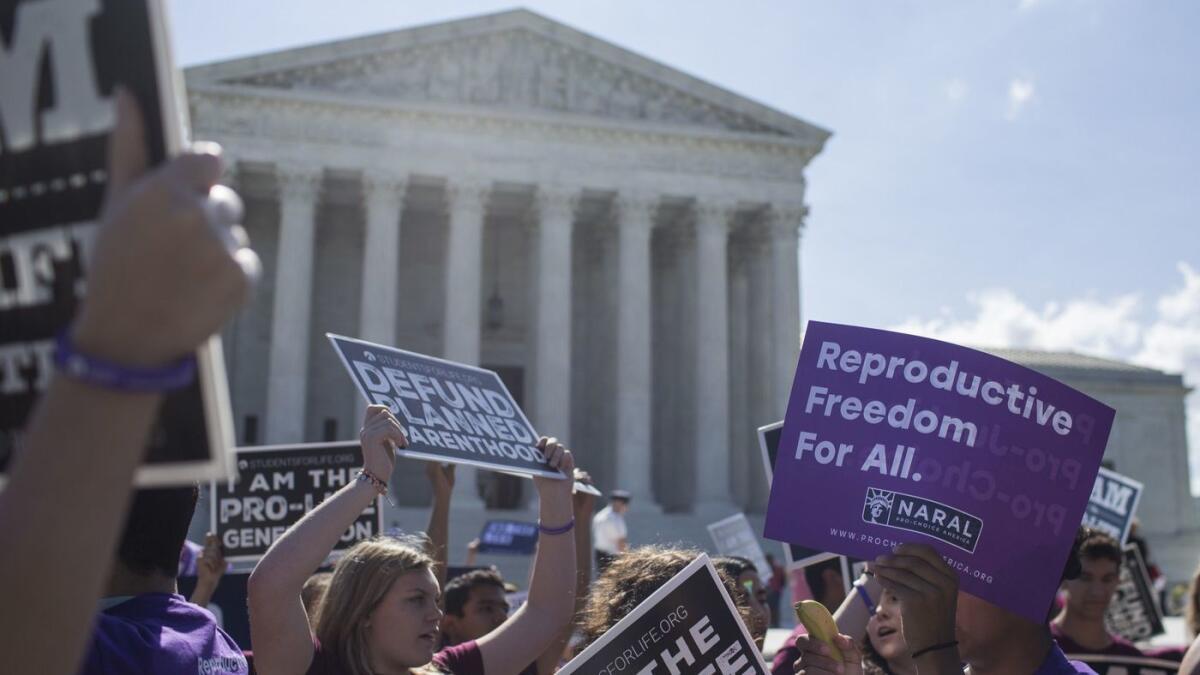 More From Washington
-- Trump and his Russian counterpart, Vladimir Putin, announced that they will meet in Helsinki, Finland, on July 16, amid concerns that the United States under Trump's direction is drifting from its traditional allies.
-- Deputy Atty. Gen. Rod Rosenstein, along with FBI Director Christopher A. Wray, testified before members of the House, repeatedly swatting back accusations from Republicans that he has withheld relevant records about the Russia investigation.
A Deadly Shooting at a Newspaper
Newspaper crime reporter Phil Davis is used to writing about shootings and deaths. On Thursday, he found himself reporting on his place of work. A gunman attacked the offices of Capital Gazette Communications in Annapolis, Md., leaving five people dead. Authorities captured a suspect identified as a man who had threatened the publication's journalists for years after a 2011 column about him being convicted of criminally harassing a woman.
Tales From the Immigration Files
As the Trump administration continues to clamp down on immigration policy, stories of the system's complexities are emerging. In Texas, one Honduran woman's case demonstrates the maze that asylum seekers can face, especially when members of the same family have different status. In Southern California, the recent arrest of a 62-year-old man who has been a lawful permanent resident since 1988 shows how green card holders are being targeted for deportation if they have a conviction on their records, even from decades ago. And, oddly enough, the practice of separating children from their parents and detaining them has received scathing criticism from an unlikely source: a Trump administration report. Ivanka Trump helped unveil it.
Welcome to Hungary? Nope
Think the Trump administration's immigration stance is tough? Hungary makes the U.S. look lenient. Soon, immigration lawyers there could be thrown in jail if they so much as help an asylum seeker fill out a complicated form in Hungarian. The new law is part of a push by Hungarian Prime Minister Viktor Orban, who counts himself as a big fan of President Trump.
Sign up to get Today's Headlines delivered to your inbox. »
FLASHBACK FRIDAY
On this date in 1929, the last section of the Roosevelt Highway, connecting Mexico with Canada, was opened in Malibu. As reported in The Times, Gov. C.C. Young "gave the signal to the young lady representatives of Canada and Mexico, who applied lighted tapers to an explosive so placed that its explosion severed a barrier across the highway." The road in these photos is now the Pacific Coast Highway.
MUST-WATCH VIDEO
-- In a traffic-snarling publicity stunt, an aspiring rap artist scaled a freeway sign in downtown L.A., then backflipped onto a giant cushion set up by rescuers.
-- Film critic Justin Chang says "Sicario: Day of the Soldado," the sequel to the 2015 thriller, is bigger, brasher and less memorable than its predecessor.
CALIFORNIA
-- Gov. Jerry Brown was busy: He signed a sweeping consumer privacy law that gives Californians new authority over their personal data; a bill to block cities and counties from taxing soda for the next 12 years; and a bill to let voters decide whether to continue daylight saving time on the statewide ballot.
-- The Metropolitan Transportation Authority voted unanimously to bring a light-rail line to the East San Fernando Valley. The $1.3-billion rail line will run along Van Nuys Boulevard, a street synonymous with the Valley's post-World War II car culture.
-- L.A. City Council President Herb Wesson has agreed to examine at least one alternative site for a homeless shelter in Koreatown after much protesting from residents and businesses.
-- A South Los Angeles nursing home will pay $450,000 to settle allegations of patient care violations, including dumping a diabetic man in a wheelchair at a skid row homeless shelter.
YOUR WEEKEND
-- Plan your Fourth of July with this selection of fireworks, parades and other events in Southern California.
-- Where to pick up pie for Independence Day, from peach and pecan to boozy and blueberry.
-- Steven Raichlen, the "Julia Child of BBQ," shares tips and recipes for your summer cookout.
-- The wine-country town of Livermore, Calif., has concerts and fine dining for a nice weekend getaway.
HOLLYWOOD AND THE ARTS
-- A look at how the Netflix film "The Kissing Booth" became a pop culture sensation, even if critics hated it.
-- After a divisive lawsuit in 2013 and a "farewell" in 2016, the Go-Go's still got the beat. They spoke with us ahead of their three-night stand at the Hollywood Bowl next week.
-- Hugh Grant has a killer role in Amazon's "A Very English Scandal." TV critic Robert Lloyd reviews.
-- Science-fiction author Harlan Ellison, known for being outspoken and combative, has died at age 84. Fellow writer John Scalzi recalls being yelled at by Ellison, as well as seeing his more tender side.
NATION-WORLD
-- Vice President Mike Pence landed in Guatemala to discuss immigration policy and other issues with leaders of Central American countries, amid calls that Washington focus more on the conditions that propel migrants north.
-- Pope Francis has accepted the resignations of two more Chilean bishops, the latest fallout from a sex abuse scandal.
-- Can humans reach even older ages? There's reason to believe that some could beat the current longevity record of 122.
BUSINESS
-- Amazon is jumping into the drug business by acquiring online pharmacy PillPack.
-- With $300 million in new funding, scooter company Bird has cemented its status as one of the nation's fastest-growing start-ups.
SPORTS
-- Injury-plagued Dodgers pitching ace Clayton Kershaw is back, and columnist Bill Plaschke says the form he showed in his comeback should be good enough for the team going forward.
-- The World Cup is halfway over. Are you ready for the knockout phase?
OPINION
-- Will Trump speak truth to Putin? We have our doubts.
-- In a ruling this week, the Supreme Court put religion-based dishonesty above the health and welfare of vulnerable pregnant women, columnist Robin Abcarian writes.
WHAT OUR EDITORS ARE READING
-- Inside the White House campaign to persuade Justice Kennedy to retire. (New York Times)
-- Distracted parenting: Why adults should monitor their own screen time. (The Atlantic)
-- The apple may not fall far from the tree, but the descendants of the famed tree associated with Sir Isaac Newton have spread far across the globe. (Atlas Obscura)
ONLY IN L.A.
Before some of us were knee-high to a tadpole, Southern mountain yellow-legged frogs thrived in hundreds of streams across the San Gabriel, San Bernardino and San Jacinto mountains. But starting in the 1960s, they began disappearing, and today, fewer than 400 are believed to exist in the wild. That's why experts traveled into the San Gabriels this week to release 500 tadpoles, reared in the quiet confines of the L.A. Zoo, into a remote creek. How will these little guys fare? Only time will tell.
If you like this newsletter, please share it with friends. Comments or ideas? Email us at headlines@latimes.com.
Sign up for Essential California for news, features and recommendations from the L.A. Times and beyond in your inbox six days a week.
You may occasionally receive promotional content from the Los Angeles Times.