Newsletter: Today: Hate Speech and Hate Crime
A deadly synagogue shooting, mail bombs, and their connection to heated rhetoric online.
TOP STORIES
Hate Speech and Hate Crime
As the stories of the 11 shooting victims at Pittsburgh's Tree of Life Synagogue on Saturday emerge, authorities have charged a 46-year-old man on 29 counts in what the Anti-Defamation League has called "the deadliest anti-Semitic attack in U.S. history." Coming after the arrest of a 56-year-old vocal supporter of President Trump who was charged with sending pipe bombs to prominent Democrats last week, the attack has raised more questions about rhetoric, social media and responsibility. Both men posted their views online before allegedly acting out; the Pittsburgh suspect wrote on Gab, a platform that's been a safe harbor for white nationalists, moments before the first 911 calls came. Meanwhile, Trump has come under criticism for sending mixed messages — condemning the attacks while also continuing to vilify his political opponents and the media.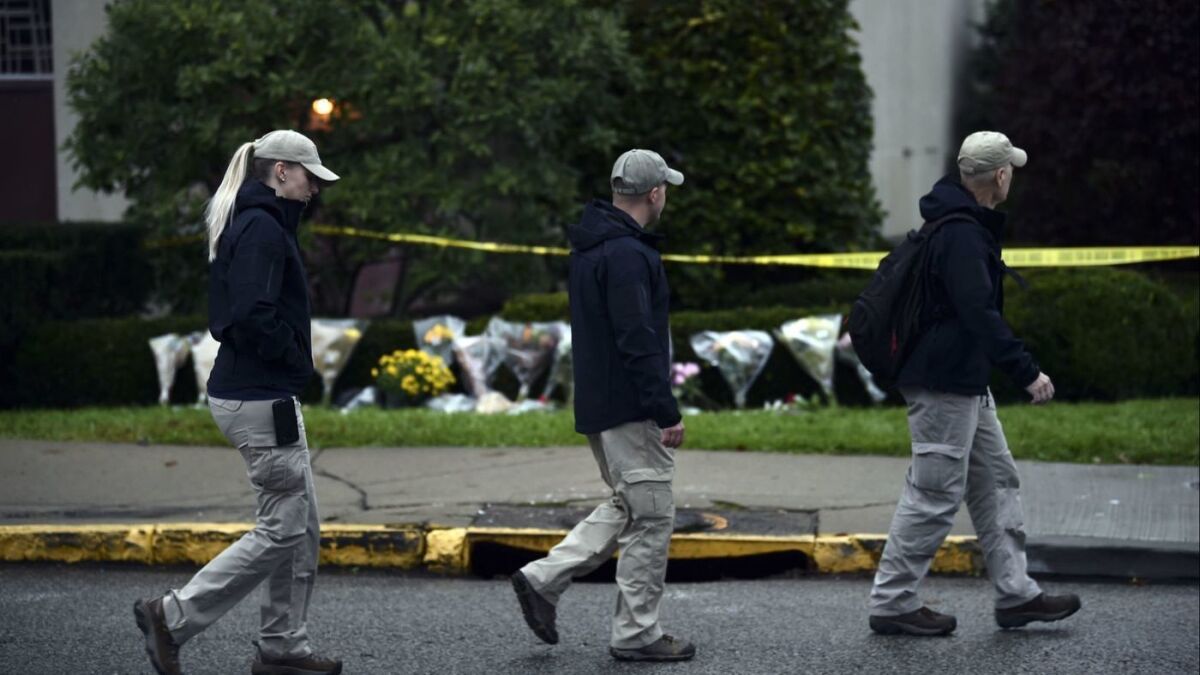 Brazil Takes a Far-Right Turn
He has a history of making outrageous statements, insulting women and minorities and defending the use of torture. Now, Jair Bolsonaro will be the next president of Brazil after winning 55% of the vote on Sunday. Many voters said they were drawn to Bolsonaro's strong style, particularly his vows to be tough on crime and make it easier for Brazilians to carry firearms. He's also threatened to expel or even exterminate his political opponents.
An MIA Back Home in Indiana
Master Sgt. Charles McDaniel Sr. served as a medic during the Korean War. He disappeared in November 1950. Though the Army presumed he was dead, there was never a funeral — until this weekend, when his family buried McDaniel's remains in Indiana. North Korea recently turned them over as part of an agreement between its leader, Kim Jong Un, and Trump. After 68 years, McDaniel's family has found some peace.
When 'None of the Above' Isn't an Option
For those of you who believe that elections come down to choosing the lesser of two evils: Congratulations! You could hold the decisive votes in next week's midterm. The latest USC Dornsife/Los Angeles Times poll shows that voters who don't like either party or its leaders are leaning toward Democrats. In 2016, the "hold your nose and vote" brigade helped hand Trump the victory.
No Joy in Dodgerville
In a World Series that featured the longest game in baseball playoff history, the Dodgers ultimately came up short, as the dominant Boston Red Sox clinched the title at Dodger Stadium. For the Dodgers, there could be big changes ahead. Pitcher Clayton Kershaw may be on the move. And Manager Dave Roberts? He was criticized by many, including President Trump, for pulling pitcher Rich Hill from Game 4. Hill's response? He referenced the synagogue shooting and said, "The focus, in my opinion, of the president is to be on the country, and not on moves that are made in a World Series game."
Sign up to get Today's Headlines delivered to your inbox. »
OUR MUST-READS FROM THE WEEKEND
-- Yosemite National Park has always been dangerous. The rise of selfie culture has only increased the risk.
-- Actress Sarah Scott reported sexual misconduct on a Hollywood set in May, but even in the #MeToo era, she became frustrated trying to seek redress.
-- How California's candidates for governor made their money: Gavin Newsom, the career public servant and multimillionaire businessman, and John Cox, the real estate investor turned politician.
-- China's new surveillance program is being touted as a way to cut crime, but some fear it will be used as an instrument of suppression.
-- There are famous ghosts all over Ireland, but the ones that really haunt you are the ones you bring with you.
MUST-WATCH VIDEO
-- Death Valley looks to become a "no-burro zone" because the animals are not native to the area.
CALIFORNIA
-- After the Pittsburgh shooting, synagogues are renewing the debate over armed guards and security, while some survivors of the 1999 attack at the Jewish Community Center in Granada Hills discuss having a "deeper sense of sadness."
-- Health officials say eliminating personal belief exemptions for childhood vaccines has boosted immunization rates, but much remains to be done.
-- Inglewood's election is pitting the mayor against a clergyman, and an NBA franchise against an entertainment company.
HOLLYWOOD AND THE ARTS
-- The news and "Frontline's" documentary "The Facebook Dilemma" collide after a week of hate crimes in the U.S.
-- Jessica Barth and Caitlin Dulany, actresses who made sexual harassment allegations against Harvey Weinstein, have created an online reporting system.
-- The memoir "The Beastie Boys Book" is a lot like their music: bombastic and brash.
-- Sandi Tan's Netflix documentary "Shirkers" tells the wild story of how she reclaimed her early work after a collaborator walked off with it.
NATION-WORLD
-- A plane with 188 people on board departing from Jakarta, Indonesia, crashed into the sea just minutes after taking off.
-- The commissioner of U.S. Customs and Border Protection said asylum-seeking families have strained his agency's ability to respond to the caravan of thousands of immigrants headed for the U.S.-Mexico border.
-- For Mexican President-elect Andres Manuel Lopez Obrador, the post-victory honeymoon may already be over, including a spat over inviting Venezuelan President Nicolas Maduro to the inauguration.
BUSINESS
-- General Motors and Honda, two of the biggest automakers, are pushing back on the Trump administration's proposed rollback of U.S. fuel-economy standards.
-- Thinking of a timeshare? Here's why they're really bad investments.
SPORTS
-- The Rams still have a perfect record, 8 and 0, after defeating the Green Bay Packers 29 to 27.
-- Five story lines to look for from the Breeders' Cup, which will return to Churchill Downs on Friday and Saturday.
OPINION
-- The Tree of Life Synagogue victims died so that refugees could live.
-- The LAPD's discipline process demands a true public airing, not a hollow road show.
-- Filling out your ballot at home? Here's the complete list of L.A. Times endorsements for the Nov. 6 election.
WHAT OUR EDITORS ARE READING
-- The growing criticism of Lou Dobbs and the banning of one of his guests for an anti-Semitic dog whistle. (CNN)
-- Remembering Ntozake Shange, the playwright, poet and author who poured her heart onto the page. (Essence)
-- How modern fashion in the U.S. has been reshaped by sports. (The Atlantic)
ONLY IN L.A.
It was called the Super Sports Equinox — the first time that all five major-league sports played home games in the same city on the same day. On Sunday, at least two fans set out on a mission to see all the action, starting with the L.A. Kings, then moving on to the Galaxy, the Rams, the Dodgers (of course) and the Clippers. Here's how they did it with scooters, trains and automobiles.
If you like this newsletter, please share it with friends. Comments or ideas? Email us at headlines@latimes.com.
Must-read stories from the L.A. Times
Get the day's top news with our Today's Headlines newsletter, sent every weekday morning.
You may occasionally receive promotional content from the Los Angeles Times.