Newsletter: Today: 'This Is the New Abnormal'
The wildfires burning in Northern and Southern California have been deadly, destructive and a sign of things to come.
TOP STORIES
'This Is the New Abnormal'
In Northern California, at least 29 people have died, more than 200 are missing and nearly 6,500 homes have been destroyed by flames. In Southern California, fire has resulted in two deaths and consumed at least 177 buildings. "This is not the new normal, this is the new abnormal," says Gov. Jerry Brown. "Unfortunately, the best science is telling us that dryness, warmth, drought, all those things, they're going to intensify." Up north in Butte County, the Camp fire — so named because it began near Camp Creek Road — has already been declared the most destructive in state history after having devoured the once-quaint mountain town of Paradise, and could turn out to be the deadliest. Here's the latest from the scene.
The Battle in Southern California
While the winds feeding the Camp fire may decrease, in Southern California, they are expected to pick up over the next several days. The deadly Woolsey fire has shaken a community already reeling from the mass shooting at a country music bar last week and forced 250,000 people to flee their homes stretching from Thousand Oaks to Malibu. Though the official number of buildings destroyed stands at 177, including historic ranches and movie sets, video from helicopters appears to show much more widespread damage, despite efforts to fight the fire with air tankers and helicopters.
More About the Fires
-- A map and all the key details on fires raging through the state.
-- The surreal scene along Pacific Coast Highway: horses and alpacas tied to lifeguard stations; a lone owl nestled on the shore; and actor Martin Sheen among the evacuees taking refuge on a beach.
-- California firefighters criticized President Trump for a tweet that incorrectly stated that the devastating fires were the result of poor forest management.
-- Columnist Steve Lopez offers some perspective on how, despite one calamity after another, Californians endure.
Doomed to Repeat History?
World War I officially ended 100 years ago Sunday, on the 11th hour of the 11th day of the 11th month. But at a gathering of global leaders in France to mark this solemn moment from the past, French President Emmanuel Macron also had the present and future in mind: He warned President Trump and others that nationalism ignores the painful lessons of history. Aside from Macron's rebuke, Trump also drew criticism for walking apart from world leaders who marched together down the Champs-Elysees — and for canceling a cemetery visit, which the White House blamed on rain.
More Politics
-- Congressional Democrats are warning Trump's newly appointed acting attorney general, Matthew Whitaker, that he will face legal consequences if he attempts to curtail special counsel Robert S. Mueller III's wide-ranging Russia investigation. Meanwhile, legal experts say the appointment may be unconstitutional.
-- Rep. Dana Rohrabacher has lost the congressional seat he held for 30 years in one of the most conservative stretches of Orange County, and as votes continue to be tallied in other races, it could get worse for the GOP.
-- More recounts in Florida? If they feel familiar, you're right. Here's what to expect.
Ghosts of the Past
For more than a century, UC Berkeley's elite law school has been closely tied to the name of the building that houses it: Boalt Hall. So much so that alumni often call themselves "Boalties." But those affiliated with the school are now deeply divided over what to do after last year's revelation that John Henry Boalt propagated anti-Chinese racism in the 19th century. It's yet another iteration of the debate over how to handle historical figures with unsavory pasts.
Sign up to get Today's Headlines delivered to your inbox. »
FROM THE ARCHIVES
Just over a century ago, World War I, "the war that will end war," came to a close. The front page of the Los Angeles Times had one story and one headline in big, bold type: "PEACE." And the city of L.A. came to a halt, as people took to the streets. With the federal government observing Veterans Day today, here's a look back at how Los Angeles marked the end of hostilities back then.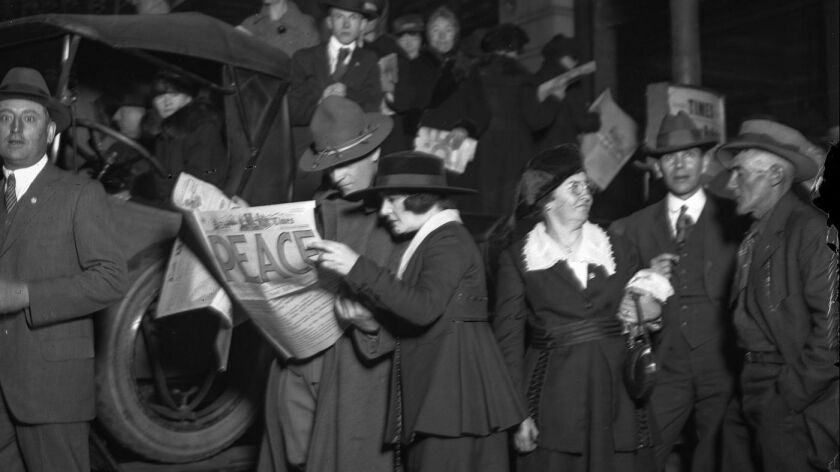 OUR MUST-READS FROM THE WEEKEND
-- First person: When a mass killing and harrowing wildfire converged on my hometown.
-- Does the Satanic Temple have a strong case against Netflix and Warner Bros. for using a goat-headed deity in the show "Chilling Adventures of Sabrina"?
-- "It's been a hard year, not going to lie": actress Mira Sorvino on the cost of saying #MeToo.
-- The band Hanson is still touring. For two women who were fans as adolescent girls, would seeing them now live up to their dreams?
MUST-WATCH VIDEO
-- Inside Evermore, where the future of theme parks is not about rides but about play.
CALIFORNIA
-- Thousand Oaks residents united in grief after a week that dealt two tragedies to their quiet community: a gunman's rampage at a cherished bar and the wildfires.
-- The rapid response of Ventura County Sheriff's Sgt. Ron Helus, who died in the mass shooting last week, was shaped by previous tragedies.
-- Data reveal details about those being held by Immigration and Customs Enforcement in the state, including some immigrants in custody for years.
-- Gov.-elect Gavin Newsom has tapped Ann O'Leary, a longtime policy advisor to Hillary Clinton, to serve as his chief of staff and a leader of the transition team this fall.
HOLLYWOOD AND THE ARTS
-- Another staging of "A Christmas Carol"? Theater critic Charles McNulty says Tony-winning virtuoso Jefferson Mays brings the play back from the dead.
-- After nearly 60 years on the front lines, folk matriarch Joan Baez is on a farewell tour. Our reviewer thought her stop at UCLA's Royce Hall was masterful.
-- On "Saturday Night Live," the show said farewell to Jeff Sessions with Robert De Niro playing Mueller, and Lt. Cmdr. Dan Crenshaw had a chance to give comedian Pete Davidson some payback.
--Overzealous Morrissey fans ambushed the stage at his concert in San Diego on Saturday, forcing security to rush the singer off the stage.
NATION-WORLD
-- As U.S. troops settle in along the border in Texas, the migrant caravan left Mexico City. Many of the caravan members said they were headed to Tijuana.
-- A fresh wave of fighting erupted between Israeli forces and Palestinian militants in the Gaza Strip. It left at least six militants dead.
-- With killings of social leaders and activists in Colombia on the rise, the government there will unveil a new plan designed to better protect them.
-- A drought has reduced the depth, volume and width of the 765-mile long Rhine River to levels that are precarious for ships and commerce.
BUSINESS
-- Lawsuits targeting business websites over violations of the Americans with Disabilities Act are on the rise. The Trump administration's decision to stop drafting rules for compliance is widely seen as opening the floodgates.
-- Using your home's equity to pay off credit card debt is … not good.
SPORTS
-- The Rams players, who mourned with Thousand Oaks residents after the mass shooting and some of whom had to evacuate because of fire, temporarily put those issues aside to defeat the Seattle Seahawks.
-- In college football, USC and UCLA will meet on Saturday. As columnist Dylan Hernandez writes, the Trojans can win their rivalry game against UCLA, play in a bowl game and it won't change the reality this season was a calamity.
OPINION
-- California is on fire, and it won't be the last time. Let's get ready by making communities more resistant to wildfires and addressing the root causes.
-- A Texas abortion procedure ban is unnecessary, full of theatrics and harmful to women.
WHAT OUR EDITORS ARE READING
-- What happened to the American diplomats in Cuba? The mystery deepens. (ProPublica)
-- Inside the battle between 7-Eleven and its store owners. (Bloomberg)
-- In search of a Degas painting, looted by the Nazis. (The Guardian)
ONLY IN CALIFORNIA
Christmas may be the most wonderful time of the year. At theme parks, it's also one of the most profitable. But how does Disneyland turn into a winter playground in a matter of hours? It takes a lot more than pixie dust: nearly a year of planning, an army of workers and a couple of large cranes.
If you like this newsletter, please share it with friends. Comments or ideas? Email us at headlines@latimes.com.
---