Newsletter: Today: The Curious Case of Maria Butina
Was Maria Butina a high-level Russian spy or a naive grad student caught up in something bigger?
TOP STORIES
The Curious Case of Maria Butina
Gun rights activist Maria Butina has become the first Russian national convicted of conspiracy around the 2016 election after pleading guilty to working with a senior Russian official to infiltrate the conservative movement in the U.S. But even while she has agreed to cooperate with prosecutors as she sits in federal prison, some wonder whether the 30-year-old's master plan was less the stuff of spy novels and more in the gray world of influence peddling.
More Politics
-- President Trump has become increasingly isolated and is struggling to exert his influence as he enters what may be the most difficult stretch of his presidency, one laden with political and legal dangers.
-- Several people close to Trump are urging him to consider 39-year-old White House aide Johnny DeStefano for his chief of staff, after his top choice and others turned down the job. Also said to be in the running: son-in-law Jared Kushner.
-- The Republican-controlled Senate invoked its war powers authority for the first time to demand a halt to U.S. participation in the Saudi-led war in Yemen. It was a rare step defying Trump.
-- Meanwhile, an unusual public warning from 44 former senators has fallen a little flat in Congress.
Crime and the Ultimate Punishment
A new report says the number of people sentenced to death in the United States this year has dropped dramatically — and Southern California has provided some of the starkest figures. In 2015 and 2017, Riverside County sent more people to death row than any other county in the nation. This year so far, that number is zero. What's going on? Analysts say more selective charging by prosecutors and more skeptical juries have a lot to do with it.
Understanding California's Deadliest Fire
More than a month after the Camp fire killed 86 people, much remains unknown about California's deadliest wildfire on record. But more information is emerging. According to a Times analysis of data from the Butte County Sheriff's Office, most victims were in their 70s, 80s and 90s and died in or near their homes. Infirmity and sometimes stubbornness played a role in their deaths. Meanwhile, just days after a lawsuit blamed Pacific Gas & Electric Co.'s equipment for starting the fire, the utility told regulators it found bullet-riddled equipment and felled branches on power lines at other potential ignition points.
Leaving Honduras: The Complex Back Story
Honduras was once the homicide capital of the world. Today, it's still among the worst, but the streets are safer — thanks in part to hundreds of millions of dollars the U.S. has spent to fight crime. The theory among American politicians was that better security would mean fewer people migrating to the U.S. But as the migrant caravans have brought to the fore, the reality has been far more complicated.
Their Big Fat Indian Wedding
Beyonce sang. Former secretaries of State Hillary Clinton and John F. Kerry danced. Bollywood stars pranced. While big weddings are the norm in India, this one in Mumbai — between Isha Ambani, daughter of the richest man in India, and her childhood friend Anand Piramal — was over the top. It comes amid growing concerns in India about wedding culture wastefulness and a potential crackdown in New Delhi.
Sign up to get Today's Headlines delivered to your inbox. »
FROM THE ARCHIVES
Comedian Phyllis Diller hated fruitcake — so much so that she wrote about it in the Dec. 17, 1995, Los Angeles Times: "Maybe there was once a point in making fruitcakes, but I doubt it. It all started as the kind of handmade gift of love that could be transported over long distances without spoiling. But you can say the same thing about a wool muffler, and it tastes a lot better."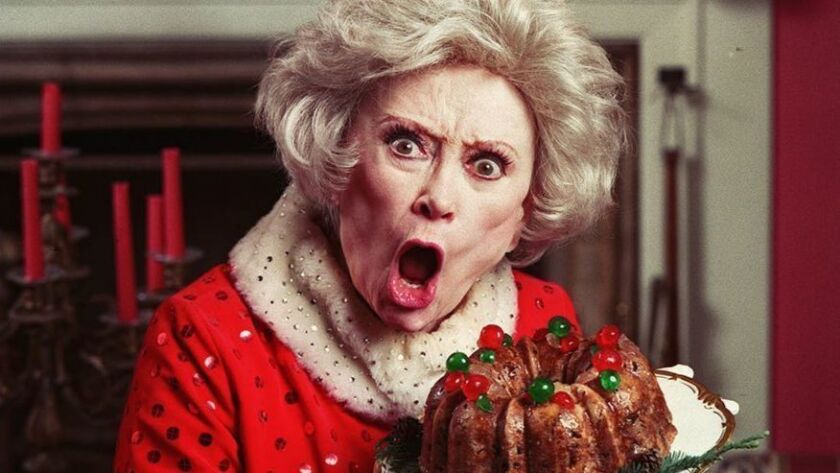 MUST-WATCH VIDEO
Norm Langer breaks down the Langer's #19 and explains the right way to eat the world's best pastrami sandwich.
CALIFORNIA
-- A jury found the Mongols motorcycle club guilty in a federal racketeering case, a verdict that moves the U.S. government a step closer to its goal of seizing the gang's trademarked insignia.
-- As UC Santa Barbara enrolls more students from China, some professors are complaining about them cheating and having poor English skills. That has spurred accusations of racism.
-- Rodney Kageyama, an actor and beloved fixture in L.A.'s Little Tokyo, has died at age 77.
-- Authorities say a man suspected of burglarizing a Whittier pawn shop was taken into custody after getting stuck in a hole in the wall while trying to escape.
YOUR WEEKEND
-- Gift ideas for those who love to cook, bake and eat.
-- A new pop-up is selling cactus trees for a very L.A. Christmas.
-- Here's what it takes to avoid gaining weight this holiday season.
HOLLYWOOD AND THE ARTS
-- Peak TV hits another peak with 495 original scripted shows, as streaming services produce more than broadcast and basic cable.
-- Art critic Christopher Knight says it's "deplorable" that the L.A. Unified School District agreed to whitewash a mural that some Korean groups have found offensive.
-- A new "To Kill a Mockingbird" on Broadway has the words of Harper Lee but the voice of Aaron Sorkin.
NATION-WORLD
-- Authorities say bomb threats sent to dozens of schools, universities, consulates and other locations across the United States appear to be hoaxes.
-- Route 91, the country music festival that became the site of the deadliest mass shooting in modern American history, could return to Las Vegas next fall.
-- Even though Trump continues to insist Mexico will pay, or is paying, for a border wall, he apparently hasn't discussed it with the nation's new leadership.
-- A second Canadian man has been detained in China, raising the stakes in the dispute over a Huawei executive arrested in Canada and held for extradition to the United States.
BUSINESS
-- Now that California has passed a mandate requiring all newly constructed homes to have a solar panel starting in 2020, developers are looking for ways to comply while still keeping their homes affordable.
-- With U.S. sanctions being reimposed on Iran, some Iranian American businesses in Southern California say they're back at square one.
SPORTS
-- The Chargers scored a pair of touchdowns and a two-point conversion in the final 3 minutes 49 seconds to beat the Chiefs 29-28, snapping a nine-game losing streak to Kansas City.
-- In obtaining relief pitcher Joe Kelly, the Dodgers didn't hit the jackpot in Vegas, but they made a safe bet in columnist Bill Plaschke's estimation.
OPINION
-- Sen. Dianne Feinstein writes that California needs to address its water and wildfire challenges now.
-- Congratulations, USC trustees. Your common sense has triumphed over bullying and hyperbole.
WHAT OUR EDITORS ARE READING
-- Trump's inaugural committee is under criminal investigation over whether it misspent money from donations. (Wall Street Journal)
-- More trouble at CBS is revealed: It paid actress Eliza Dushku $9.5 million to settle harassment claims on the set of the show "Bull." (New York Times)
-- The light and ornament calculator that could change the way you decorate Christmas trees. (Vox)
ONLY IN CALIFORNIA
When Napster founder and onetime Facebook president Sean Parker found out his wedding venue in Big Sur was in violation of the California Coastal Act, he didn't fight it. Instead, he covered $2.5 million in penalties and reached a deal with the Coastal Commission: He agreed to help build what would become the YourCoast app, which features a map of 1,563 access points along the California coast. Restitution? There's an app for that.
If you like this newsletter, please share it with friends. Comments or ideas? Email us at headlines@latimes.com.
---