Newsletter: Today: The New Governor's 'California Dream'
Gavin Newsom vows to fulfill the "California dream" with an ambitious agenda.
TOP STORIES
The New Governor's 'California Dream'
It's been 23 years since Gavin Newsom entered public life as a San Francisco parking and traffic commissioner. On Monday, he became California's 40th governor and the most powerful person in state politics, promising to "seize the moment" through progressive activism. Newsom did not mention President Trump by name, but it was clear in his 30-minute inauguration speech (read it here) that he sees his agenda as diametrically opposed to the president's. Just hours after taking office, Newsom proposed a major expansion of Medi-Cal to cover young immigrants in the U.S. illegally and requiring all California consumers to carry health insurance. Though Democrats control the Legislature, it's not clear such an "individual mandate" would pass. As Times Sacramento bureau chief John Myers writes in an analysis, Newsom will need to choose which battles to fight and which causes to champion.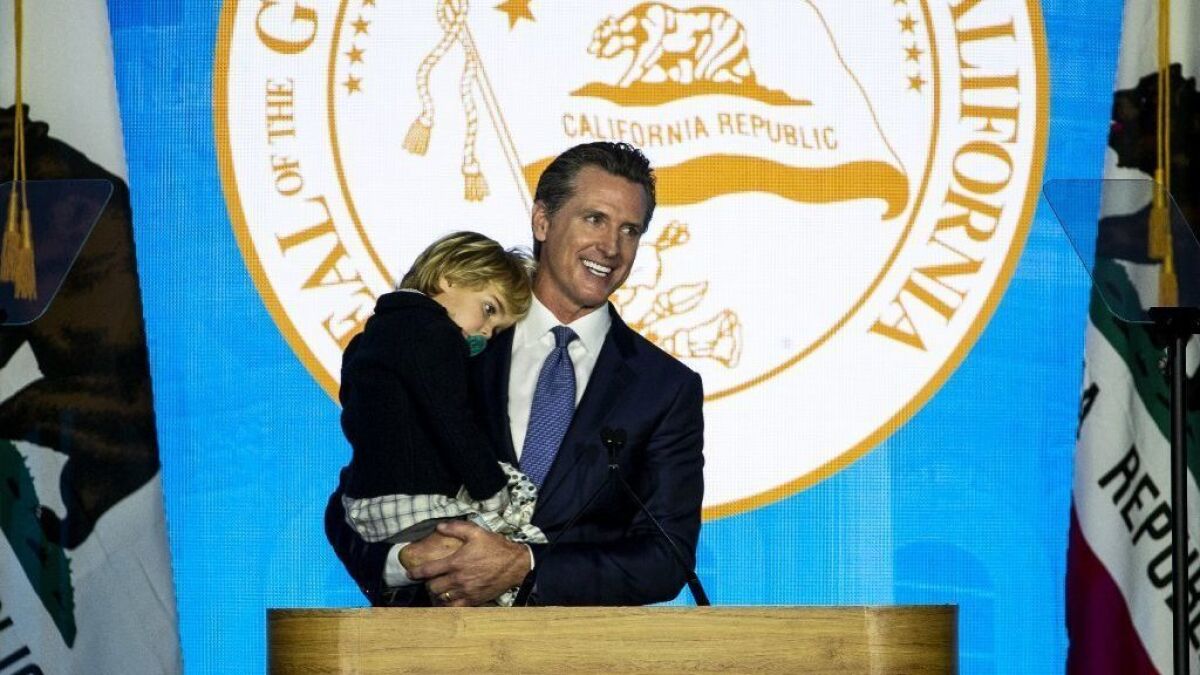 Going Prime Time
Is there a national security crisis along the border with Mexico? President Trump plans to make his case in an Oval Office address to the nation at 9 p.m. Eastern/6 p.m. Pacific tonight, then travel to the border at McAllen, Texas, on Thursday to further argue the need for a wall. Congress' Democratic leaders have requested equal time on TV to respond to Trump. They and other critics, as well as some Republicans, have disputed Trump's characterizations of conditions at the border as a crisis, particularly as the president continues to hint that he could declare a national emergency to get funds for the border wall without consent from Congress. Meanwhile, the partial government shutdown continues as the Trump administration tries to minimize some of its more irksome consequences. Case in point: a maneuver to have the Internal Revenue Service process tax returns and refunds when filing season begins late this month.
More Politics
-- Rep. Adam B. Schiff has expressed concern that special counsel Robert S. Mueller III might not look into Trump's private business dealings as he investigates Russia's interference in America's 2016 election. As a result, he said, it could be up to Democrats to expose the full scope of alleged wrongdoing.
-- Justice Ruth Bader Ginsburg, recovering from lung cancer surgery last month, on Monday missed her first oral arguments since joining the Supreme Court 25 years ago.
-- Sen. Kamala Harris hasn't launched a bid for the presidency (yet), but she has begun the narrative around which her campaign would be built — with a book.
-- Former New York Times Editor in Chief Jill Abramson says Fox News' Howard Kurtz is trying to "Foxify my book" by focusing on a passage critical of her former employer.
An End to the Mystery in Malibu?
For the better part of two years, Anthony Rauda could be found sleeping in or around Malibu Creek State Park. Now prosecutors are accusing him of using it as a hunting ground, allegedly opening fire on campsites and cars seven times between November 2016 and last July, when a rifle blast killed 35-year-old Tristan Beaudette as he camped with his daughters. How did the string of shootings lead authorities to Rauda? Read on.
To the Shores of … Catalina
What do you do when potholes, rocks and loose chunks of asphalt make a 75-year-old runway difficult to land on? Send the Marines! Dozens of them and some Navy Seabees swarmed the Airport in the Sky high atop Santa Catalina Island to begin work repaving the 3,000-foot-long runway with concrete.
Sign up to get Today's Headlines delivered to your inbox. »
FROM THE ARCHIVES
"Every single person we meet potentially has a great story to tell." That's how Huell Howser approached his work highlighting familiar and obscure spots all around California on public TV, most notably in "California's Gold." Howser, who died six years ago this week at 67, tackled his subjects with an awe-struck curiosity and relentless enthusiasm punctuated by lines such as, "Isn't that amazing?"
CALIFORNIA
-- Authorities say a man's body was found early Monday in the West Hollywood home of prominent Democratic donor Ed Buck. It was the second time a man was found dead at Buck's apartment. The donor's attorney said Buck was not arrested and is cooperating with investigators.
-- Torrance police have arrested a 47-year-old parolee in connection with a shooting at the Gable House Bowl that left three people dead and four others injured. He is being held at L.A. County jail without bail.
-- A last-ditch bargaining effort to avert a Los Angeles teachers' strike fell short Monday, although the two sides have agreed to meet again on Wednesday morning, the day before a strike is scheduled to begin.
-- The state ban on foie gras is now in effect after the U.S. Supreme Court rejected the foie gras industry's latest challenge.
HOLLYWOOD AND THE ARTS
-- What to make of the Golden Globe victories for "Bohemian Rhapsody" and "Green Book"? Film critic Justin Chang thinks awards season can only get better from here, and he has a number of suggestions for movies that deserve more attention.
-- The Writers Guild of America has announced its nominations. Among those up for awards: "Black Panther," "Roma" and "BlacKkKlansman."
-- The U.S. Supreme Court declined to hear Olivia de Havilland's case against FX Networks, bringing an end to the 102-year-old actress' fight with the cable outlet over how she was portrayed in the 2017 limited series "Feud."
-- A judge has ordered Kevin Spacey to stay away from the young man who accused the actor of groping him at a Massachusetts bar in 2016.
NATION-WORLD
-- Cigarette smoking is at an all-time low in the United States, but the benefits of this public health achievement are not being shared equally by all Americans, according to a new analysis.
-- Authorities say Scott Dozier, the convicted murderer who had all but begged Nevada authorities to execute him for years, was found dead in his death row cell over the weekend.
-- The government in Guatemala is expelling a United Nations-backed anti-corruption commission that has investigated the president and other lawmakers, pushing it toward a constitutional crisis.
-- Thai authorities say an 18-year-old Saudi woman who started a social media campaign seeking asylum will not be sent home.
BUSINESS
-- What would happen if PG&E sold its gas business or filed for bankruptcy because of wildfire liability? The consequences could ripple far beyond the utility's shareholders.
-- The self-driving car industry says it has an image problem, and it's trying to do something about it.
SPORTS
-- Clemson scored 30 unanswered points in its dominant 44-16 victory over Alabama in the College Football Playoff championship game.
-- USC is playing the waiting game as its brand-new offensive coordinator Kliff Kingsbury interviews with NFL teams.
OPINION
-- There is no security crisis at the border. Thousands of would-be immigrants seeking asylum do not constitute an invading army, and Trump has never backed up his assertions that the group is rife with terrorists.
-- Memo to conservatives: Rep. Alexandria Ocasio-Cortez understands taxes better than you do.
WHAT OUR EDITORS ARE READING
-- Trump claimed former presidents told him they wanted to build a wall. Four of them say it's not true, and a spokesman for the late George H.W. Bush declined to comment. (Washington Post)
-- Were the mysterious "sonic attacks" on the U.S. Embassy in Cuba a case of mass hysteria? That's one theory. (Vanity Fair)
-- Are these the "21 most spectacular theaters in the United States? You decide. (Curbed)
ONLY IN CALIFORNIA
Amid all the pomp and pontificating during Gavin Newsom's inauguration, the new governor's 2-year-old son stole the show. Dutch Newsom, the youngest of four children, climbed onstage in the middle of his father's address — and proceeded to do what toddlers do.
If you like this newsletter, please share it with friends. Comments or ideas? Email us at headlines@latimes.com.
---