Newsletter: Today: A Key Abortion Decision From a New Supreme Court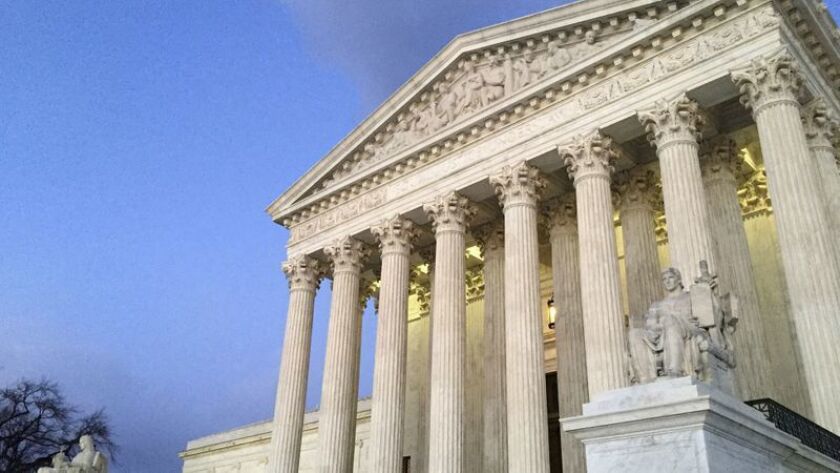 By a 5-4 vote, the Supreme Court gives an early indication of where it may stand on abortion rights.
TOP STORIES
A Key Abortion Decision From a New Supreme Court
With a new conservative majority on the Supreme Court thanks to two appointees from President Trump, many observers have expected the justices to reconsider past decisions on abortion — even the landmark Roe vs. Wade. But on Thursday, Chief Justice John G. Roberts Jr. joined with the court's four liberal justices to temporarily block a Louisiana abortion regulation that was expected to close all but one or two of the abortion clinics in the state. The case has been seen as an early test of the new court's willingness to follow precedents or make it easier for states to restrict abortion procedures.
Visions of 2020 Dancing in Their Heads
The field of Democratic contenders for president in 2020 is brimming not just with candidates but also ideas on healthcare coverage and political reform. Most of the major names so far have signed on to the Green New Deal, which at the moment is mostly a slogan and a concept. Among the ideas gaining the most traction so far, though, are those focusing on the inequality of wealth and stagnation of wages for low- and middle-income workers. Already, Trump has begun attacking the proposals as "socialism."
More Politics
-- After a standoff, House Judiciary Committee Chairman Jerrold Nadler said late Thursday that acting Atty. Gen. Matthew Whitaker would testify publicly today, setting up a potentially dramatic confrontation over Trump and the special counsel investigation into the 2016 campaign.
-- With Sen. Elizabeth Warren once again confronting questions over her claims to Native American heritage, activists in early-voting states are nervously eyeing whether she can get past the issue.
-- John Dingell Jr., a Michigan Democrat who was the longest-serving member of Congress in U.S. history, has died at age 92.
-- Amazon Chief Executive Jeff Bezos says he was the target of an extortion and blackmail effort by the National Enquirer, a tabloid known for its loyalty to Trump.
Where Does a Tip to an Amazon Driver Go?
Amazon guarantees third-party drivers for its Flex program a minimum of $18 to $25 per hour, but the entirety of that payment doesn't always come from the company. A Times review of emails and receipts reveals that Amazon at times dips into the tips earned by contracted delivery drivers to cover their promised pay. The company insists that drivers receive the entirety of their tips but declined to answer questions from The Times about whether it uses those tips to help cover the drivers' base pay.
'A Trailblazer in Every Sense'
He was a Hall of Fame outfielder, one of baseball's most feared sluggers, the only player to be named most valuable in both the National and American leagues, and the first African American to manage in the big leagues. "Frank Robinson," wrote former Times columnist Jim Murray, "always went into second like a guy jumping through a skylight with a drawn Luger." Now, baseball is paying tribute to Robinson, a former Dodger and Angel, who died Thursday in Los Angeles at age 83.
Sign up to get Today's Headlines delivered to your inbox. »
FROM THE ARCHIVES
On this date in 1960, a star was born. Or, rather, many stars, as the official groundbreaking ceremony for the Hollywood Walk of Fame took place. A story in The Times the next day reported: "The whole job, which is being sponsored by the Hollywood Property Owners Assn. and the Hollywood Improvement Assn., will cost $1,151,000 and take 10 months to complete." So who got the first star — and who's in the photo below? Read on.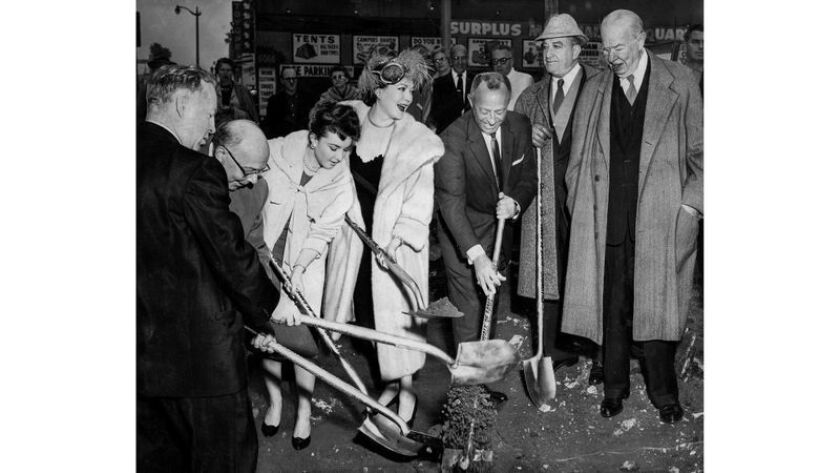 CALIFORNIA
-- Los Angeles officials agreed to drop all criminal charges against one of the city's most visible Black Lives Matter organizers as part of a negotiated arrangement, after an outcry from activists.
-- L.A. Police Chief Michel Moore defended his elite Metropolitan Division officers, saying they were not engaged in racial profiling. A Times investigation shows they have pulled over a disproportionate number of black drivers.
-- Recent storms have carried trash and debris to beaches in Los Angeles and Orange counties. More frosty weather is on the way.
-- Should the Dixie School District in the Bay Area city of San Rafael change its name?
YOUR WEEKEND
-- Restaurant reviews: Tacos 1986 is having its moment thanks to a larger-than-life taquero, while Blackship in West Hollywood offers an uneven take on Japanese-Italian cooking.
-- Mammoth Mountain and June Lake snow resorts are now contending with as much as 11 feet of new snow and temperatures hovering around zero.
-- What to do in the garden in February? Here are 18 ideas.
-- Nineteen new high-tech fitness devices from the Consumer Electronics Show held last month Las Vegas.
HOLLYWOOD AND THE ARTS
-- What to make of "The Lego Movie 2: The Second Part"? Film critic Justin Chang thinks it's funny but that everything's not awesome.
-- Beyond her Oscar nomination fairy tale, "Roma" star Yalitza Aparicio hopes to break barriers.
-- Ariana Grande has accused longtime Grammy Awards show producer Ken Ehrlich of lying about her and stifling her creativity and self-expression after reports about her backing out of this Sunday's awards show.
-- "The Visitation," Jacopo Pontormo's altarpiece, has never before traveled outside Italy. It's now on display at the J. Paul Getty Museum.
NATION-WORLD
-- Paul Erickson, the American boyfriend of admitted Russian influence agent Maria Butina, has been indicted in South Dakota for what prosecutors say was an unrelated investment fraud scheme.
-- A torrential storm in Rio de Janeiro killed at least six people, with rain flooding neighborhoods on the city's south side, wind felling trees and a mudslide burying a bus.
-- A U.N. human rights expert says that Saudi Arabian officials planned and carried out the "brutal and premeditated killing" of Jamal Khashoggi and that the kingdom undermined Turkey's efforts to investigate the journalist's death.
-- With hyperinflation and a lack of cash in Venezuela, debit card use is a way of life.
BUSINESS
-- California's biggest utilities are losing their monopolies. Is that a good thing?
-- The Tesla Model 3 has hit Europe, but the Autopilot feature is disabled.
SPORTS
-- For LeBron James and the Lakers, attracting talent is not the gig they thought it'd be.
-- Jason Brown is aiming to revolutionize his figure skating career by landing a quad in competition this week in Anaheim.
OPINION
-- California needs to build affordable housing. Its racist Article 34 of the state Constitution makes that too difficult.
-- Michael Bloomberg writes that the PG&E bankruptcy is a wake-up call on the financial risks of climate change.
WHAT OUR EDITORS ARE READING
-- How could two $1.8-billion Navy destroyers crash into oncoming cargo ships in 2017? An in-depth investigation reveals the answers. (ProPublica)
-- Rep. John Dingell Jr. on witnessing President Franklin D. Roosevelt's "date which will live in infamy" speech while he served as a 15-year-old House page. (The Atlantic)
-- Are these buildings ugly? Beauty is in the eye of the beholder. (Atlas Obscura)
ONLY IN L.A.
For nearly four decades, Karen and Barry Mason have run Circus of Books in West Hollywood. Their little bookstore has survived a lot, but it finally met its nemesis in the internet. So on Saturday, the couple, now in their 70s, will close up shop. It's not a particularly unusual story, unless you consider that this grandma-and-grandpa operation has specialized in selling gay and straight porn and sex toys — and has endured an FBI raid, federal obscenity charges and the AIDS crisis.
If you like this newsletter, please share it with friends. Comments or ideas? Email us at headlines@latimes.com.
---