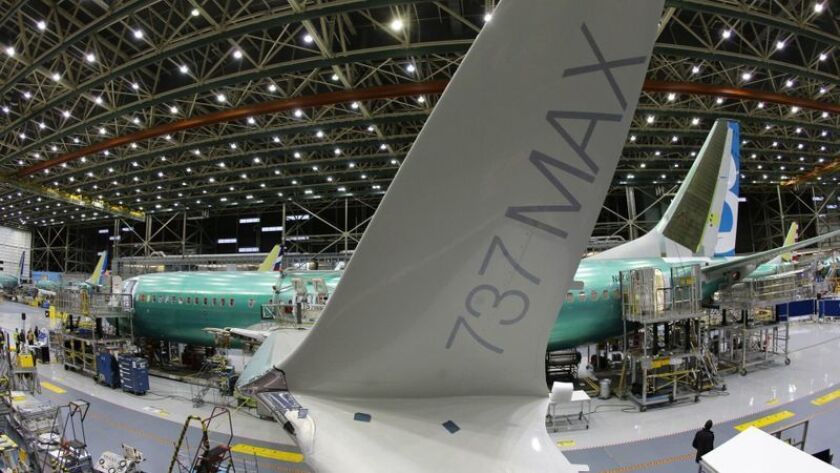 Boeing Co. is coming under growing international pressure to account for the second crash of its 737 Max jetliner.
TOP STORIES
Boeing Faces More Pressure
An unfolding investigation. Skittish passengers. Nervous investors. As authorities try to determine what caused a second crash of a Boeing 737 Max aircraft, the company is facing increased pressure. The Federal Aviation Administration on Monday issued a statement of confidence in the safety of the 737 Max, and several U.S. airlines have expressed support for the aircraft. On the other hand, China, Indonesia and Ethiopia are among those that have grounded their fleets of Boeing's most successful and newest model, and Jim Hall, a former chairman of the National Transportation Safety Board, said, "Boeing should put safety first and ground this aircraft." Half a dozen safety experts interviewed by The Times cautioned that almost no cause of the Ethiopian Airlines accident can be ruled out, including pilot error or terrorism. Investigators hope to analyze information from the jetliner's event data recorder and cockpit voice recorder, which were found at the crash site. Boeing is being sued by dozens of victims' families over last year's Indonesian Lion Air disaster involving a 737 Max.
Trump's Budget Proposal? (Shrug)
President Trump has sent a $4.7-trillion budget request to Congress that calls for an additional $8.6 billion to build a wall on the U.S.-Mexico border, a reduction of Medicare spending by $846 billion over the next decade, and a 5% increase in Department of Defense spending. The reaction in Washington? Mostly shrugs, including from the president. Such budget proposals are generally symbolic, as Congress holds the purse strings, but previous presidents have used them as a way to rally around their policies. This time, not so much.
More Politics
-- The United States announced late Monday that it was pulling the remaining staff from its embassy in Venezuela, citing the deteriorating situation in the South American nation.
-- House Speaker Nancy Pelosi said in an interview that she opposes moving to impeach Trump "unless there's something so compelling and overwhelming and bipartisan." Still, she thinks he is unfit for office.
-- Sen. Elizabeth Warren explained her bold proposal to take on Google, Amazon and Facebook.
Requiem for a Gun Control Advocate
Victor McElhaney believed in the power of music to bring people together. He was known for his critical thinking and as an advocate for black lives, women and gun control; his mother, an Oakland councilwoman, helped create the city's Department of Violence Prevention. He loved to make people smile. On Sunday, not far from the University of Southern California, where he was studying jazz, police say he was gunned down in the parking lot of a liquor store when a group of men tried to mug the 21-year-old and his friends.
Spawn of the Blob
It came not from outer space, but from the Pacific Ocean: the warm-water "blob" that sat off the coast of California for a few years until late 2016. Along with the marine heat wave's rising sea surface temperatures and changing currents came dozens of nonnative species that were once unheard of in northern waters, according to researchers at UC Davis, the Farallon Institute and the Marine Science Institute at UC Santa Barbara. As a result, the biological diversity of some coastal communities may never be the same.
Sign up to get Today's Headlines delivered to your inbox. »
FROM THE ARCHIVES
William Mulholland, the "father" of Los Angeles' municipal water system, had built the St. Francis Dam just north of present-day Santa Clarita. It held back more than 12 billion gallons. But from the time the dam opened in 1926, it leaked. Then, on this day in 1928, it collapsed, killing an estimated 400 to 600 people in the second-deadliest disaster in California history. Times photographers captured images of the damage, the survivors and those who perished.
CALIFORNIA
-- A report by the Los Angeles Police Department's inspector general says computer programs that label people as chronic offenders need more oversight to protect the public from unfair arrests and detentions.
-- Gov. Gavin Newsom is setting aside plans to withhold transportation money from local governments if they don't meet state goals for new housing
-- A woman who is a survivor of domestic and sexual violence was pulled aside by a TSA agent at Los Angeles International Airport for extra screening, an experience that left her traumatized. She tells columnist Robin Abcarian her story.
-- Trouble is brewing in the Northern California town of American Canyon: The city is trying to revoke a license for Bottoms Up Espresso, a drive-through coffee shop that officials have argued is a "bikini cafe" and "adult cabaret."
HOLLYWOOD AND THE ARTS
-- Gayle King proved in her interview of R. Kelly that she's got nothing to prove, columnist Mary McNamara writes.
-- Drummer Hal Blaine, one of the most recorded musicians in pop music history as a member of the L.A. studio musicians known as "the Wrecking Crew," has died at 90.
-- Unearthed recordings of Tucker Carlson making vulgar and sexist remarks, defending statutory rape and repeatedly using a crude reference to female genitals have led to calls for Fox News to fire the evening host.
-- Justin Timberlake is back touring after an injury to his vocal cords, but his voice appears to still be ailing.
NATION-WORLD
-- Carmine "The Snake" Persico, the longtime boss of the infamous Colombo crime family, has died at 85 while serving a 139-year prison sentence.
-- Israeli Prime Minister Benjamin Netanyahu downplayed his country's Arab citizens, writing, "Israel is the nation-state of the Jewish people — and them alone."
-- British Prime Minister Theresa May appears to have secured changes in her Brexit deal after a last-ditch trip to France to meet with European Union officials. A crucial vote in Parliament is scheduled for today.
-- Taiwan President Tsai Ing-wen joined a U.S. envoy in advocating more religious freedom in Asia. It was a joint jab at China, where the government restricts worship and resents American officials for political dealings with the island.
-- An oil and gas boom is transforming the eastern Mediterranean and changing relationships, especially with Israel.
BUSINESS
-- A growing number of companies in numerous industries now routinely provide rebates and refunds in the form of prepaid debit cards. Is that a good thing for consumers? Columnist David Lazarus explores.
-- Tesla is backtracking from a jarring change in its retail strategy, now deciding to keep open many of the stores it had planned to close and raising prices on its electric cars as a result.
SPORTS
-- At Indian Wells, Naomi Osaka, the world's No. 1 women's tennis player at just 21, playfully referred to the time before anyone knew who she was as if it had been decades ago.
-- Could Chargers owner Dean Spanos have had the most popular NFL team in L.A.? Columnist Arash Markazi thinks so, if Spanos had only followed the example of soccer's LAFC.
OPINION
-- For those suffering from mental illness or addiction to finally get a fair deal from their insurers, federal regulators and state insurance commissioners will have to step up enforcement.
-- Fifty years ago this month, Baby Nancy made her debut at the American Toy Fair. A 13-inch black baby doll, Nancy transformed what was racially acceptable in Toyland.
WHAT OUR EDITORS ARE READING
-- "The Western erasure of African tragedy": a critical look at media's coverage of the Ethiopian Airlines crash. (The Atlantic)
-- An American who lost his grandmother in Japan's 2011 tsunami travels to the country to search for what the disaster left in its wake. (Longreads)
-- A Q&A with L.A. Times photojournalist Gary Coronado, who documented the staggering amount of homicides caused by a street-level drug war in Tijuana. (Roads and Kingdoms)
ONLY IN L.A.
Memories are made of this: A Brentwood home once owned by Rat Pack member Dean Martin and built by Cliff May, the architect who popularized the California ranch and the indoor-outdoor lifestyle that accompanied it, has sold for $5.219 million. That's $200,000 over the asking price. But you can get a look for free right here. Ain't that a kick in the head?
If you like this newsletter, please share it with friends. Comments or ideas? Email us at headlines@latimes.com.
---