Security personnel react as a device is detonated in a van near the St. Anthony's Church shrine in Colombo, Sri Lanka.
(M.A. Pushpa Kumara / EPA / REX / Shutterstock)
Security personnel stand near where a device was detonated April 22 in a van in Colombo, one day after devastating bombings in Sri Lanka killed nearly 300 people.
(M.A. Pushpa Kumara / EPA / REX / Shutterstock)
Sri Lankans are evacuated April 22 after a van was found parked with a suspected explosive device near St. Anthony's church, which was among targets of the devastating Easter Sunday explosions.
(M.A. Pushpa Kumara / EPA / REX / Shutterstock)
A Sri Lankan woman living near St. Anthony's Shrine hurries away with her infant after police find a device in a parked van in Colombo on April 22. The device was exploded, and there were no casualties.
(Eranga Jayawardena / Associated Press)
People pray outside the St. Anthony's Shrine in Colombo, a day after the building was hit as part of a series of bomb blasts targeting churches and luxury hotels in Sri Lanka.
(Mohd Rasfan / AFP/Getty Images)
Soldiers secure an area near St. Anthony's Shrine on April 22. A device found in a van was detonated one day after a series of bomb blasts targeted churches and luxury hotels in Sri Lanka.
(Jewel Samad / AFP/Getty Images)
Sri Lankan security personnel pass bodies covered with blankets amid blast debris at St. Anthony's Shrine.
(Ishara S. Kodikara / AFP/Getty Images)
Sri Lankan soldiers secure the area after an explosion at St. Anthony's Shrine in Colombo.
(Rohan Karunarathne / Associated Press)
Sri Lankan soldiers secure the area around St. Anthony's Shrine after an April 21 explosion in Colombo.
(Eranga Jayawardena / Associated Press)
A victim's relative weeps outside a hospital in Batticaloa in eastern Sri Lanka after the Easter Sunday bombings.
(Lakruwan Wanniarachchi / AFP/Getty Images)
An injured Sri Lankan woman is moved on a hospital stretcher after an explosion at a Batticaloa church.
(Lakruwan Wanniarachchi / AFP/Getty Images)
Security personnel and investigators look through debris outside Zion Church in Batticaloa in eastern Sri Lanka after an explosion April 21.
(Lakruwan Wanniarachchi / AFP/Getty Images)
Relatives of bombing victims mourn as they wait outside a hospital mortuary in Colombo, Sri Lanka.
(Eranga Jayawardena / Associated Press)
A Sri Lankan police officer and a local stand outside St. Anthony's Shrine after an explosion April 21.
(Eranga Jayawardena / Associated Press)
A Sri Lankan woman is helped near St. Anthony's Shrine after an explosion in Colombo.
(Eranga Jayawardena / Associated Press)
Women grieve after an explosion in Colombo in an image from Derena TV.
(Associated Press)
Sri Lankan firefighters work the scene after an explosion at St. Anthony's Shrine in Colombo.
(Eranga Jayawardena / Associated Press)
Police cordon off the area after an explosion at St. Anthony's Shrine in Colombo.
(M.A. Pushpa Kumara / EPA-EFE/REX)
Authorities in Sri Lanka are investigating a deadly string of Easter morning attacks at churches and luxury hotels.
TOP STORIES
Terror in Sri Lanka
Easter Sunday in Sri Lanka began like many others, with people dressed in their Sunday best for morning services at churches and others spending time at luxury hotels. Then, the explosions hit. Authorities say at least 290 people were killed and 500 injured in the attacks, most of which have been ruled as suicide bombings, and that two dozen suspects were arrested. It was the deadliest day in the primarily Buddhist country since a civil war ended a decade ago. Expressions of sympathy poured in from around the world, including Pope Francis at St. Peter's Basilica and Archbishop Jose H. Gomez of Los Angeles. Among the victims were several U.S. citizens, Secretary of State Michael R. Pompeo said in a statement condemning the terrorist attacks.
All the President's Liars
It's a crime to lie to federal investigators or Congress, a lesson that many of President Trump's associates found out the hard way. (Just ask former national security advisor Michael Flynn or disbarred lawyer Michael Cohen; they're among several who pleaded guilty.) But it's not a crime to lie to reporters and the American people, and for that the president's team can be grateful. The redacted 448-page Mueller report exposed in voluminous detail how the Trump White House is comfortable not only spinning the truth, but outright demolishing it.
More Politics
-- Several leading Democratic lawmakers say that impeachment of Trump must at least be considered on the basis of behavior detailed in the Mueller report. Meanwhile, Trump's allies continue to contend he's been exonerated and Rudy Giuliani, the president's lawyer, says there was nothing wrong with accepting information from the Russians.
-- Sen. Elizabeth Warren of Massachusetts is unveiling a proposal to wipe out student debt for millions of borrowers, making her the only major 2020 presidential candidate to advance such an ambitious plan.
Avenatti and an Athlete's Payment
When Hassan Whiteside of the Miami Heat wired $2.75 million to Michael Avenatti in January 2017, the pro basketball player intended most of the money to go to his former girlfriend, Alexis Gardner. Prosecutors say that, as Gardner's attorney, Avenatti was entitled to take just over $1 million in legal fees. Instead, they allege, Avenatti hid Whiteside's payment from Gardner and immediately took $2.5 million to buy a share of a private jet. Avenatti denies wrongdoing. "No monies were ever embezzled from anyone and I look forward to all of the relevant documents and facts being presented at trial," he said Sunday by email.
Will the Last Delta Smelt Be in … Long Beach?
Time may be running out for California's most infamous fish, which has been mocked by President Trump as "a certain kind of three-inch fish" and targeted by endless litigation. Despite a decades-long rescue effort, the tiny delta smelt appears closer than ever to vanishing from its only natural home, the Sacramento-San Joaquin Delta. Now, some worry the only place the species exists will be within the confines of an artificial tank in Long Beach.
Sign up to get Today's Headlines delivered to your inbox. »
OUR MUST-READS FROM THE WEEKEND
-- Columnist Steve Lopez profiles a student who got into a great college the old-fashioned way: He dreamed big and worked hard.
-- On patrol with an LAPD unit whose traffic stops prompted racial-profiling concerns.
-- The mysterious life of James McCord, a Watergate burglar whose death went unnoticed for two years.
-- Buy, sell or hold? Sneakers are now assets trading like stocks.
-- Former football player Reggie Bush hopes the NCAA will let him return to USC some day.
FROM THE ARCHIVES
On April 21, 1930, Ford Motor Co. opened its new Southern California assembly plant in Long Beach. The plant replaced an earlier one at East 7th Street and Santa Fe Avenue in Los Angeles. The next morning, The Times reported that California's lieutenant governor "pressed an electric button that started the assembly line of the plant in motion." By 1958, the Long Beach plant had been shuttered and made way for one in Pico Rivera.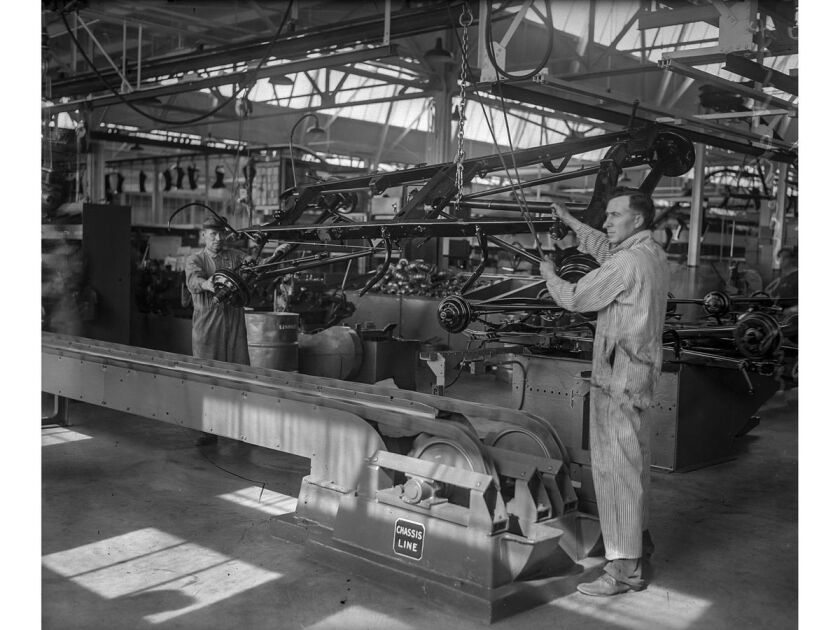 CALIFORNIA
-- A state housing bill targeting wealthy cities could rezone nearly all of Palo Alto.
-- A proposed parcel tax for L.A. schools has brought together two usual foes — the L.A. teachers union and Eli Broad.
-- The city of L.A. has quadrupled the fine for disabled-placard fraud. But will it help?
-- Southern California transit agencies will celebrate Earth Day today by urging commuters to help the environment by leaving their cars at home and riding the bus, the train or a bicycle for free.
HOLLYWOOD AND THE ARTS
-- Ye of great faith: Kanye West brought a spiritual experience fashioned like a new-age Baptist church revival to Coachella on Easter Sunday morning.
-- Mexican actress Kate del Castillo discussed how El Chapo made her broke and her return as TV drug lord "La Reina."
-- Nintendo's Game Boy hit the shelves 30 years ago. Today, the portable devices live on in ways far beyond its intended use.
-- The missing "Avengers" return: Paul Rudd and Jeremy Renner are back for "Endgame."
NATION-WORLD
-- A series of commemorative events to mark the 20th anniversary of the Columbine High School shooting concluded Saturday with a ceremony paying tribute to the victims and highlighting the ongoing strength of the suburban Denver community.
-- Volodymyr Zelensky, a popular comedian initially brushed off by Ukraine's political elite as a novice, has won the nation's presidential election in a landslide vote. He gained fame playing a history teacher who became president.
-- The archbishop of Paris and Catholics from around France and the world honored the firefighters who saved Notre Dame Cathedral. At a special Easter Mass, they prayed for a swift reconstruction of the monument.
-- In Egypt, voters appear poised to approve a package of constitutional changes that would extend President Abdel Fattah Sisi's rule to 2030 and enhance his power over the judiciary.
BUSINESS
-- Snap Inc. has three years to make a profit before it runs out of money.
-- SpaceX suffered a setback on Saturday when a test-fire accident sent up a plume of orange smoke from the pad where its Crew Dragon astronaut capsule's escape system engines were being tested.
SPORTS
-- Despite a strong effort, the Clippers lost again to the Golden State Warriors and now stand on the brink of playoff elimination.
-- By defeating the Seattle Sounders, LAFC has extended its regular-season home unbeaten streak to 11 games, longest in MLS, and improved its overall record to a league-best 7-1-1 in 2019.
OPINION
-- Donald Trump is no Richard Nixon. He's worse.
-- L.A. County can safely release and treat thousands of mentally ill inmates. So do it.
WHAT OUR EDITORS ARE READING
-- Claims of shoddy production at Boeing draw scrutiny of a second jet. (New York Times)
-- Biographer Robert Caro explains his process: "There are facts, and the more of them you collect, the closer you come to whatever the truth is." (The Guardian)
-- The Helvetica font is being refreshed after 36 years, but it's not everyone's type. (NPR)
ONLY IN L.A.
One is a physician with a practice in San Diego. Another found solace from anxiety and sleeplessness in her plants. A third dates her interest in the plant world to the days of going to gardening clubs with her mother. They — along with a woman whose brother's wedding turned out to be a career catalyst and a millennial who says he has to hide his gardening obsession from his friends — are some of the most popular gardening "influencers" of Southern California. Here's how they've grown their Instagram followings.
If you like this newsletter, please share it with friends. Comments or ideas? Email us at headlines@latimes.com.
---