The pro-democracy protests at Tiananmen Square and the government's deadly suppression of them 30 years ago ring loudly now.
TOP STORIES
The Echoes of Tiananmen
Thirty years ago, for seven weeks, protesters had filled Tiananmen Square in Beijing. In the early hours of June 4, 1989, armed troops moved to crush the uprising, killing hundreds if not thousands. David Holley, the L.A. Times' Beijing bureau chief at the time, who witnessed those events, calls it "a date that fundamentally shaped today's China." But the Chinese government has done its utmost to censor what happened and is cracking down on a new batch of youth activists, many of whom have grown up without any knowledge of 1989. Though they have learned not to directly take on the authorities, dissidents outside China have a freer voice. In the Mojave Desert next to Interstate 15, a sculptor is building a work called "Tank Man" as a way to keep democracy's flame alive.
California's Two Days in the Sun
California has long been an afterthought in picking the nation's presidential candidates while other states with a fraction of the population — think Iowa, New Hampshire, Nevada — get smothered with attention. But thanks to early primary this time around, 14 White House hopefuls attended the state Democratic convention in San Francisco over 48 hours this weekend. Here's what we saw.
More Politics
-- President Trump is making a state visit to Britain featuring a banquet with Queen Elizabeth II. The four-day trip also includes a two-hour visit to Normandy, France, to mark the 75th anniversary of the D-day invasion, and two nights at the president's golf resort on the west coast of Ireland.
-- Acting White House Chief of Staff Mick Mulvaney says Trump is "absolutely, deadly serious" about imposing a 5% tariff on Mexican goods next week in a bid to stop migrants from reaching America's southern border,
-- The Pentagon has told the White House to stop politicizing the military, amid a furor over a Trump administration order to have the Navy ship named for the late Sen. John McCain hidden from view during Trump's recent visit to Japan.
Trashpocalypse Now
Rats at a police station. Filth on the streets. "The city of Los Angeles has become a giant trash receptacle. It used to be that illegal dumpers were a little more discreet, tossing their refuse in fields and gullies and remote outposts," writes columnist Steve Lopez. "Now city streets are treated like dumpsters, or even toilets.… I'm not sure when any of this became the norm, but it must have something to do with the knowledge that you can get away with it."
From 'Chicano Blowout' to Blowup
Members of the more than 50-year-old Mexican American student organization MEChA — the student group founded after the "Chicano Blowout" protests in 1968 — voted in March to change its name to be more inclusive. That's sparked a heated debate between older civil rights leaders and today's university activists over why the name should, or shouldn't, change.
Sign up to get Today's Headlines delivered to your inbox. »
OUR MUST-READS FROM THE WEEKEND
-- For the U.S. and China, it's not a trade war anymore — it's something worse.
-- As a former soldier and police chief of Tijuana and Juarez, Julian Leyzaola cultivated a reputation for exaggerated displays of toughness. Now, he's running for mayor of Tijuana.
-- After the Camp fire destroyed its town, the Paradise High football team is trying to save itself.
-- "My sordid Disneyland past: Confessions of a Magic Kingdom popcorn man."
-- An ode to L.A.'s "gay restaurants," where a community can find a home.
Your support helps us deliver the news that matters most. Subscribe to the Los Angeles Times.
FROM THE ARCHIVES
On this date in 1966, The Times reported on the successful soft landing of Surveyor 1 on the moon the day earlier. The craft "televised to earth 144 superb pictures of the moon that proved the feasibility of the U.S. plan for placing astronauts on the lunar surface."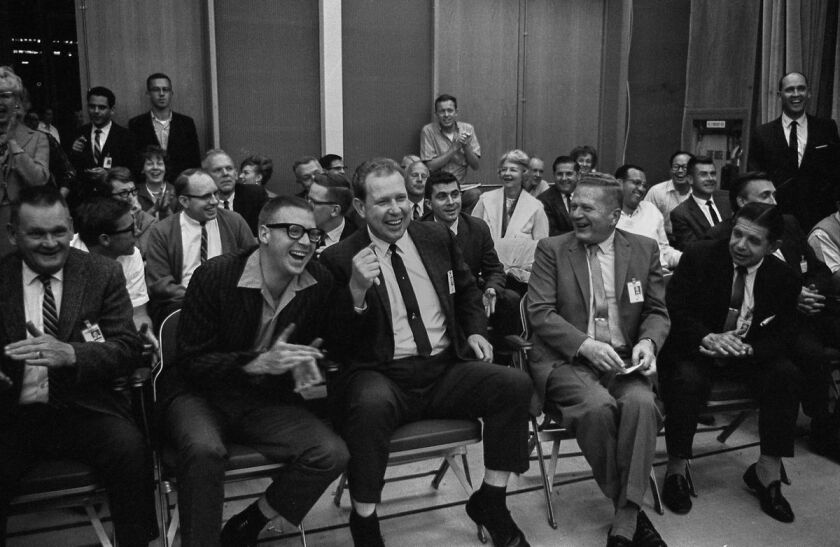 CALIFORNIA
-- Labor leader Rusty Hicks was elected the next chairman of the state Democratic Party, a win cemented by support from many elected officials and most of the state's major labor organizations.
-- Videos of a high school cheerleader in Fresno spouting the N-word have roiled the city and led to debate about how to respond.
-- The rare blossoming of a corpse flower is producing a notoriously pungent odor in Long Beach.
-- During Ramadan, it's long been a tradition in Pakistan to play cricket at night, a way to relax after daytime fasting. That tradition has come to West Covina.
HOLLYWOOD AND THE ARTS
-- With the Netflix romantic comedy "Always Be My Maybe," Ali Wong and Randall Park are helping to change the landscape of what entertainment looks like.
-- The writer of the game "Call of Duty: Modern Warfare" says it's "an indictment of the industrial-military complex of the superpowers of the world."
-- Tony DeLap, the Orange County artist who helped define West Coast minimalism through his meticulous exploration of the intersection of sculpture and painting, has died at 91.
-- How "Godzilla: King of the Monsters" updated four iconic kaiju characters.
NATION-WORLD
-- Officials say the gunman who opened fire in a Virginia Beach government building, killing 12 people, had notified a superior of his intention to leave his job.
-- A senior North Korean official who had been reported as being sent to a labor camp after the failed nuclear summit with Washington was shown in state media enjoying a concert alongside leader Kim Jong Un.
-- German Chancellor Angela Merkel's grand coalition government fell into turmoil when a key partner, the leader of the Social Democrats, resigned abruptly after a humiliating defeat in last week's European Parliament elections.
-- Plans by former White House aide Stephen K. Bannon to open a school for right-wing Catholic activists at an 800-year-old former monastery near Rome have hit a roadblock after Italy's government moved to revoke permission to use the site.
-- New Orleans chef Leah Chase, who fed generations of New Orleanians, civil rights leaders and tourists alike at Dooky Chase's restaurant, has died at 96.
BUSINESS
-- Apple will hold its annual developer conference today, and Bloomberg News has reported that the company was set to announce the end of its iTunes store, which transformed the music business when it was launched in 2003.
-- "Moneyball for cattle": How analytics are creating an American steak renaissance.
SPORTS
-- The Golden State Warriors held off a late run by the Toronto Raptors to even the best-of-seven NBA Finals series with a 109-104 victory in Game 2.
-- Rachel Garcia's walk-off home run has propelled UCLA into the Women's College World Series final.
OPINION
-- Rep. Justin Amash's town hall revealed the cure for right-wing lunacy: right-wing common sense.
-- The cigarette tax has saved millions of lives. A soda tax could too, write three economics professors.
WHAT OUR EDITORS ARE READING
-- The IRS now audits poor Americans at about the same rate as the top 1%. (ProPublica)
-- "Exhilaration and terror — what it's really like to tackle Everest's deadly peak." (CNN)
ONLY IN L.A.
She calls it the ranch that "Prizzi's Honor" bought. Anjelica Huston purchased the 38-acre Flying Heart Ranch, she says, with the money that came from the dark comedy directed by her father, John Huston, that earned her an Academy Award for supporting actress in 1986. At the time, the old place in Three Rivers, Calif., needed some help. But after years of tending, she created a shady refuge with secret places and an ark's worth of animals.
If you like this newsletter, please share it with friends. Comments or ideas? Email us at headlines@latimes.com.
---