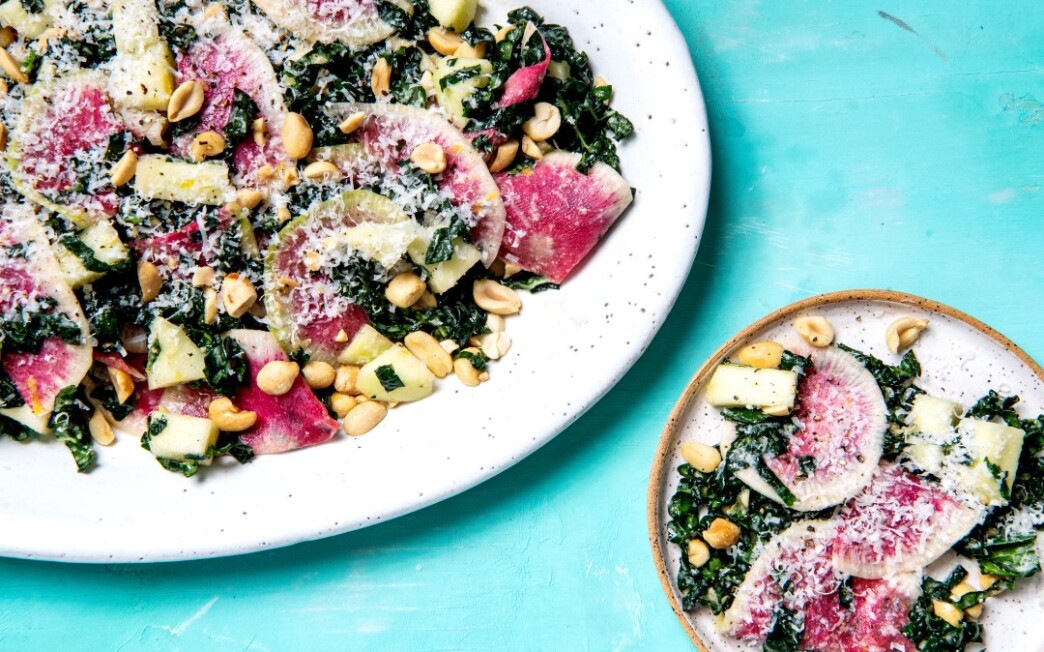 Print Recipe

Print Recipe
Crisp radish rounds add a refreshing bite, diced apples bring a tart crunch, and Parmesan cheese gives the whole thing a savory depth. The real surprise, though, is the toasted and rich peanuts, which make the salad satisfying enough to be a meal. You can serve this salad as a side to steaks or on its own.
1
Strip the kale leaves off the stems; discard the stems. Wash and dry the leaves well, then cut into very thin slices. You should have about 8 cups.
2
Transfer the kale to a large bowl. Sprinkle with 1 teaspoon salt and ½ teaspoon pepper, then mix and massage the leaves gently with your hands until they start to soften a little. Add the radish, apple, cheese, vinaigrette and olive oil and toss until evenly mixed. Season to taste with salt and pepper.
3
Top with the peanuts and more Parmesan and serve immediately.
Lemon Vinaigrette
1
Combine the garlic, mustard, sugar, honey and salt in a blender. Finely grate the zest of 1 lemon into the blender, then squeeze ⅓ cup juice from the lemon and add to the blender. Use the other lemon for juice if needed.
2
Purée on high speed until smooth. Turn the speed to medium-high. With the machine running, add the oil in a steady stream and blend until emulsified. Season to taste with salt.
---
Get our new Cooking newsletter.
You may occasionally receive promotional content from the Los Angeles Times.