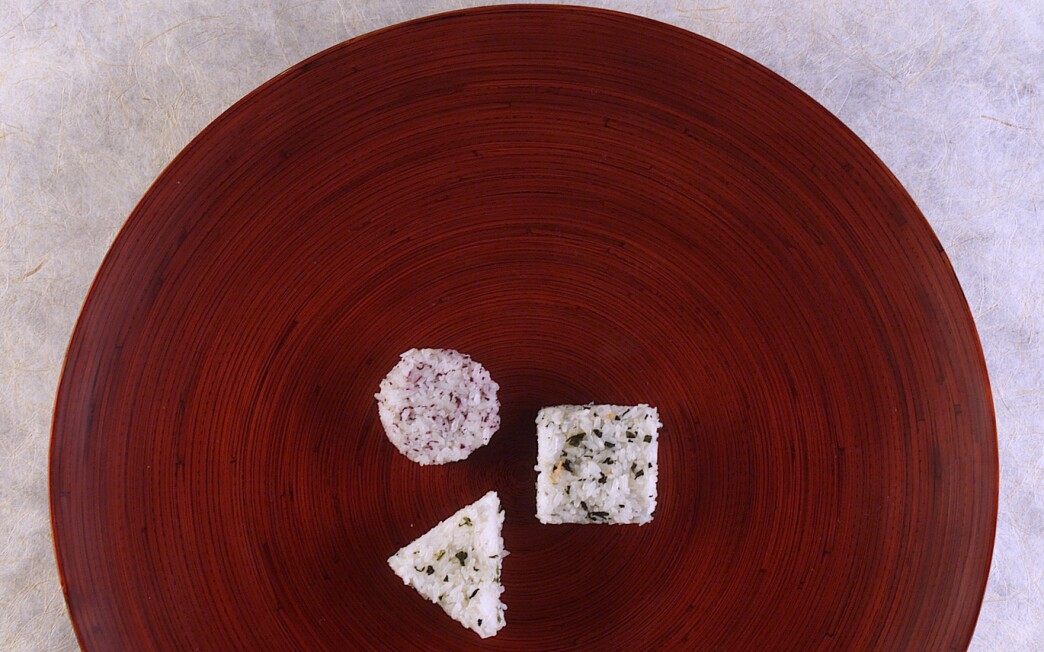 1
Place the rice and 1 1/4 cups cold water in a saucepan and soak for 30 minutes. Bring to a boil over medium heat, lower the heat, cover and simmer until the liquid has been absorbed, 20 minutes. Let stand, covered, 15 minutes.
2
If you don't have an onigiri mold, wet your hands in water, dust with salt if desired, and divide the fresh rice (it should still be warm) into 4 balls. Place each ball on a sheet of plastic wrap to make molding easier.
3
Poke a hole in each rice ball. Divide the salmon evenly among the balls, filling the holes; smooth the rice over the filling. Form each ball into the shape of your choice. For a triangle, set the rice onto the palm of your hand, and form the triangle by holding the other hand in an A-shape. Note that the sides of the triangle should be flat.
4
If the nori sheets are not perforated, slice each in half horizontally. To wrap a triangular onigiri, stand it up horizontally about halfway down the sheet, so that the ends touch each side, then fold the ends of the sheet around it.
5
Serve immediately so that the nori stays crisp. If you cannot serve immediately, wrap the onigiri in plastic wrap and place in the refrigerator, then wrap in nori just before serving. That is, of course, unless you don't mind soggy nori.
6
If you have an onigiri mold, line the mold with plastic wrap.
7
Line the bottom of the mold with a layer of rice, and make a line of the filling of your choice down the center on top of the rice. Then fill the rest of the mold with more rice and press with the base of the mold.
8
Using a sharp knife, slice the rice through the slits in the mold. Remove the base, and slide the onigiri out gently. Remove the onigiri from the plastic and wrap them in nori as above.