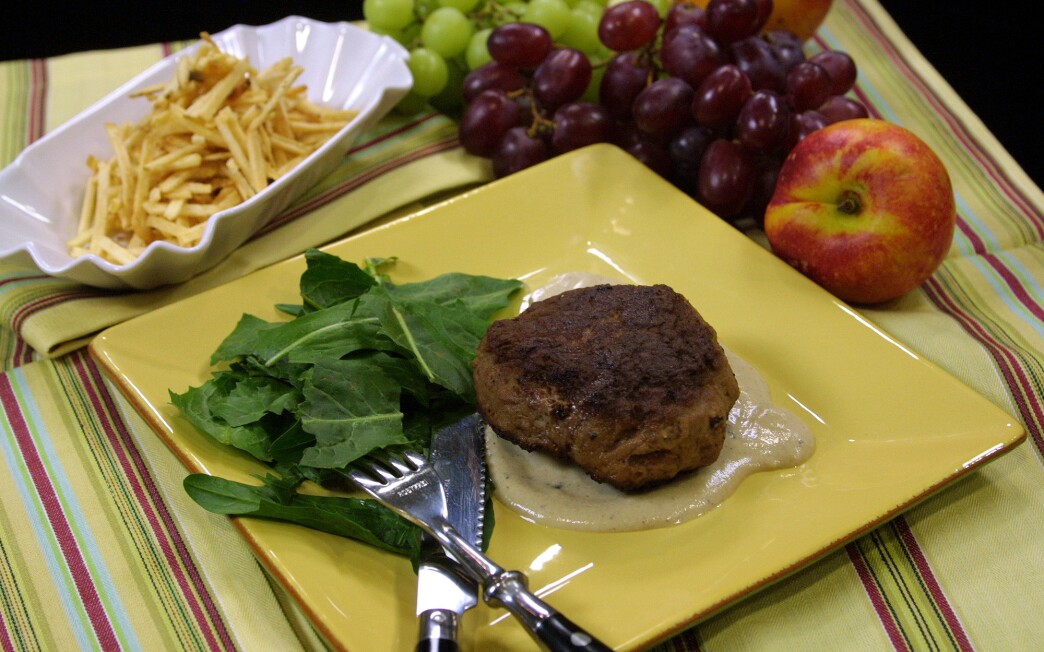 Print Recipe

Print Recipe
Bitoque is a French adaptation of bitok, a sort of Russian hamburger given a lighter texture with bread crumbs and served with sour cream sauce. Accompany it with matchstick potatoes and a salad of dandelion greens, and serve fruit for dessert.
Chewy, high-gluten crumbs, such as those from English muffins, will create a good texture. (The French and the Russians like to soak the crumbs in milk, but I prefer onion juice.) This is a good use for a stale English muffin, but you can make crumbs from a fresh one and dry them out.
Don't use really fatty hamburger for this. On the other hand, extremely lean hamburger will have a disappointing flavor; 20%-fat ground beef is best. Light sour cream is as good or even better than rich sour cream for the sauce.
1
Grind the English muffin to crumbs in a food processor. If fresh, dry the crumbs in a microwave oven or by tossing in a skillet.
2
Meanwhile, puree the onion in the blender. Strain the onion juice through a strainer and discard the solids. Mix the onion juice with the crumbs and squeeze out any excess juice.
3
Place the crumbs, beef, salt, pepper and a few grindings of nutmeg in a food processor and process until it forms a ball on top of the blade, or knead thoroughly by hand. Form the meat into 4 patties and dust on both sides with flour.
4
Heat about 2 tablespoons of oil in a large skillet over medium-high heat until a corner of one of the patties sizzles immediately if dipped into the oil. Fry the patties until browned on both sides, 3 to 4 minutes, and remove to a warm platter.
5
Pour off the oil. Add the chicken broth and scrape up the browned bits from the skillet. Bring to a simmer. Stir the flour into the sour cream until smooth. Add the sour cream to the skillet and return to a simmer, stirring, 1 minute. Serve the patties with the sour cream sauce.
---
Get our new Cooking newsletter.
You may occasionally receive promotional content from the Los Angeles Times.