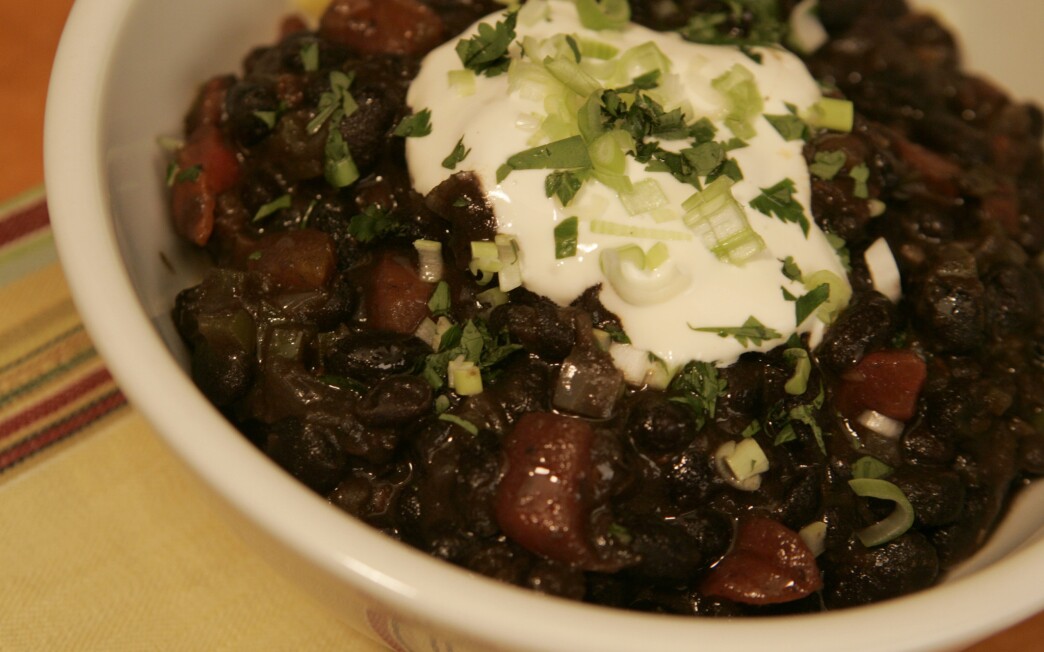 Print Recipe

Print Recipe
What is Margaret Fox, the most famous chef ever to cook in Mendocino County, doing working at a grocery store in Fort Bragg?
Technically she's the culinary director, which she says means "basically anything having to do with cooking." But in truth, Fox may be doing more to introduce the region's residents to good food at the market than she ever did running a destination restaurant.
Not long ago, breakfast at Fox's Cafe Beaujolais was the highlight of every foodie's Mendocino pilgrimage. Here on Northern California's often-chilly, wind-swept coast, tourists have the time and the need for a serious meal at the beginning of the day.
Fox's breakfasts were homey and delicious -- the best in the state, according to one high-powered restaurant critic.
Her buttermilk and cinnamon coffee cake is iconic, as is her black bean chili. Seemingly simple, they have a surprising complexity of flavor. Toss in an egg dish and you're set for whatever the day might bring you.
Though few great restaurants deign to even serve breakfast, Beaujolais -- a bit of an odd place, as befits the area -- built its reputation around it.
Cafe Beaujolais, running without Fox since 2000, is still going strong, though these days serving dinner only, bowing to competition from the area's many bed-and-breakfast inns. And after a tumultuous decade, Fox has moved on. But to a grocery store?
Well, in the first place, the Harvest Market isn't just any grocery store. It is nothing less than a compendium of most of the best things to eat from the area. Golden Gravensteins and fresh-pressed juice from the Philo Apple Farm; colorful cherry tomatoes from Comptche Creek; cheese from local Yerba Santa and Elk Creamery dairies as well as Northern California favorites Cypress Grove, Andante, Redwood Hill Farm and Cowgirl Creamery; salmon, albacore, rex and petrale sole and ling cod from Noyo Harbor not half a mile away; and grass-fed beef from Potter Valley's Mac Magruder. Not to mention the wine department.
So it's understandable that when the market's owner Tom Honer approached Fox, she accepted. "It sounded like a complete blast," she says.
Fox first came to the Mendocino coast in 1975. Fresh out of college (developmental psychology at UC Santa Cruz), she'd had a job fall through in the Napa Valley and she was desperate for something to do. "I said to my dad, 'What am I going to do?' He said, why don't you go to Mendocino? You like to bake, and I'll bet they have a bakery up there. So I came up. I started in Elk, knocking on doors and asking people for jobs. I figured I'd wind up a hotel maid."
*
A novice baker
SHE finally got a job at the historic Mendocino Hotel, but there was only one problem: She'd never worked in a bakery before. "I was 23 years old," she says. "So the first thing I did was call the co-op and ask them if I could come in and work in their bakery for a couple of days. I said, 'Hi, you don't know me, but I'm going to be a baker and I think I'd better learn how.' "
She and three partners bought Cafe Beaujolais in 1977; she became sole owner in 1979. It was not the most auspicious moment to be buying a restaurant in a remote location.
"That was right when the gas crisis hit and nobody came to Mendocino for a whole year," she says. "That was a really difficult time. In retrospect, I'm really glad I was young and stupid. But I couldn't stand the idea of failure, so I stuck with it and my family was so supportive."
The restaurant turned the corner in the early 1980s when Ruth Reichl, then restaurant critic for California magazine, singled it out for serving the best breakfast in the state. "That was just magic," she says. "We started to get really, really busy."
In 1984 she hired a new dinner cook, Chris Kump, the son of noted New York cooking school teacher Peter Kump. In 1987 they were married. In 1997 they had a daughter, Celeste. For several "bi-continental" years, they tried to make a go of turning a Kump family castle in Austria into a successful bed and breakfast.
But running two businesses in different countries was just too much. In 2000, she and Kump sold the restaurant and in 2001, they divorced -- and it was as nasty and public as a high-profile breakup in a small town can be.
At first after the divorce, Fox worked as a consultant. Then two years ago, Honer came calling. Fox's first major goal was to modernize the store's catering department, bringing it up to the level of the store's wine and cheese departments.
That's been an introduction to a Mendocino she hadn't really encountered as the revered owner of a high-end restaurant. "We get everything -- vegetarian, free-range, vegan, regional, organic -- every version and sub-version of everything you can even think of," she says. "At first it made me a little nuts, but it's been fun to cook those kinds of things."
Then there was the price factor. When Fox introduced a cedar-plank-roasted salmon at $18.99 a pound, there was some muttering-- in spite of the fact that it was wild local king salmon (and delicious).
"It's been an interesting experience because we really need to balance all of those different considerations and slowly introduce new items," she says.
Now she's back to her first love, baking. She's just published a revised edition of her breakfast book "Morning Food," which includes not only that famous coffee cake and black bean chili, but more than 30 new recipes that didn't appear in the original.
"Honestly, some of it was beginning to look a little dated, so it needed to be freshened up," she says. "So I went through a very intense period of retesting all the recipes, weeding out some of them that didn't make sense any more -- I've decided the world doesn't really need any more recipes with oat bran -- and adding some more that I'd developed in the meantime."
At the same time, she's turning her attention to the market's baking department. The hardest part seems to be convincing supermarket-trained employees that "baking doesn't mean cooking something from one tub and then spreading it with something from another," she says.
The store is packaging her coffee cake, sold under her own label, and an "adult brownie," which she hurries to explain refers to the unsweetened chocolate.
And it may be that she's winning over more converts to good food here than at the restaurant, where, after all, everyone came in knowing what they were looking for. The cheese section is always staffed with someone to offer tastes, and the new antipasti and olive bar has turned into a big hit.
"We've got so many different kinds of people here," Fox says. "There are people who go around in flip-flops and just want a can of Bud. Then there are a lot of moneyed people who have traveled everywhere and want new things all the time. It's the most amazing balancing act. But what we're finding more and more is that if you give them the chance, they want a lot of the same things."
It's a new role, introducing people to tastes they may not have had before rather than supplying them with that coffee cake that they already know they love. But it's one that fits Fox perfectly these days.
1
Sort through the beans; discard the funky ones and any small pebbles. Rinse well. Place the beans in a large pot and add enough water to cover them by several inches. Cover and bring to a boil.
2
Reduce the heat and cook for about 1 3/4 hours, or until tender. Water should always cover the beans, so add more if the beans start to peek through. When the beans are cooked, strain, reserving 1 cup of the cooking water. Add the reserved cooking water back to the beans.
3
Heat the oven to 325 degrees. Toast the cumin seeds and oregano in a small pan until the fragrance is toasty, about 10 minutes.
4
Saute the onions, bell peppers and garlic in the oil over medium-high heat with the toasted cumin seeds and herbs, cayenne pepper, paprika and salt until the onions are soft, about 10 minutes. Add the tomatoes and chiles. Add this mixture to the beans and stir well. Add additional seasoning to taste.
5
To serve, place about one-quarter cup grated cheese in a warmed bowl, add a generous cup of beans, and dollop with a spoonful of sour cream. Sprinkle with 1 tablespoon green onions and cilantro.
From "Morning Food: Breakfasts, Brunches, and More for Savoring the Best Part of the Day" by Margaret S. Fox and John B. Bear.
---
Get our new Cooking newsletter.
You may occasionally receive promotional content from the Los Angeles Times.