Black cod marinated in miso and beer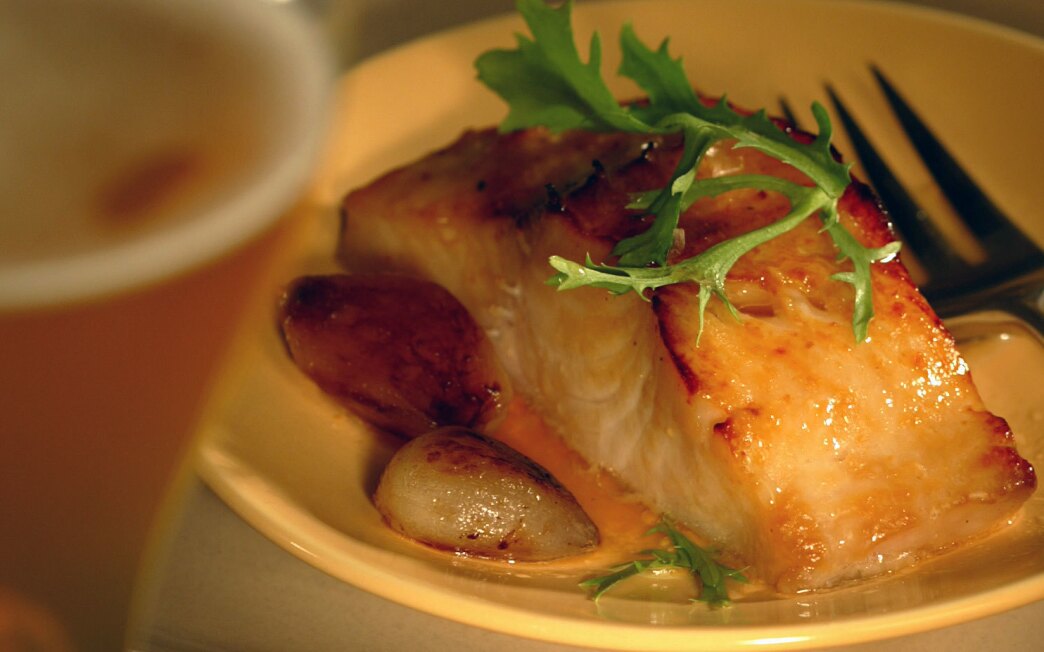 Print Recipe

Print Recipe
Most of us have long thought of beer as the ideal companion to pizza, burgers, barbecue and ethnic cuisines considered difficult to match with wine. Indian food? We go for the Kingfisher. Thai? Bring on the Singha. Chinese seafood? Tsing Tao, of course.
But with the growth of the craft brewery movement and the availability of spectacular beers from around the world comes what may sound like a radical idea: Beer is a superb accompaniment to serious food.
The idea has been catching on with a growing number of Los Angeles chefs. At the LAX Four Points Sheraton's Palm Grill, beer dinners have become such popular events that the Sheraton is known to local beer aficionados as "the beer hotel." At Belmont Brewing Co. in Long Beach, chef Freddy Alvarez recently matched orangy-tart Petrus Triple Ale from Belgium with lobster and snow crab soup, and complex, bitter 7th Anniversary Ale from Stone Brewing Co. of San Marcos, Calif., with buffalo short ribs and wild mushroom ragout in puff pastry.
Beer in its various guises, from light pilseners to fruity ales to rich porters and stouts, brings a wide spectrum of flavors to the table. You also can also with beer, just as you can with wine; it's a terrific way to build bridges between the flavors of the food and the flavors of what's in the glass.
Sang Yoon, formerly the executive chef at Michael's, is one who recognizes the potential. Yoon left Michael's in 2000 to buy Father's Office, one of L.A.'s premier beer bars. Although Father's Office's signature dish is a hamburger (albeit a much-lauded one), Yoon also loves to serve beer with duck breast with porcini mushrooms and huckleberry reduction or pork daube braised in oatmeal stout.
"It's not more difficult to pair good beer with food than it is wine," says Yoon. "When you learn to evaluate wine, you consider such things as fruitiness, balance, aromatics, finish -- and it's the same with beer." Hops provide the "bite," much as tannins do in wine, while malt imparts mouth-filling fruitiness.
Groundbreaking as it sounds, the carefully considered pairing of beers with cuisine is a centuries-old practice in Belgium, for example, where wild pheasant can hardly be imagined without a soft, spicy Antwerp ale beside it.
A scholarly and readable book, "The Brewmaster's Table" by Garrett Oliver, beer maker at Brooklyn Brewery in New York, was released this year to the acclaim of beer aficionados. It seeks to codify which beers go well with which foods: spicy ales, for instance, with anything chilied, gingered or curried; and powerful barley wines (a type of beer) with lamb, venison and wild boar.
Typically, a beer dinner at Belmont Brewing Co. features a guest speaker and offers a range of beers from the same craft brewer or numerous examples from a brewing tradition, such as Belgian ales. A recent beer dinner at the LAX Four Points Sheraton's Palm Grill honored the New Belgium Brewing Co. of Colorado. It featured a curried lemongrass-crusted swordfish salad matched with New Belgium's hoppy, fruity Porch Swing Single Ale and a sorbet of the company's Frambozen Raspberry Brown Ale as a palate cleanser between courses. (The New Belgium beers are available in the Bay Area but not yet in the L.A. region).
The challenge
To explore the affinity of beer with ambitious cuisine, the L.A. Times asked three esteemed local chefs to collaborate in preparing a multi-course meal and selecting two brews to complement each course. Yoon, chef at Father's Office; Hans Rockenwagner, chef at Rockenwagner; and Dahlia Solomon, pastry chef at Campanile, took to the task with gusto.
Rockenwagner marinated black cod in beer and miso, choosing a Franziskaner Hefe-Weisse to accompany it. The beer is a prime example of a Bavarian hefeweizen: It's a soft, delicate brew with an aroma of cloves, a hint of banana in the aftertaste and a tart finish. (This is the same beer he used to marinate the fish.) With its sprinkling of bonito flakes, the cod dish possesses a slight smokiness, "which, with the yeasty, slight sourness of the beer is a great combination," Rockenwagner says. "This beer has almost a creamy consistency, the carbonation is so fine. You get the same thing with really good Champagnes."
Another good choice with the dish is Hoegaarden Witbier, a spritzy, light-bodied Belgian wheat beer. It has a fetching aroma of citrus and coriander and a brisk, dry finish that nicely pierces the slight oiliness of the fish.
Yoon's pork daube, braised in a combination of oatmeal stout, Russian imperial stout and brown veal stock and studded with large chunks of apple-wood-smoked bacon, is about as dense and savory a meat stew as you're likely to encounter. Yoon points out that one of the differences between cooking with wine and cooking with beer is that beer is not acidic, and thus a dish prepared with it typically needs a jolt of vinegar to provide acidic brightness. In the daube recipe, Yoon includes four tablespoons of balsamic or Sherry vinegar.
The dessert quaff
To drink with the daube, Yoon loves Trois Pistoles, a powerful (9% alcohol) dark ale from Quebec brewer Unibroue. The beer has a pronounced aroma of ripe dark fruits and chocolate. "Heartier dishes," Yoon says, "require maltiness in a beer," and Trois Pistoles is deeply malty yet carries an effervescence that dances on the tongue.
The daube pairs nicely, too, with Anchor Porter from San Francisco. By comparison with Trois Pistoles, the Porter is silkier and has a more rounded mouth-feel. Its chocolaty aspect is more pronounced, although it finishes food-friendly dry, as does Trois Pistoles.
To some, the notion of beer with dessert may sound weird, but a wide range of sweet dishes finds apt companions in the bogglingly diverse world of beer. Solomon's spicy, spongy ginger cake with beer-marinated dried fruit compote involves complex flavors that play nicely with a number of beer styles. Solomon suggests Negro Modelo, a semi-dark, light-bodied Mexican brew she uses in the dish.
Two more flavorful beers for the dessert are Rochefort #10, an intense Belgian ale, and Dogfish Head India Brown Ale. The Rochefort, with its wine-level alcohol content of 11.3%, is a mouth-filling brew with aromas and flavors reminiscent of stewed prunes and plums against a background of bittersweet chocolate. The India Brown Ale, at 7.2% alcohol, combines a touch of bitterness from hops with smoky malt and intimations of cinnamon and clove that suit it nicely to any sort of spiced cake.
Yoon discovered his tawny Port-and-Russian imperial stout "espresso" during a harried moment in the kitchen when he impulsively dumped a shot of the Port into a glass of stout he was sipping between tasks. He found that the port curbs the bitterness of the stout "just enough to make the coffee element in the beer pop out. It doesn't work with any stout. It has to be a big, intense Russian imperial stout."
Many oenophiles also appreciate fine brews. But in one aspect, wine and beer differ undeniably. Whereas a bottle of Chateau Latour, depending on its vintage, costs at least $150 in a wine shop and at least twice that in a restaurant, a bottle of the finest beer in the house -- in the world, even -- is unlikely to set a person back more than about 15 bucks.
1
Whisk together the miso, water, beer, sugar, salt and pepper in a large nonreactive (glass or porcelain) bowl. Place the black cod in the miso mixture, making sure all sides of the fish are well covered with marinade. Cover and place in the refrigerator overnight or for at least 16 hours.
2
Pan roast the shallots in the olive oil over low heat until browned and caramelized, about 20 minutes. Set aside.
3
Remove the cod from the refrigerator. Heat the broiler on high. Line a saute pan with aluminum foil and generously brush the foil with butter. Place the cod on the foil, skin side down, making sure not to remove all the miso marinade. The cod pieces should have a light coating of marinade all around and not touch each other.
4
Place the pan directly under the broiler. There should be about 1 1/2 inches between the fish and the heating element. Broil the cod for 7 to 10 minutes or until browned and cooked (the fish will appear flaky and soft). If the fish browns too fast, either reduce the temperature or, even better, lower the pan so it's farther from the heating element.
5
Serve the cod immediately with the roasted shallots and frisee for garnish and texture. Sprinkle the finished dish with bonita flakes.
From Hans Rockenwagner. Black cod also is known as sable fish or, if filleted, as butter fish. Serve with Franziskaner Hefe-Weisse or Hoegaarden Witbier.
---
Get our new Cooking newsletter.
You may occasionally receive promotional content from the Los Angeles Times.