Blanche's Cabbage With Bacon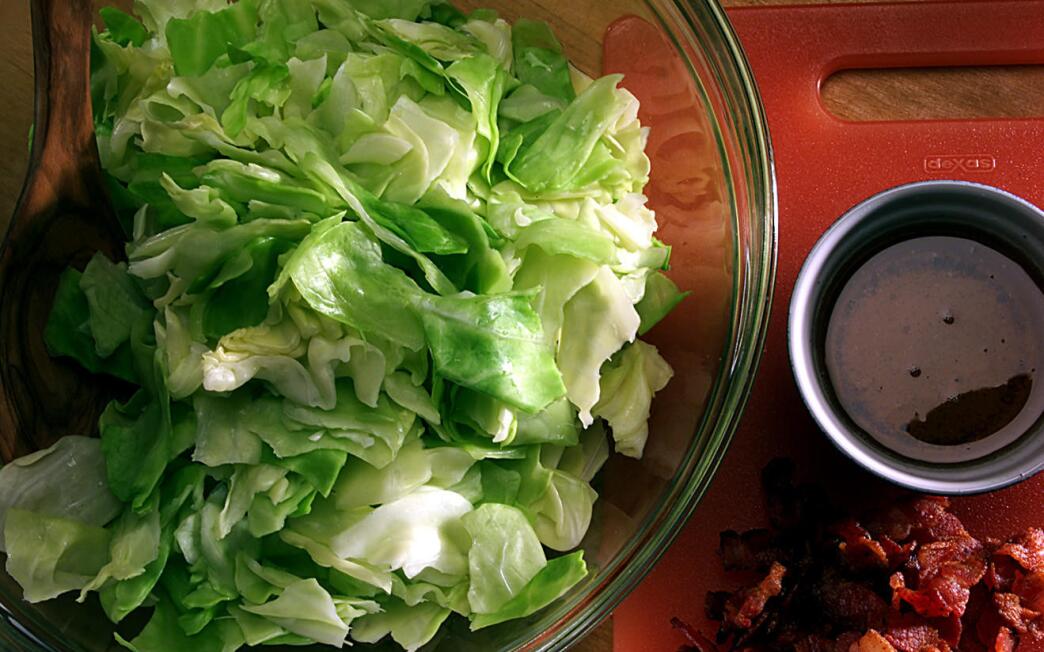 Print Recipe

Print Recipe
It seems that no one uses cabbage any more except in coleslaw. But it's a splendid vegetable, especially with corned beef, game, pork or smoked meats. This recipe, Blanche's Cabbage with Bacon, is a great one to try. It takes only minutes to fix and has pleased many people who have visited me and stayed for lunch or supper on the spur of the moment. The cabbage turns a lovely celery-green color as it blanches. This is the dish to have with sausage (I use a Polish kielbasa). A head of cabbage torn into bite-size pieces looks like a huge amount, but it wilts and cooks down to serve four ordinary appetites. I think this dish will make you a cabbage fan.
When you buy cabbage, look for crisp, firm, heavy heads with good color. Avoid those with blemishes or loose leaves.
Cunningham's newest book is "Learning to Cook With Marion Cunningham" (Alfred A. Knopf, 1999).
1
Using a small paring knife, cut the core out of the cabbage head. Separate the leaves. Cut the thick center core from each leaf and tear the leaves into large bite-size pieces. Set aside.
2
Stack the strips of bacon, one on top of the other, and cut them crosswise into half-inch pieces.
3
Bring a large pot of water to a boil. Heat a skillet over medium heat, and when it feels hot-put your hand about 1 inch from the bottom of the skillet to check the heat-spread the pieces of bacon over the bottom of the skillet. Cook the bacon, using a fork to move it around, until the pieces are golden brown, 5 to 7 minutes. Remove the bacon to paper towels to drain and blot it to remove any fat.
4
Strain the bacon fat, reserving 4 tablespoons. In a small bowl, mix the reserved bacon fat, cider vinegar, sugar and 1/2 teaspoon salt. Set aside.
5
Plunge the cabbage into the boiling water and blanch for 12 seconds. Immediately drain the cabbage and toss it in a bowl with the bacon pieces and the sugar mixture. Salt to taste, mix well and serve.