Cajun Seafood Stew with Spicy Sausage and Fried Okra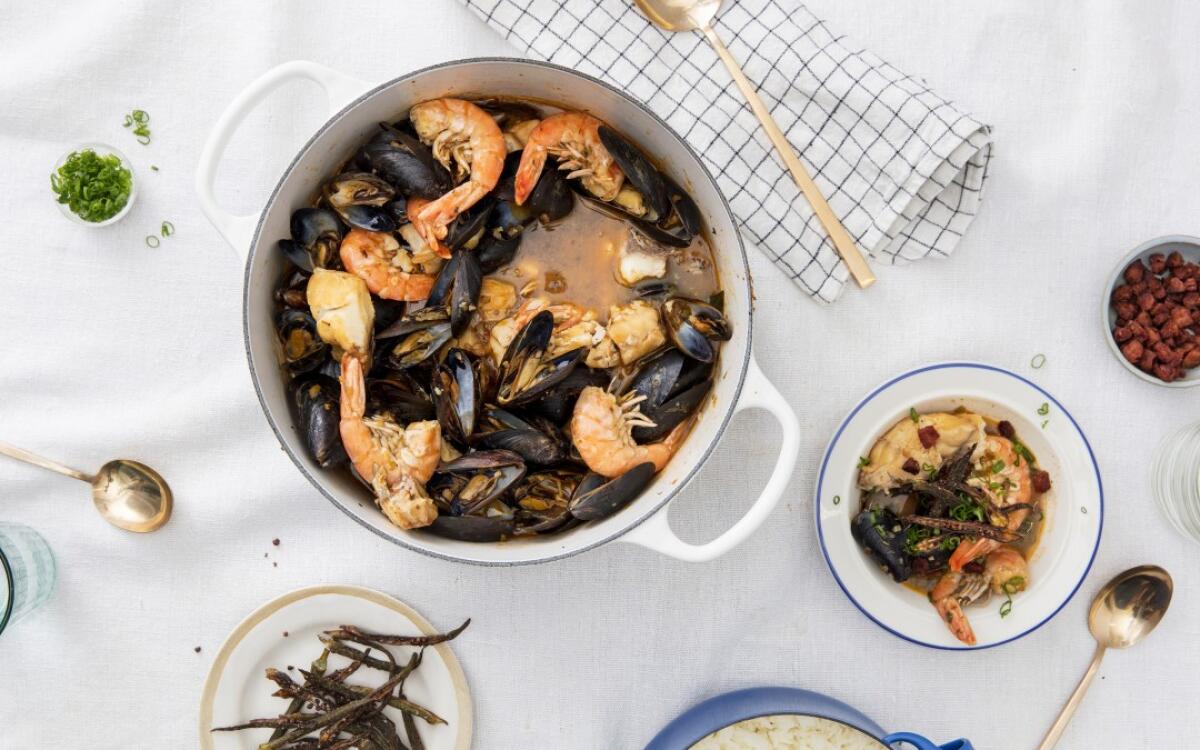 Print Recipe

Print Recipe
Frying the okra results in shoestring-fry-like strands and rids the pods of all their gelatinous gook. Make them and keep them stored in an airtight container for up to a day if you don't want to prepare them right before making the stew. If you'd rather stick with one type of seafood, use 3 pounds of mussels or 3 pounds of peeled and deveined extra-large shrimp or 4 pounds of fish fillets.
1
Combine the oil and okra in a medium saucepan and heat over medium heat until the okra starts sizzling rapidly. Continue cooking, stirring occasionally, until the okra strands are deep golden and crisp, 14 to 15 minutes. Using a slotted spoon or spider, transfer the okra to paper towels to drain and sprinkle with salt. Remove the pan from the heat and reserve the oil.
2
Pour ¼ cup reserved oil into a large Dutch oven or saucepan, add the andouille and cook over medium heat until the sausage begins to sizzle, then continue cooking, stirring occasionally, until the sausage has rendered its fat and is crisp, 4 to 5 minutes. Using a slotted spoon, transfer the sausage to paper towels to drain.
3
Add the light green and white parts of the green onions, plus the celery and bell pepper to the pot. Season with salt and pepper and cook, stirring occasionally, until soft and starting to caramelize, about 8 minutes. Stir in the tomato paste, minced garlic, bay leaf and thyme and cook, stirring often, until the tomato paste is caramelized, 1 minute. Sprinkle the flour over the vegetables and cook, stirring constantly, for 1 minute. Pour in the wine and 4 cups water and stir to combine. Increase the heat to high and bring to a boil, stirring occasionally.
4
Once the liquid comes to a boil, add the snapper to the pot in a single layer, followed by the shrimp and then the mussels. Cover the pot, reduce the heat to medium and let simmer until all the seafood is cooked through, about 10 minutes.
5
Uncover the pot and stir gently to combine all the seafood, discarding any mussels that didn't open fully. Divide the stew among bowls and serve with cooked rice, with the okra and crisped andouille on the side for topping individual bowls.
---
Get our Cooking newsletter.
Your roundup of inspiring recipes and kitchen tricks.
You may occasionally receive promotional content from the Los Angeles Times.