Carrot and pomegranate soup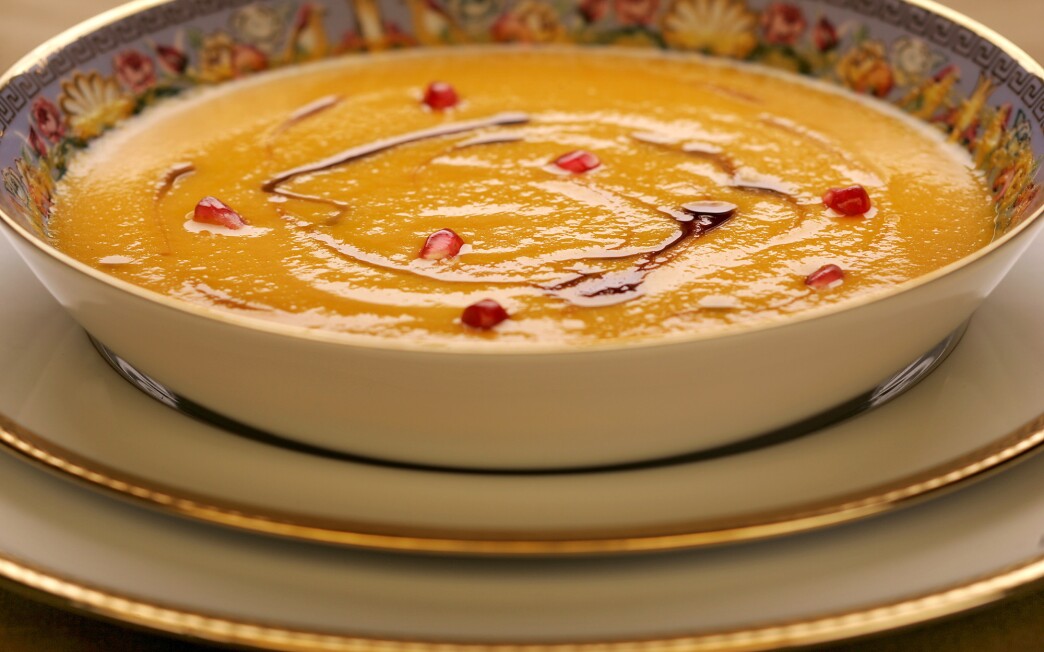 Print Recipe

Print Recipe
You can't cook just anything for Rosh Hashana. There are rules to follow, traditions to uphold. And I wasn't familiar with any of them: I grew up in Tornado Alley, in a Quaker boarding school in northern Iowa. But here I was, in Southern California, setting about to prepare a Rosh Hashana dinner for my Jewish boyfriend. What to cook became a theology lesson as well as a culinary one.
The food traditionally served for the Jewish New Year is highly symbolic, reflecting abundance, a sweet harvest and leadership. Celebrating Rosh Hashana is when "you become a community again, especially after the summer," said Joan Nathan, cookbook author and host of the PBS series "Jewish Cooking in America."
"People who keep kosher every day of the year don't always want to eat matzo ball soup," said a rabbi friend of mine. "You want to eat real food."
I was vastly relieved. Earlier that morning, when I'd asked my boyfriend, David, what his family had cooked for Rosh Hashana, he'd paused, said, "Apples dipped in honey, of course," and then uttered the dreaded word "brisket."
Now there's nothing wrong with a good brisket, but it was still pretty hot in Los Angeles, and the thought of braising a piece of beef for three hours was not, frankly, very appealing. I also wouldn't admit that I couldn't think of a theologically and culturally correct menu that didn't include brisket and matzo ball soup.
And brisket was a sensitive issue. David and I had gotten into a few rather heated debates about it the year before, when I had refused to believe that, as a former chef, he could nevertheless argue that the only way to make a good brisket was to use onion soup mix and ketchup. He would shrug, insisting that it tasted better anyway, and that would be that. No brisket.
Rethinking the menu
MAYBE it was because so many of the traditional dishes from Northern Europe -- tzimmes (a thick vegetable casserole), a roast chicken, the brisket -- seemed rather heavy in the lingering heat of early fall, I couldn't at first settle on a menu.
But after leafing through cookbooks and reveling at farmers market stalls filled with Medjool dates, fresh figs, pluots and dragon fruit, it dawned on me: Exotic fruits are a traditional Rosh Hashana food. Why not go Sephardic? Just because David's tradition was Ashkenazi didn't mean I couldn't veer from that.
With a phone blessing from Nathan, who assured me that she tried to incorporate foods from different ethnic backgrounds, I expanded my culinary search farther south, from the northern latitudes of Ashkenazi culinary traditions to the Mediterranean shores of southern Europe, Africa and the Middle East, where the Sephardic Jews had migrated.
Couscous and harissa began to replace borscht and gefilte fish, which was a happy revelation for someone who grew up around people who actually ate lutefisk.
Next to that dubious culinary birthright, the myriad traditions of Rosh Hashana seemed like a rich, deeply embedded legacy. Food was a way to provide meaning and give ritual significance to the daily chores that make us human. The cut of an apple, a whorl of honey, the jeweled seeds of a pomegranate: They signaled communal memory.
Carrots and cumin
TRADITIONALLY, Rosh Hashana commences with challah, the braided bread, filled with raisins -- not nuts, which are avoided on this holiday -- to further sweeten the beginning of the meal. Joining the braid into a circle or forming it instead into a ladder, like a fougasse, or even a bird, are all traditional.
Since I'm not baking challah -- at least this year -- I begin with a carrot soup, carrots being another traditional food. Cut into disks, they represent the golden coins that signify abundance for the new year; their Hebrew name, mer'n, means more or many.
Cooked slowly with onions, vegetable stock, cumin and pomegranate molasses, the carrots become a rich burnished orange. Pureed smooth and served with a sprinkle of fresh pomegranate seeds, a drizzle of more pomegranate molasses, the soup has a richness of flavor as well as color. The sweetness is there, but balanced, leavened by the faint note of cumin and the tang of the pomegranate.
Blowing the ram's horn, or shofar, signifies faith, as it recalls Abraham's sacrifice of a ram in place of his son Isaac. Serving a whole fish, head intact, symbolizes that, as well as wholeness and hope. I found inspiration in a terrific new book by Laura Frankel, who's the chef and founder of Shallots, a kosher restaurant in Chicago. Here a Lake Superior whitefish is baked whole, deboned, then served with the head intact and accompanied with lentils.
I used French green lentils, as they hold up better than the softer red lentils or the more familiar brown; black lentils would be avoided, as are all black foods on this hopeful holiday. And to dress the fish, a heady sauce of charmoula (a spicy Moroccan condiment), the recipe a nod to the southern path of the diaspora along the spice road.
To complete the meal, an apple and honey sorbet recalls the apples dipped in honey that are the defining feature of many Rosh Hashana dinners, signifying hopes for a sweet new year.
Use Galas or Granny Smiths for nuanced flavor, or whatever apples are in the markets right now -- remember this is a celebration of harvest too. A syrup made from fresh pomegranate juice, honey, green cardamom and a splash of Benedictine provides gorgeous color as well as a backdrop for the sweet sorbet.
Finish the dessert with a sprinkle of more ruby pomegranate seeds and a fine dice of dates -- another fruit with strong symbolic importance and one Nathan says she remembers an Israeli ambassador serving to her as part of his own Rosh Hashana custom.
I resisted the urge to plate an oatmeal cookie with the sorbet -- the hefty dose of butter in my grandmother's recipe would have invalidated the fact that my whole meal was pareve -- and considered the menu I'd assembled. From a stack of books, a few desperate phone calls and a little culinary pantheism, I'd made the most significant meal I could remember ever cooking.
Maybe David's mother would bring the brisket.
1
Heat the olive oil over moderate heat in a large heavy-bottomed stock pot. Add the onion, carrots, pomegranate molasses and cumin. Cover the pot and lower the heat. Cook for 15 minutes, stirring occasionally.
2
Add 3 cups of stock and simmer, covered, until the carrots are very tender, about an hour. Take off the heat and let cool.
3
Puree, in batches if necessary, in a blender, adding the final cup of stock. The puree should be very smooth; if it isn't, you may want to pour the soup through a strainer.
4
Return to the burner and heat through until hot. Season with salt and pepper.
5
Ladle the soup into soup plates, spooning extra pomegranate molasses around the center (about one-half teaspoon per bowl) and sprinkling with pomegranate seeds. Serve immediately.
Pomegranate molasses can be purchased at Middle Eastern markets or well-stocked supermarkets.
---
Get our new Cooking newsletter.
You may occasionally receive promotional content from the Los Angeles Times.