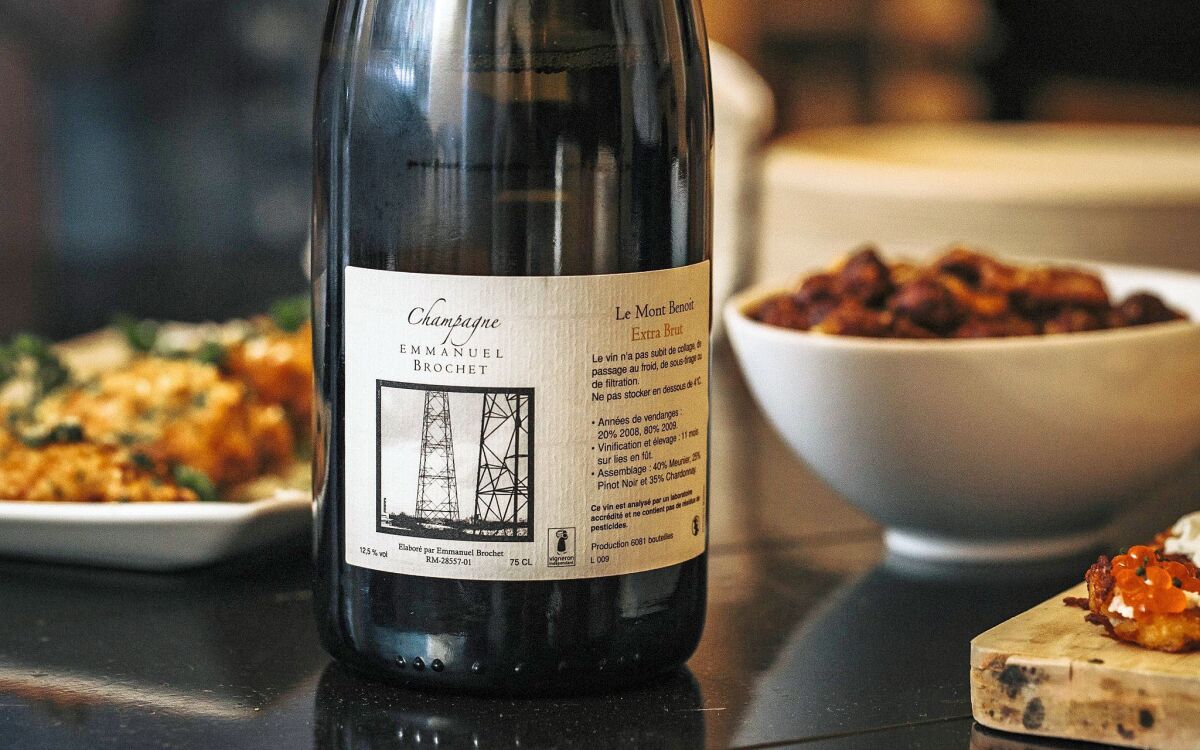 Print Recipe

Print Recipe
In the backyard under the tangerine tree, somebody's sabering the tops off bottles of Champagne with a chef's knife as a crowd of partygoers and the two family dogs watch raptly. It's the kind of thing that happens when Jill Bernheimer, owner of Los Angeles wine shop Domaine LA, invites dozens of friends over and fills two tables with 48 bottles of 10 different sparkling wines: Champagnes, Crémants de Bourgogne, maybe a Prosecco and a Petillant Naturel or two.
Bernheimer's tasting of Champagnes and other bubbles has become a fall tradition at her Larchmont Village home. This time of year, she increases her store's selection of sparkling wines, including Cavas, Lambruscos and crémants, to about 90. (They take up nearly 20% of the shop.) She's big on grower Champagnes, produced by estates that own the vineyards and that emphasize terroir over a "house style."
And so on two tables set up on the patio were buckets of ice holding some of Bernheimer's favorites. She pointed out the nonvintage Domaine Belluard "Ayse" Brut Vin de Savoie, a Crémant de Bourgogne (sparkling wine from Burgundy) that sells for $24. "The magical $30 bottle of Champagne doesn't exist that's better than a grower Crémant."
Someone who tried the 2012 La Grange Tiphaine "Rosa, Rose, Rosam" Petillant Naturel, a single-fermentation natural sparkler, noted that it smelled like pot — "but not in a bad way."
In the kitchen, Jesse Furman of Free Range LA topped latkes with fresh whipped lemon cream, salmon eggs and chives. "Jill and I talked about the menu and what we'd like to eat with Champagne," Furman said. "We like fried and also salty with bubbles." So also on the menu are chicken wings, sweet-and-salty nuts and potato pancakes.
Someone popped his head through the door and asked, "Are these potatoes cooked in heroin?" "Nah," Furman responded, "that's parsley butter."
Bernheimer opened a cupboard to reveal her vintage colored Pyrex collection. An independent film producer who experienced a life-changing bottle of Morgon while on her honeymoon in Paris in 2003, she was compelled eventually to launch an online wine store in 2007, an extension of a blog she had started. At the time, "it was basically a wine club for friends and family with monthly selections."
But by 2009, she had set up shop in a Melrose Avenue strip mall two doors down from a California Chicken Cafe, focusing mainly on European and domestic smaller-production wines that were accessible and affordable. The sparkling wines have become something of a specialty.
"I think people might overlook bubbles as wine that goes with food," Bernheimer said. Among the Crémants, the M. Plouzeau Touraine Perles Fines Crémant de Loire rosé had a subtle spiciness that made it "a great match to lots of holiday foods — pumpkin and ginger," for example.
If you're throwing your own sparkling wine tasting, "try to think about different categories of wine, what goes with food, or geeky options for the curious who are interested in exploring different regions and grapes," such as the Gringet, a nearly extinct variety used in the Domaine Belluard Crémant. Also, alternative bubbles such as Lambrusco or even cider.
Or maybe even something like the 2004 Movia Puro rosé, an undisgorged bubbly from eccentric Slovenian winemaker Alex Kristancic. There's sediment left in the bottle, so it has to be removed upon opening. Bernheimer's colleague Whitney Adams held the bottle upside down in a bowl of water and released the cork, along with the sediment and a spew of frothy wine; it looked like a Champagne jacuzzi.
"This probably isn't for everyone," Bernheimer said. "It's like advanced sabering."
A crowd, including wine shop regulars and Bernheimer's entertainment industry friends, entered the dining room, where pastry chef Hourie Sahakian had set out an apple crumble and TV scriptwriter Henry Alonso Myers had contributed a yellow layer cake with sea salt caramel butter cream that he'd made in baking class that day.
A guest standing next to a photograph by Seattle artist Chris Jordan that hangs above a cabinet for wine storage raised her flute and said, "I can't think of anything better than cake and Champagne."
1
Heat oven to 325 degrees. Line a rimmed baking sheet with parchment paper.
2
In the bowl of a stand mixer, or in a large bowl using a hand mixer, beat the egg whites until they form soft peaks, as if beating a meringue. Slowly beat in the sugar, followed by the allspice, cumin, cayenne, paprika and salt.
3
Toss the almonds, hazelnuts, walnuts and pumpkin seeds in the spiced egg white mixture until well-coated. Spread out the nuts on the prepared baking sheet.
4
Bake the nuts until they are a nice golden brown, 40 minutes to an hour, opening the oven to stir the nuts every 6 to 8 minutes (the mixture will be thick and messy at first), then more frequently (every 3 to 4 minutes) as they begin to darken. Cool the nuts on the baking sheet, then break up any clumps and toss the nuts with the orange zest. This makes about 5 cups of nuts.
Adapted from Free Range LA owner and chef Jesse Furman.
---
Get our new Cooking newsletter.
Your roundup of inspiring recipes and kitchen tricks.
You may occasionally receive promotional content from the Los Angeles Times.