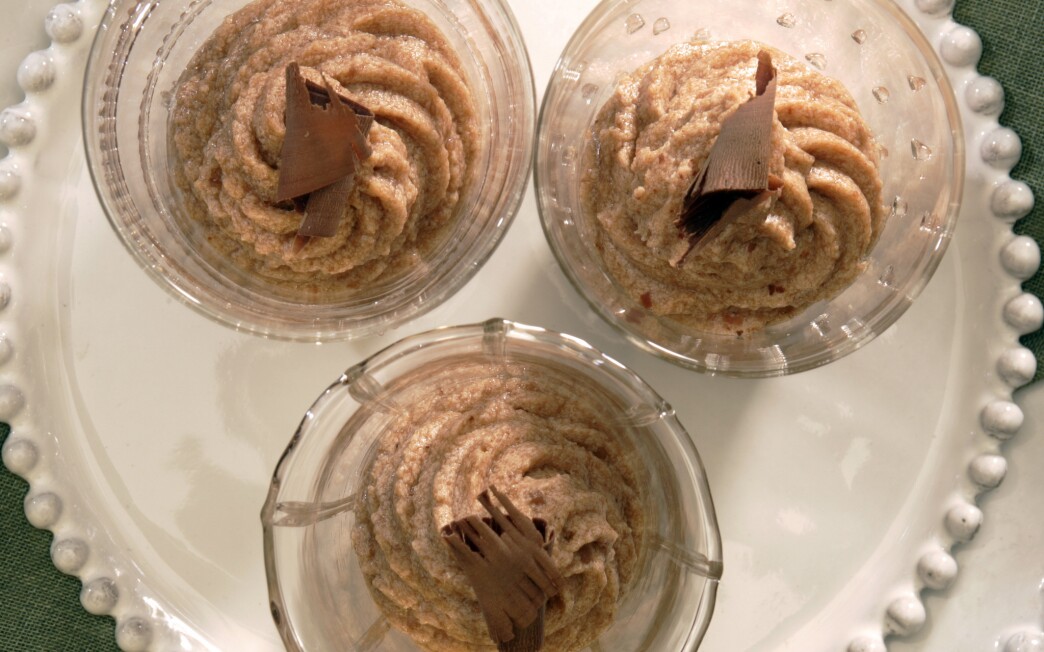 Print Recipe

Print Recipe
Chestnuts are great for any Christmastime dessert. This chestnut mousse is lush and creamy.
To peel chestnuts, first score them by making an "X" in the shell with a small, sharp knife. Then roast them in a 550-degree oven for about 15 minutes, cover them in a towel that's been soaked in ice water until they're cool enough to peel , and their shell and skin are fairly easy to remove. It's a technique from "Roger Verge's Vegetables in the French Style."
From the story: Fabulously festive, in a nutshell
1
In a medium bowl, mix together the chestnut puree, butter, vanilla extract and 2 tablespoons water with a hand mixer until smooth. Set aside.
2
Set a saucepan of water over medium heat and bring to a simmer. Place the egg white in a deep metal bowl that fits over the saucepan without touching the water. Before setting the bowl over the simmering water, beat the egg white with a hand mixer on medium speed just until foamy, about 1 minute. Set the bowl over the simmering water, continuing to beat with the hand mixer (you don't want to let the egg white cook); reduce the heat to medium-low. Slowly add the sugar and beat on high speed until stiff, glossy peaks form, about 6 minutes.
3
Immediately fold the meringue into the chestnut puree mixture. Chill for an hour, and up to 3 hours.
4
Spoon the mousse into a pastry tube fitted with a large star tip. Pipe the mousse into glasses or bowls. Garnish with shaved chocolate or whipped cream.
Chestnut puree can be purchased at major grocery retailers and online.
---
Get our new Cooking newsletter.
You may occasionally receive promotional content from the Los Angeles Times.