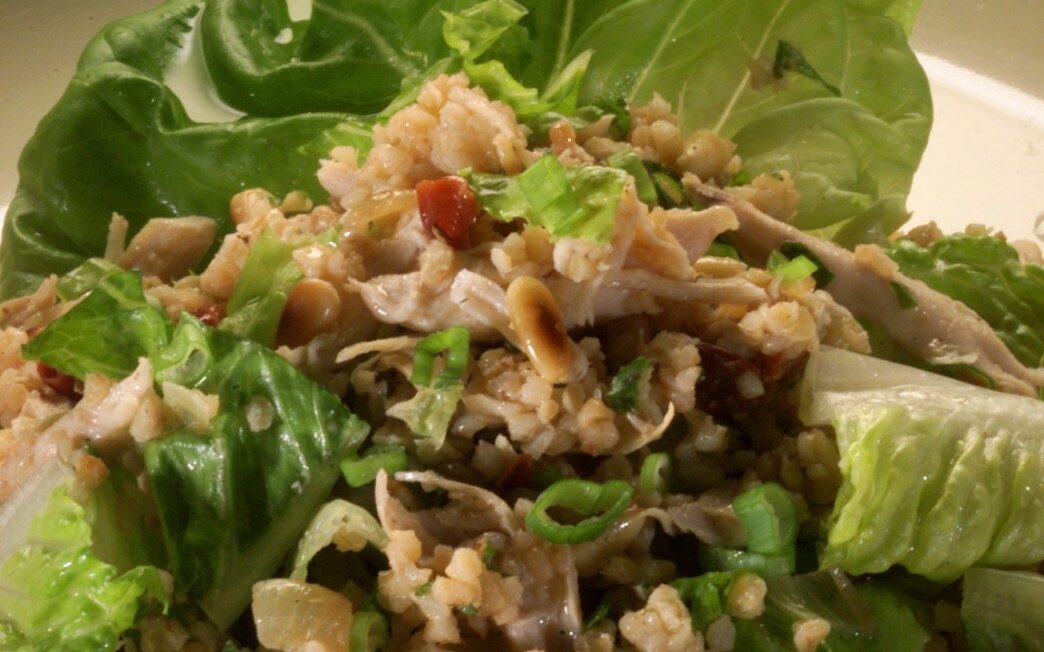 Print Recipe

Print Recipe
If you've ever eaten tabbouleh, then you've eaten bulgur wheat, even if you didn't know it.
Bulgur is whole wheat that has been cooked and cracked. It can be eaten after just being soaked in water, or it can be cooked--as it has been here--to make a bulgur pilaf.
The pilaf makes a great side dish to grilled meats, and the leftovers can easily be transformed into a main dish salad.
To make bulgur pilaf, chop an onion and 3 cloves of garlic. Cook them in 1 tablespoon of olive oil until softened, about 4 to 5 minutes. Add 3 cups of chicken or vegetable stock, bring to a boil, then add 1 1/2 cups bulgur. Cover and simmer until tender, about 12 to 15 minutes. This will yield enough for four side dishes and leave about 4 cups to make Chicken Tabbouleh Salad.
1
In a large bowl, toss together the bulgur pilaf, parsley, currants, lemon juice, green onions, salt and pepper to taste and the chicken.
2
Toast the pine nuts in a dry skillet over medium heat until golden, stirring occasionally, about 5 minutes. Keep an eye on them so they don't burn.
---
Get our new Cooking newsletter.
You may occasionally receive promotional content from the Los Angeles Times.