Chicken Thighs Braised in Spring Onion Salsa Verde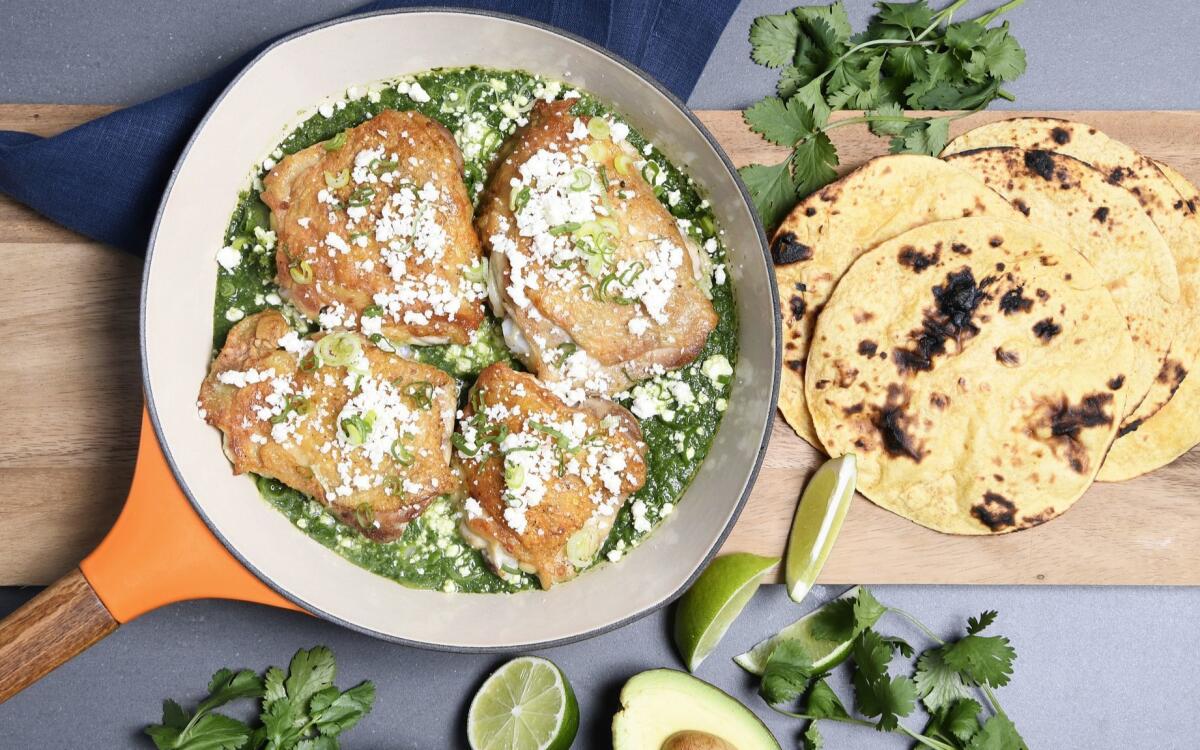 Print Recipe

Print Recipe
The spring onions here are available not just at farmers markets, but in regular grocery stores from late February through May. If you can't find them, or want to make the dish when they're not in season, everyday scallions make a great substitute; just use the recommended weight since scallions will be much smaller than the onions. And though it may seem like an extra step, you need to slice the spring onions before blending them with the rest of the salsa ingredients — both to give you some sliced pieces for garnish and to make a smooth sauce. If you toss them in whole, their often-slimy inner membranes won't break down completely and will make the salsa un-appetizingly chunky.
1
Make the spring onion salsa verde: Rinse and dry the spring onions. Peel off any dried or brown outer layers from the white parts then trim off only the dried, woody tips from the greens. Thinly slice the white and green parts from the onions and reserve a small handful of each in a small bowl for garnishing the finished dish.
2
Place the rest of the sliced spring onions into a blender or food processor, along with the cilantro, wine, 3/4 teaspoon salt, 1/2 teaspoon pepper, garlic and serrano and blend until very smooth, about 30 seconds.
3
Heat the oven to 425 degrees.
4
Season the chicken thighs all over with salt and pepper. Place the thighs, skin side down, in a large ovenproof skillet wide enough to fit them in a single layer, then place the skillet over medium-high heat. Once the skins start sizzling, continue cooking the thighs, undisturbed, until well-browned, 6 to 8 minutes. Flip the thighs, skin side up, onto a plate and pour off the fat in the skillet (or save for another use). Pour the spring onion salsa verde into the pan and bring the salsa to a boil. Return the thighs to the skillet, skin side up, then place in the oven and braise until the chicken is cooked through, the skin is crisp and the salsa is slightly reduced, about 25 minutes.
5
Remove the skillet from the oven and sprinkle the chicken and salsa with the queso fresco and the reserved spring onions. Serve with avocado and lime wedges and with bread, tortillas or rice.
---
Get our new Cooking newsletter.
Your roundup of inspiring recipes and kitchen tricks.
You may occasionally receive promotional content from the Los Angeles Times.