Chilled Cucumbers with Chile Crisp Breadcrumbs
Yields
Serves 6 to 8 as a side dish.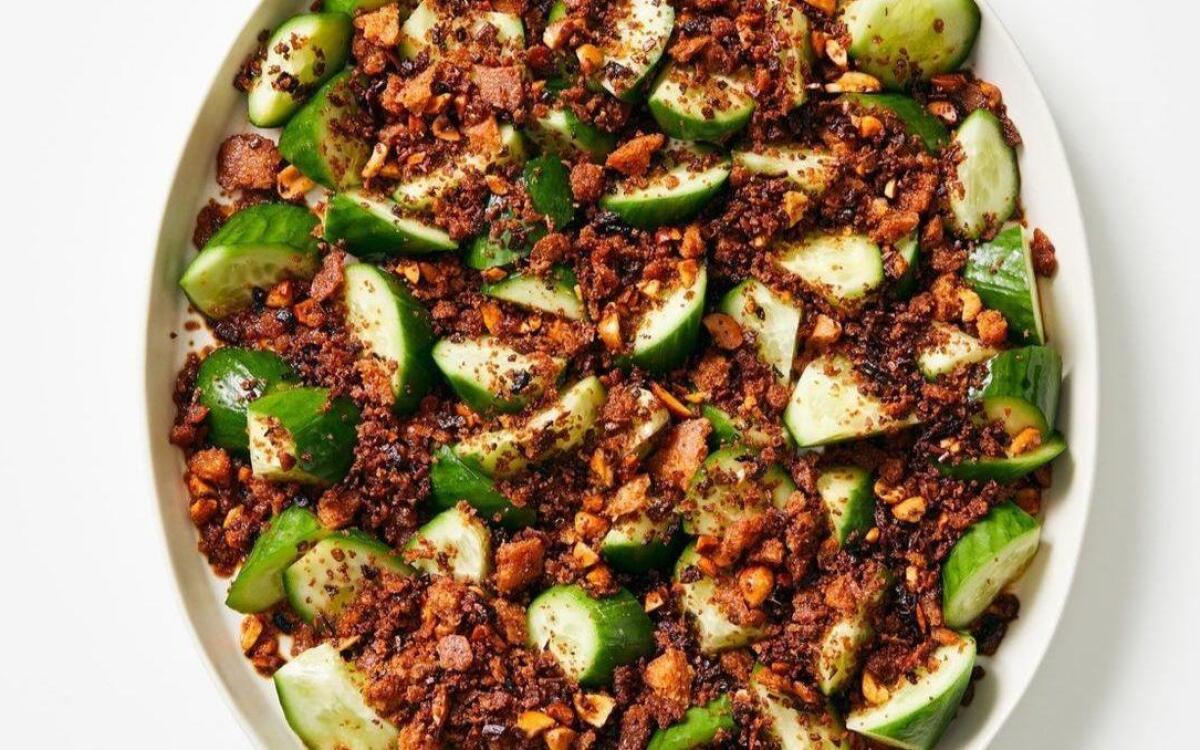 Print Recipe

Print Recipe
Although the amount of oil in this recipe may seem egregious, it's necessary to achieve an even, golden-brown "fry" on the breadcrumbs so they all get super-crisp. Don't worry; you will drain off virtually all the oil afterward. Use these crumbs as a topping for salad, creamy dips or cooked fish fillets.
1
Place the bread in a food processor and pulse until it forms rough crumbs, some fine and some the size of peas. You should get about 1 1/2 cups. Place a quadruple-thick layer of paper towels on a plate and keep nearby.
2
Heat the oil in a large skillet over medium-high heat until the oil begins to shimmer. Add the crumbs (they will look sodden in the oil; it's OK) and cook, stirring, until light brown, 3 to 4 minutes. Add the shallots, peanuts, ginger, garlic, salt, ground peppercorns, chile flakes and sugar, and continue cooking, stirring, until everything is golden brown and crisp, 4 to 5 minutes more. Immediately scrape everything in the skillet onto the paper-towel-lined plate and spread out in an even layer to cool.
3
While the crumbs cool, arrange the cucumbers in on a platter large enough to fit them in a single-ish layer. Drizzle the cucumbers with the soy sauce and vinegar, then cover them with the breadcrumbs, letting a few of the points and peaks stick out on top. This is best served when the cucumbers are still cold from the fridge and the crumbs are warm, but it will still taste great as it sits and comes to room temperature.
Make Ahead:
The drained breadcrumbs can be stored in an airtight container in the refrigerator for up to 1 week. Reheat, if you like, by tossing in a skillet over medium heat until warmed through.
---
Get our new Cooking newsletter.
Your roundup of inspiring recipes and kitchen tricks.
You may occasionally receive promotional content from the Los Angeles Times.