Clementine's whole grain muffin with plump dried cherries
Yields
Makes about 24 muffins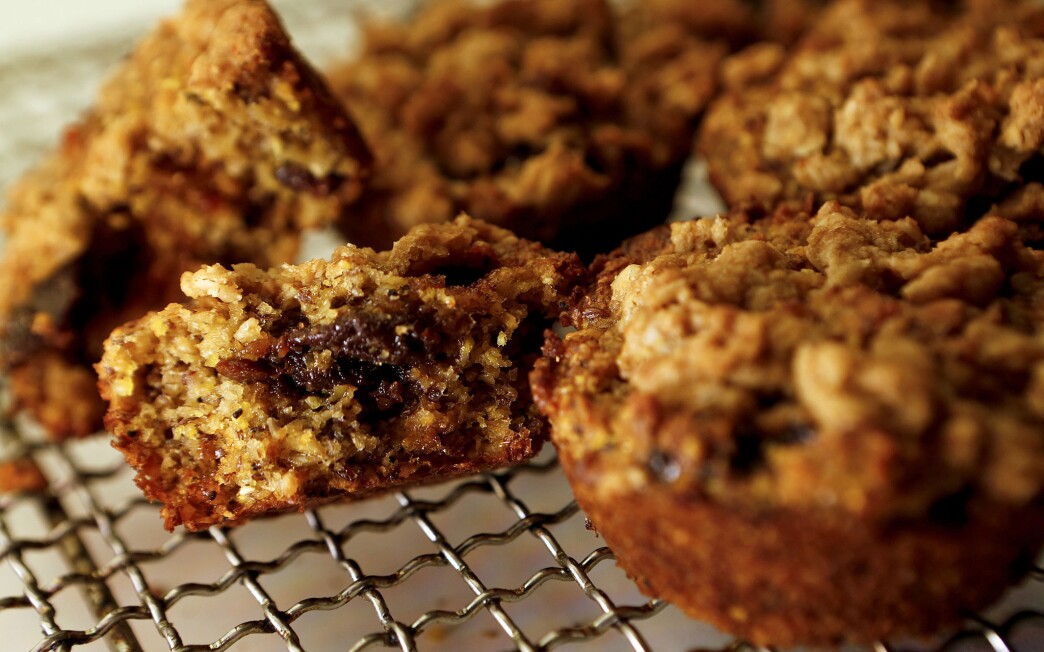 Print Recipe

Print Recipe
Dear SOS: I have been making a special trip to Clementine's for their multigrain muffins. They are so amazing — simply, the perfect morning muffin. Not too sweet, filled with all sorts of seeds and peppered with dried cherries. I would love to be able to make these for my mom. Could you possibly get the recipe? They are delicious.
Cat Buccellato
Los Angeles
Dear Cat: Oat bran, flax, cornmeal, poppy seeds and large Bing cherries contribute wonderful flavor and texture to these muffins, baked with a lightly sweet streusel topping. A perfect way to start the day, they also make a great snack when you're on the go.
Streusel topping
1
In a medium bowl, stir together the sugar and butter until completely combined and smooth. Stir in the oats until they are coated and the topping forms clumps. Spread the topping onto a rimmed baking sheet and refrigerate until chilled and hardened. Break up the clumps and store, refrigerated, in a sealable plastic bag. This makes slightly more topping than is needed for the muffins; the topping will keep, refrigerated, up to 1 month (or frozen up to 3 months).
Whole grain muffins
1
Heat the oven to 375 degrees. Lightly grease the muffin tins to prepare them.
2
In a medium bowl, combine the oats and buttermilk, and set aside so the oats can soak.
3
Meanwhile, in the bowl of a stand mixer fitted with the paddle attachment, or in a large bowl using a hand mixer, beat together the oil, eggs and vanilla.
4
In a separate bowl, whisk together the oat bran, flax meal, cornmeal, sugar, poppy seeds, baking powder and soda, and salt.
5
Add the soaked oats and buttermilk to the bowl with the egg mixture, then, with the mixer running, slowly incorporate the dry ingredients. Fold in the dried cherries.
6
Spoon the batter into the muffin tins, filling each cup approximately two-thirds of the way full. Top each muffin with a light crumbling of streusel topping.
7
Bake the muffins until puffed and a rich golden coloring on top, and a toothpick inserted comes out clean, 22 to 26 minutes, rotating each tray halfway through.
8
Cool the muffins on a rack before unmolding.
Adapted from Clementine Bakery in Century City.
---
Get our new Cooking newsletter.
You may occasionally receive promotional content from the Los Angeles Times.