Cornmeal-fried spring onion with chile aioli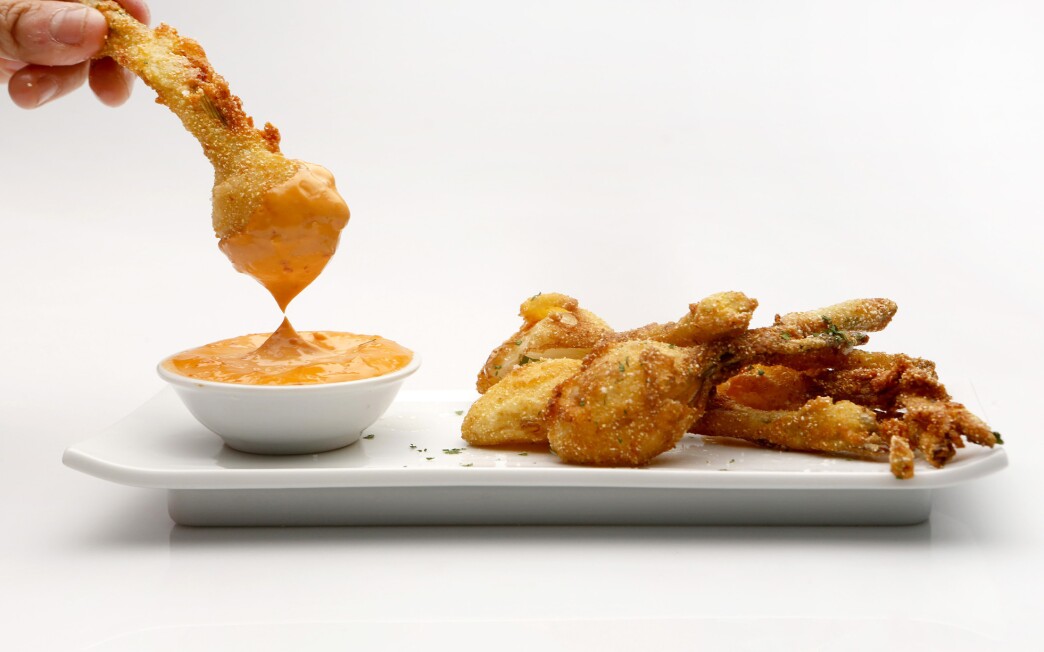 Print Recipe

Print Recipe
There are many, many reasons to go to Jon & Vinny's, the latest of the L.A. restaurants from Jon Shook and Vinny Dotolo, the two friends who met at a Florida culinary school and came west for food and adventure. You might go for the glorious meatballs, served with house-made ricotta and slabs of bread grilled in their wood-burning oven — the one that almost burned down the restaurant not too long ago. (Thank you, L.A. Fire Department.) You might go for the pizzas or the pasta or Helen Johannesen's bottles of wine or the flashback-triggering soft-serve ice cream. But many of us also go simply for the plate of onions (bulbing, not green), dipped in cornmeal batter and fried, then served with Calabrian chile aioli like a Southern fry cook's version of a calçotada, the justly famous Catalonian outdoor barbecue of spring onions and romesco sauce. Because it is sometimes difficult to get a reservation at Jon & Vinny's, what with Kanye showing up now and then, we asked for the recipe. Maybe double the batch.
Calabrian chile aioli
1
In the bowl of a food processor or blender, combine the egg yolk, lemon juice, salt, mustard and chopped chiles, processing to combine. With the processor running, slowly drizzle in the oil to emulsify; if using a processer, scrape down the bowl once or twice to make sure all of the oil is incorporated and the ingredients are fully combined. This makes a generous cup of aioli. The aioli will keep, covered and refrigerated, for up to 1 week.
Fried spring onions
1
Clean and trim the spring onions, keeping about 3 inches of the green attached to each bulb. Keep the bulbs intact if small; halve or quarter the bulbs if large.
2
In a shallow baking dish or container large enough to hold the onions, whisk together the flour, cornmeal, onion powder, garlic powder and salt. In a separate shallow container, pour the buttermilk.
3
Dip the spring onions in buttermilk, then toss in the cornmeal flour mixture to coat. Place the onions on a tray lined with parchment until ready to fry.
4
Heat a heavy pot half-filled with oil until a thermometer inserted reads 350 degrees. Fry the spring onions, a few at a time, until golden brown, 3 to 5 minutes. Remove the onions with a slotted spoon and place on a cooling rack to drain. Repeat with the remaining onions.
5
Serve the onions on individual serving plates, topped with a sprinkling of salt and chopped parsley and next to a dipping bowl of aioli.
Adapted from a recipe by Jon Shook and Vinny Dotolo
---
Get our new Cooking newsletter.
You may occasionally receive promotional content from the Los Angeles Times.