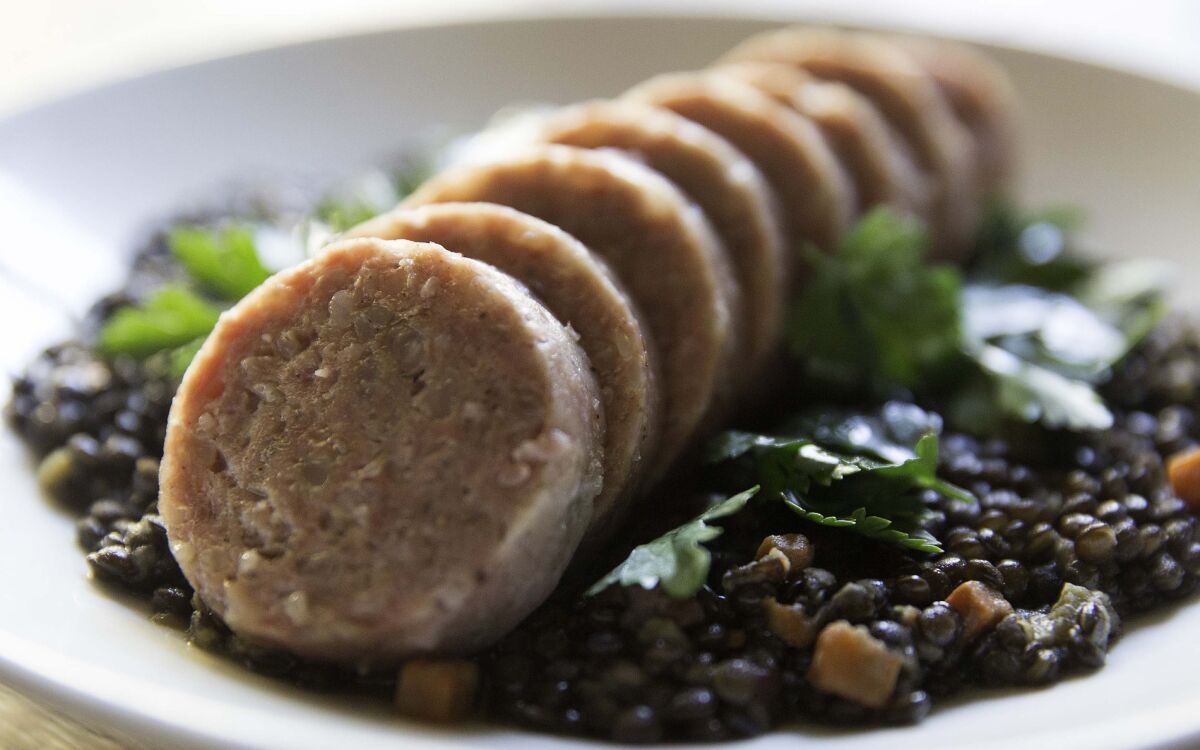 Print Recipe

Print Recipe
Bologna where Steve Samson's mother, Anna, grew up, tortellini is the dish of celebration, part of the meal at every special occasion — birthdays, weddings, even New Year's Eve. So when the chef/owner of Sotto and his entire family went back to Bologna this past summer to celebrate his parents' 50th wedding anniversary, he made sure tortellini in brodo was on the menu.
It's going to be on his New Year's Eve menu as well at his mother's house in Calabasas, where the tradition is for the whole family to get together to make tortellini. "It becomes a competition to see who can make the best," Steve Samson says. With his 3-year-old twins, his older brother's two kids and his younger brother's three — that's quite a tortellini-making team. And they're all critics, pointing out the ugliest or misshapen tortellini.
The taste memories of the food Samson had at his grandparents' house in the mountains south of Bologna inspired him to become a chef. "It's very approachable and very humble — tortellini, lasagna verde, Bolognese sauce, great tagliatelle al ragú and meats cooked over a wood fire," he says. And it's those dishes he's itching to cook at RossoBlu, a restaurant he plans to open next year in the new downtown L.A. development City Market South, where he'll be sharing a building with the Slanted Door.
Samson's first restaurant, Sotto, is southern Italian, a cuisine foreign to his mother, who often tells her son, "The food is good. But I like my food better."
Expect to see her at RossoBlu a lot, checking on the pasta.
Somehow, while they finalized plans for the restaurant, Samson and his mother made the time to show us how to prepare tortellini in brodo for New Year's Eve at home.
First, you need to make a rich broth with chicken and beef neck bones. While the broth is simmering, prepare the filling, which traditionally is made from lean pork and either rabbit or chicken with prosciutto, mortadella and Parmigiano Reggiano. To build in more flavor, Samson likes to roast or sauté the meat before putting the filling ingredients through a meat grinder or food processor.
With a stand mixer, making the fresh pasta is pretty straightforward. Once the sheet of pasta is rolled out, cut it into squares that are a little larger than 1 inch on a side. (That's incredibly small, and it may take some practice to make such minuscule tortellini. But no one's going to report you to the Bolognese authorities if you make yours a little larger.)
The other dishes on the Samson family's New Year's Eve menu are easier to make. One of them is cotechino with lentils, which represents prosperity in the new year. "Cotechino is a super-rich cooked sausage made with lean pork and a lot of pork skin, which gives it an unctuous texture," Samson explains. Usually served with potatoes, it's served on New Year's Eve with tiny green-brown lentils from Castelluccio, a town in Umbria.
The idea is to have just a couple of slices of the rich sausage with the lentils. Of course, Samson likes to make his own cotechino — but you don't. You can usually find the sausage at Guidi Marcello in Santa Monica, which also sells lentils from Castelluccio. (A good substitute is the more widely available French lentils de Puy.)
Anna Samson might also make a roasted stuffed veal or turkey breast as part of a New Year's Eve meal. Some Bolognese cooks just make extra tortellini stuffing for the occasion, but his mother likes to stuff her roasts with hard-boiled eggs (which also represent prosperity), carrots and other vegetables. When the roast is sliced, you get a pretty cross-section, Samson says.
Of course, this is a menu for any special occasion. Even a beginning cook can handle the cotechino and lentils. But those tortellini? They take time and planning — and tiny fingers, but the result is sublimely satisfying. The great thing is you don't have to do it on your own: Call in the family troops and make tortellini. Who knows? It might become a New Year's tradition.
1
In a heavy pot, heat the olive oil over medium heat until hot. Add the pancetta and cook, stirring, until the pancetta has rendered and begun to crisp, about 2 minutes. Stir in the onions, celery and carrot and cook until they are softened, 5 to 7 minutes. Add the lentils and broth and bring to a simmer. Cook, stirring occasionally, until the lentils are just cooked through but still have a little bit of bite, about 25 minutes. The lentils should absorb almost all of the stock. Season with 1/4 teaspoon salt and a few grinds of pepper, then stir in the butter and parsley. Slice the cooked sausage and serve atop the lentils.
Adapted from a recipe by Steve Samson. Cotechino sausage is available at select Italian markets as well as online.
---
Get our new Cooking newsletter.
Your roundup of inspiring recipes and kitchen tricks.
You may occasionally receive promotional content from the Los Angeles Times.