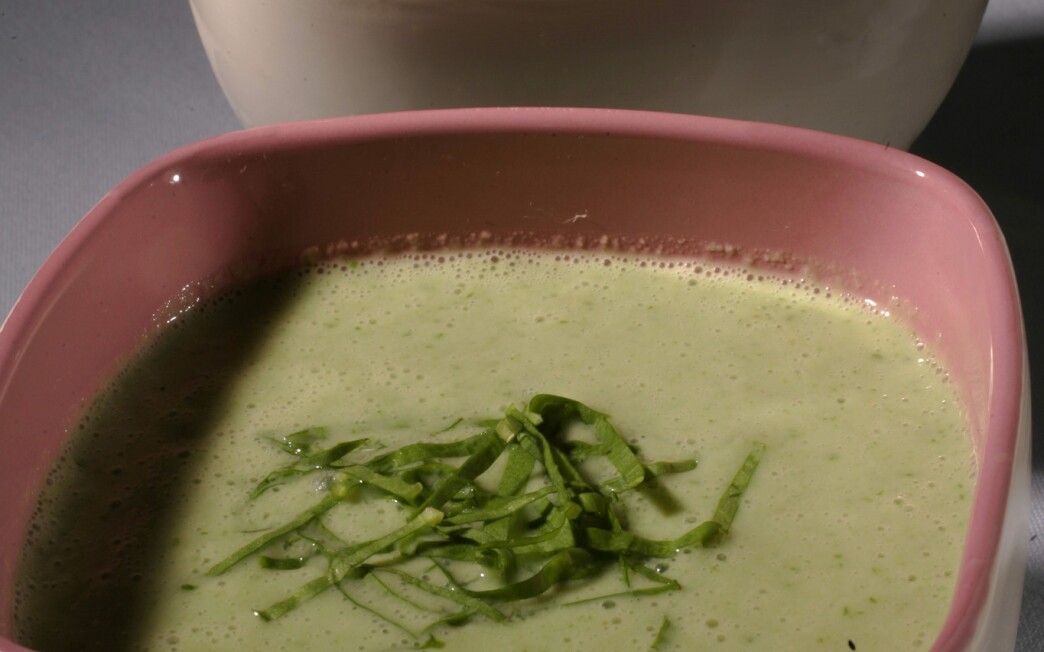 Print Recipe

Print Recipe
For most of us, this crazy summer weather has been an inconvenience, a matter of being a little uncomfortable. For farmers, it has wreaked havoc with their livelihoods.
It's easy to forget that, now that we're standing smack in summer's sweet spot, produce-wise. Walk through the farmers market and the bounty is astonishing: piles of peaches and nectarines, mounds of melons, tomatoes of every color, eggplants, squashes, cucumbers and all kinds of berries.
For cooks, this is one of the best times of the year, with ingredients so good you hardly have to do anything to make a delicious meal. But for the farmers who grew all of it, this summer has been one of the most challenging in memory.
"You know how it always is with farmers: It's too hot, then it's too cold; it's too wet, then it's too dry," says Maryann Carpenter of Santa Monica farmers market favorite Coastal Farms. "But I've never seen anything like this year."
Still, Carpenter can't resist popping open one of her few flats of heirloom tomatoes -- mostly Cherokee Purples, with a few Evergreens and Pineapples as well. "But look how pretty these are," she says. "Aren't they beautiful?"
Last week, Gov. Arnold Schwarzenegger even asked for the federal government for disaster relief assistance.
Weather woes
The year started with an unseasonably mild winter, which was followed by an unseasonably cool and rainy spring, which gave way almost immediately to scorching temperatures hotter than California has seen in many years.
In such heat, herbs and lettuces bolt from tender seedlings to tough, seed-producing adults within days. Plants stressed by the weather are even more susceptible to predation by pests and disease. Tender fruit like tomatoes and grapes and delicate greens and herbs get sunburned.
And though heat is necessary for ripening fruit, when there's too much, plants go into survival mode and shut down, dropping fruit and blossoms in some cases and slowing the ripening process to a crawl in others.
Of course, the heat also affects humans: Because of the scorching temperatures, many farms shortened work days so their crews were done by 2 p.m., slowing and in some cases reducing the harvest.
Many vegetables, including tomatoes and peppers, are at least two weeks behind schedule; some are much more. Fruit varieties we usually see earlier in summer, such as Elegant Lady peaches, are just now being picked.
"Where do I begin?" asks Molly Gean of Harry's Berries. "We drowned and then we baked."
The good news is that the worst of the weather seems to be behind us and that means the floodgates of the produce market are swinging wide open.
Quality has improved drastically, even in the last couple of weeks. Earlier in the year, produce like tomatoes, peaches and nectarines seemed a little short in flavor -- they just hadn't gotten enough sun. Lack of heat certainly hasn't been a problem for a while.
Of course, you still need to shop carefully. Tender berries go soft in the heat -- check the underside of the box for signs of leaking juice, and then be sure to use them within a day or two. Avoid lettuces that are browning at the tips or appear coarse and overly mature. Watch for tomatoes with soft shoulders.
Squash tends to grow like crazy during the heat; remember to pick the slimmest, which will have fewest seeds, and the ones with the most tender skin.
Stone fruit are so delicate that they are almost bound for mishap, especially with tricky growing conditions. Pass on any that show signs of brown rot, a serious problem in hot and humid weather.
On the other hand, a slightly bruised peach or nectarine can still be delicious, but it will need to be pared back. And sunburn or other cosmetic flaws rarely go more than skin deep.
One of the best things about summertime cooking is that with basic ingredients this good, you don't really need to fancy them up.
What do I love best about this time of year? It's hard to tell where to begin. I feel like a surprise Oscar winner who stands at the podium stammering, unable to start his thank-yous because he knows he'll leave out the most important one.
Let's start with the most obvious: Every fruit and vegetable has something going for it, but for me, the two with real grandeur are peaches and tomatoes. When great, both of them have not only perfectly balanced sweetness and acidity, but also a deep, savory quality that is almost indescribable.
Plums and melons are not far behind in stature, but on opposite ends of the flavor spectrum. To my taste, the best plums are those that are almost bracingly sour while the best melons are so sweetly floral and honeyed they almost make your teeth hurt.
When you've got stuff this good, simply slice it and serve it.
Culinary soul mates
Eggplants and peppers are filling market stalls now. They may come from different continents, but they are so intertwined in my kitchen that I think of them as culinary soul mates. Both of them are spectacular off the grill, needing nothing but a little olive oil and garlic.
That's the way summer cooking goes. Got green beans? Blanch them and toss them with olive oil and lemon juice. Corn? It's at the peak of its season. Grill it in the husk and finish it with flavored butter (maybe whip in a little lime and cilantro, and then chill it into a solid log).
Berries are enjoying their last couple of weeks, and though they can be a little soft from the summer heat, they seem even more perfumed than before. Meanwhile, figs and grapes are beginning to come into their prime. By the time the berries are done, these will be in full swing and ready to take their place.
And wait, what about summer squash? Surely you don't need another way to cook zucchini, do you? How about this: Simmer it until tender, then puree it in a blender with a cooked potato, some garlic and a little cream. Finish it with a sprinkling of Parmigiano-Reggiano.
As you can see, none of these dishes call for any extravagant ingredients. In fact, given the quality of the produce we're getting, even the humblest of additions can seem delicious.
One thing that always seems to be in abundance in my kitchen during the summer is stale bread, and you can't get much humbler than that. Maybe it's the heat, maybe it's the humidity, but a loaf left on the counter even overnight often seems to have gotten stiff and stale by dinner the next day. At that point it's not rock hard yet, but it's certainly not good enough for slicing and serving. Still, it does make a wonderful ingredient for summer dishes.
It's the kind of cooking that used to be called economical, not in the sense of being cheap, but in the way of making the most of everything that's available to you.
A secret ingredient
For something that we usually throw away, stale bread has many uses. In fact, it's the secret behind some of summer's best dishes. Use stale bread as a thickener for cold, raw vegetable soups such as gazpacho. This allows you to add some texture to the soup without cooking it or adding a lot of fat.
Soak the bread in water to soften it, then squeeze it well. Puree it in a blender with the rest of the ingredients, and the bread vanishes, leaving behind only a silky texture.
This is an old trick with tomatoes, but there's no reason it can't be used for other vegetables. Puree cucumbers with soaked bread and some yogurt and you get a lovely celadon-colored soup that captures the best flavors of a cucumber salad in a new form. Adding fresh sorrel leaves underlines the yogurt's tang.
You can also use stale bread to flesh out dishes, extending flavors and allowing them to mingle and become more complex. A tomato salad is delicious by itself, but when you add stale bread it takes on another dimension.
Again, soak the bread and squeeze it almost dry. While the bread is soaking, salt the chopped tomatoes, dress them and set them aside to macerate. The salt will draw the juices from the tomatoes and intensify the flavor. But rather than making the dish soupy, those juices will be captured by the bread, spreading the rich tomato flavor through the dish.
You can even use stale bread in place of pastry for fruit desserts. Line a bowl with slices of bread (I like to do this with brioche or another egg-enriched bread). Fill the center with peaches and berries that you have warmed in a pan, and then refrigerate overnight with a plate pressing down on the fruit.
The bread will absorb all of the sweet juice that has been squeezed from the fruit and will become saturated with flavor.
Serve this summer pudding cold, cut into slices that show the cross-section of the fruit, and accompany it with only lightly sweetened yogurt or whipped cream to set off the flavors.
These recipes should be considered more as outlines for dishes rather than specific prescriptions. Delicious as they are, they can still be altered to fit your taste and what you happen to have on hand.
Play around with the choice of vegetables in the bread salad -- maybe use chopped cucumbers, maybe add some torn basil leaves or maybe mint.
Use the same free hand with the summer pudding -- the original is wonderful made with different kinds of berries -- but maybe plums would be good too?
Sure, it's been a tough summer so far, but the fun is just beginning.
1
Tear the baguette into rough pieces and put the pieces in a bowl with water to cover. Soak for at least 15 minutes.
2
Coarsely chop the cucumbers and place them in a blender in batches. Chop most of the sorrel leaves, reserving two for garnish. Add the sorrel leaves to the blender with the garlic, salt and yogurt, and puree until smooth.
3
Remove the bread from the water and squeeze dry. Add the bread to the blender and puree the mixture until perfectly smooth. Pour it through a strainer into a deep bowl, discarding any bits of bread caught in the strainer. The soup should be slightly thickened, about the texture of heavy cream. Cover the bowl tightly and refrigerate for at least 1 hour.
4
To serve, season the soup to taste with more salt if necessary and ladle it into wide bowls. Use a large spoon to swirl in a streak of yogurt. Thinly slice the reserved sorrel leaves and scatter a few slices across the top of the soup.
Dark, thin-peel Persian cucumbers are best for this recipe. You can use other thin-peel cucumbers, but the color won't be as pretty. If you use regular slicing cucumbers, peel them and remove the seeds.
---
Get our new Cooking newsletter.
You may occasionally receive promotional content from the Los Angeles Times.