Curried Coconut Butternut Squash Soup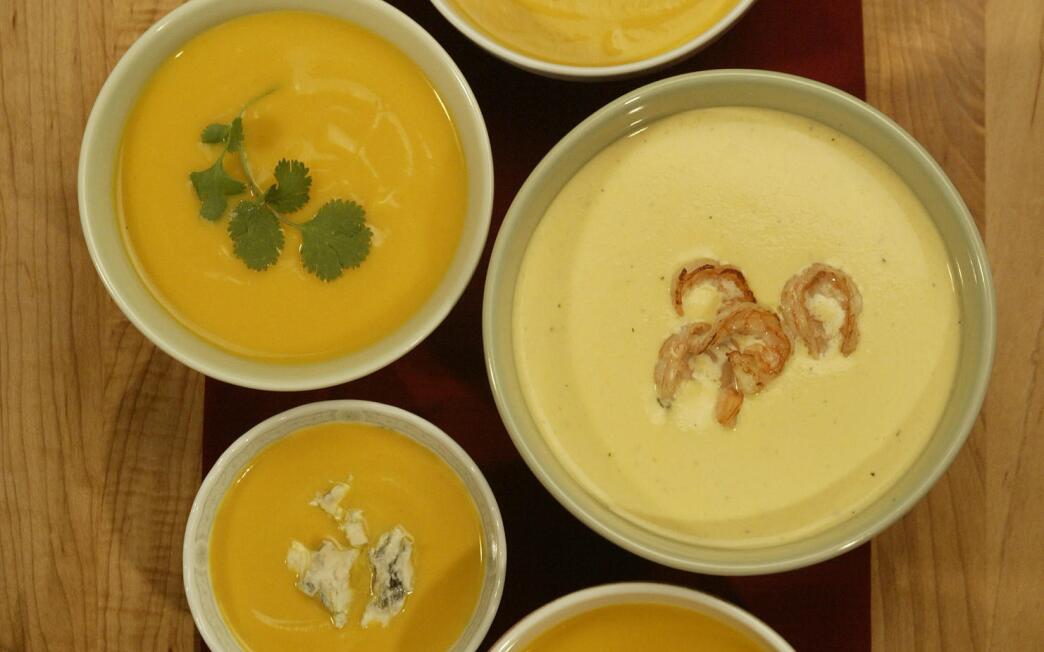 Print Recipe

Print Recipe
Butternut squash is the empty canvas of the vegetable world. Alone, it has a sublimely smooth texture and just-sweet-enough flavor. But when it's seasoned and garnished or otherwise embellished, it can be elevated to art. Something as simple as chopped ginger adds as much impact as overly indulgent cubes of sauteed foie gras. And unlike other soups made from common vegetables, whether carrot or potato, butternut's identity never gets lost no matter what garnishes are added.
Butternut squash soup takes well to aggressive flavorings, particularly red or green Thai curry pastes as in this soup. Coconut milk rounds out the Southeast Asian flavor along with the lime juice and Thai basil or cilantro garnish.
From the story: Golden opportunity
1
Heat the oven to 375 degrees. Lay the squash cut side down on a foil-lined baking sheet. Place the garlic cloves on a double thickness of foil and drizzle with oil. Fold the foil into a packet around the garlic and lay it on the baking sheet. Bake until both squash and garlic are very soft and the squash is caramelized, about 1 hour. Let stand until cool enough to handle.
2
Scrape the squash pulp into a soup pot. Squeeze the garlic out of the skins into the pot.
3
Shake the can of coconut milk well and pour the contents into the pot. Add 1 can cold water. Bring the soup to a simmer and cook, stirring occasionally, 15 minutes.
4
Cool slightly. Transfer the mixture to a blender, working in batches, and puree until smooth. Wipe the pot clean and return the soup to it.
5
Add the curry paste, starting with 1 teaspoon and working up to desired heat. Simmer until warmed through. Season with salt to taste. Add the lime juice to taste. Serve garnished with either Thai basil, cilantro or scallions. Makes 5 1/2 cups.
---
Get our new Cooking newsletter.
You may occasionally receive promotional content from the Los Angeles Times.