Fuyu persimmon salad with cumin-lime vinaigrette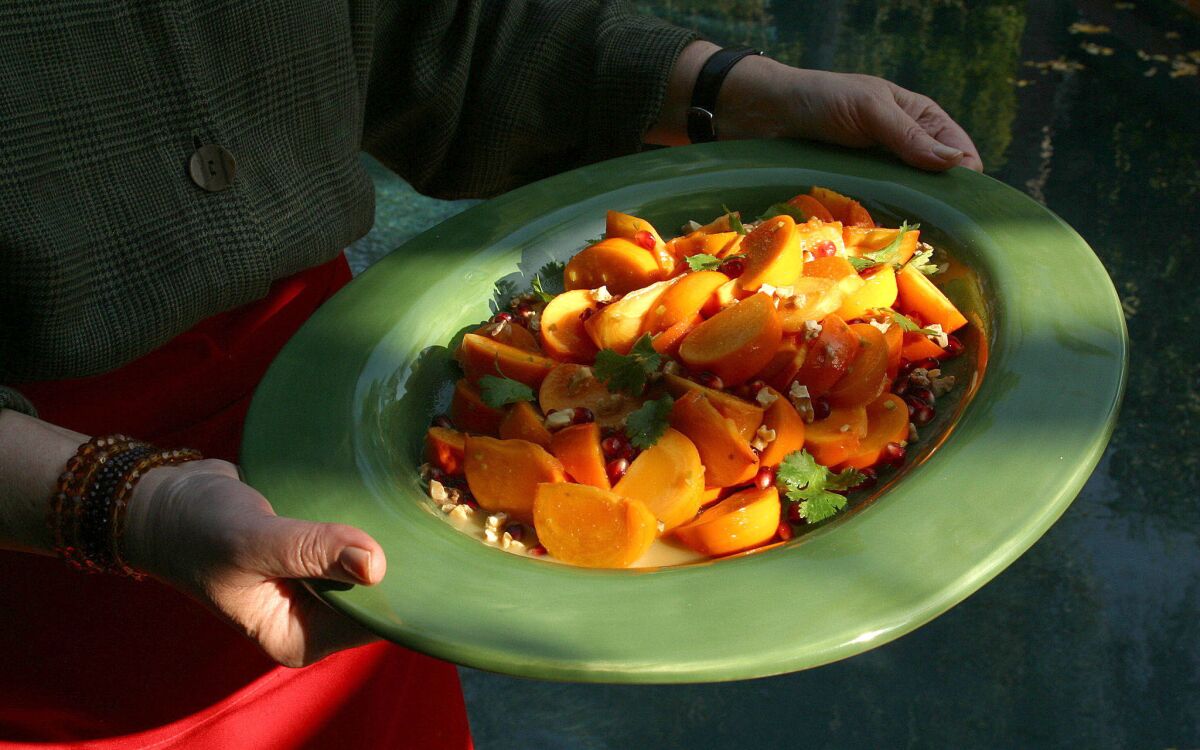 Print Recipe

Print Recipe
On my Thanksgiving table we usually have dishes that come from all over the United States, from Wapakoneta, Ohio, to Montgomery, Ala. Add it all up and you've probably got something like the definitive California spread.
After all, almost half of all of us come from someplace else (according to the 2000 census, 22.5% were born in other states and 26.2% in other countries). Those food traditions are important. They are the things we've carried with us. They are how we tell ourselves one from another and how we proclaim whom we've been and, to a surprising extent, whom we hope to be.
But what seems to get overlooked in the whole mix is anything from California itself. Isn't it ironic that in this golden state that feeds the rest of the country, on our one national food holiday, we Californians serve dishes mainly from other places?
All of this started me wondering about what an all-California Thanksgiving menu might look like.
There are some things that are certain. It would have to be seasonal and it would have to be based on ingredients that come from here.
After all, we do live in a place where food actually grows at this time of year, unlike the barren hinterlands of, say, North Dakota or New York.
That could mean persimmons, either the small, crisp, slightly tart Fuyus or the larger, acorn-shaped Hachiyas, among the most decadent of fruits when they've softened. Or it could mean Bartlett pears from the hills in Lake County, greens from Salinas or all of those nuts from the Central Valley. Can anything be sweeter than a date from Coachella? (Try slicing them, digging out the pits and stuffing them with orange-flavored almond paste.)
You want local? We've even got food from our own backyards: guavas, avocados and right about now the first navel oranges and Meyer lemons. There's more to the state than a shopping list; the menu would have to reflect a certain approach to cooking as well. Food here seems to be freer and simpler, more in balance. As we've said before: Get good ingredients and get out of the way. Adornment and complication can be fun in their proper places, but they are not necessary to good cooking.
And there is freedom. Let's face it: If we were all back where we came from, our menus couldn't be the artful blending that they are. Back home, if we chose not to serve grandma's pumpkin cheesecake, we'd have to answer to her.
There are demands that are made of us as well. The first one that comes to mind right now is the need for a certain amount of flexibility. Two weeks ago when I began planning this menu, the weather was cold and rainy. Last week when I was doing the final testing, it was sunny and in the mid-80s. Who can guess what the weather will be like a week from Thursday?
With all of those things in mind and after walking through a couple of farmers markets, I began to cook in serious.
No shortage of inspiration
The first course is a riff on something I first had several years ago at the home of cookbook author and filmmaker Anna Thomas. We tend to think of persimmons as a sweet fruit, but those little Fuyus are no more sugary than a good tomato. They've also got a wonderful crispness about them that is accentuated by the lime juice.
Similarly, the winter squash recipe is based on an old favorite from Helen Evans Brown, perhaps the finest cookbook writer the state has known. She probably wouldn't recognize this variation -- with all the nuts ground into the batter, the filling bakes into something like a light, savory cookie, the butter melting down into the squash. This would make a nice vegetarian entree if you served a half squash rather than a quarter.
The bird was pretty much a no-brainer. I'm one of those people who like the flavor of turkey. I don't think it's bland at all, just that it could use a little help sometimes. I was planning on simply brushing it with rosemary-lemon butter (the fruit on my Meyer lemon tree is just getting ripe, which means the next three or four months I'll be looking for any excuse I can find to use it).
But Donna Deane, our Test Kitchen director, also suggested stuffing whole rosemary sprigs under the skin, so, when it tightens and crisps, you can see the outlines of the herbs -- a lovely adornment. Be sure to pick the tenderest branches (no twigs between your teeth) and to blanch them first; rosemary is notoriously aggressive.
The bittersweet flavor of braised escarole is a counterweight to the turkey. This dish also has the virtue of being easy to fit into the crowded cooking schedule. Blanch and chop the escarole the day before (be sure to pull out any of the pale yellow leaves; they'll turn brown when cooked).
While the turkey is resting before carving, stir the chopped greens in all of the browned bits left in the bottom of the roasting pan. The moisture in the leaves will act as a deglazing liquid -- punching up the flavor of the escarole and cleaning the pan at the same time.
Any big deal meal has to have cheese. So many good ones are made in California that it's hard to choose.
For me, it comes down to sentiment, cheeses that have a personal connection. I always try to have Humboldt Fog on the tray not just because it is a great cheese, but also because Humboldt County is where my daughter lives.
For a hard cheese, I'll probably go with Vella Dry Jack, the Special Select, since to me it represents the height of traditional cheese making in the state. Then to round out the selection, I'll try to find a well-aged piece of Peluso Teleme. Tasting a glorious one several years ago in New York proved to me how great California cheese can be (and how far we have to go in marketing it -- aged Teleme seems to be all over Manhattan, but just try to find a chunk in Los Angeles).
For a big finish, try this pear tart filled out with a gorgeous puffy orange-and-almond paste. Frangipane is one of those food words that can mean many different things, from a kind of almond pastry cream to this, which is more like a slightly dense, fragrant cake that crisps a little on top.
Which wines? How about a nice rose sparkler with the persimmons -- my favorite (and one of the best food wines around) is from Roederer Estate. If you prefer a still wine, try the Foley Sauvignon Blanc from Santa Barbara County. That will also work with the turkey, but if you'd like to switch to a red, try one of the lighter and more elegant ones, say Sinskey Vineyards' Carneros Merlot, or Babcock Winery's Santa Barbara Pinot Noir.
Bring a favorite dish
Pick and choose among these recommendations as you wish, but even if you cook every recipe, be sure to bring to the table something of your own, a pumpkin pie or a favorite appetizer, tamales or chow fun -- even cranberry jelly straight from the can, so you can laugh about cousin Jennifer who always tries to slice it perfectly along the lines. At my house, there'll be jellied cranberries from my mom's Midwestern family and creamed onions from my wife's on the East Coast. There'll probably be the pecan pie I love from growing up in the South and a smoky sausage and greens dressing from when we lived in Texas.
Being Californian isn't about abandoning traditional dishes, it just means being free to choose among them and adapt them to fit our new menus.
1
Cut off the tough green calyxes and slice each persimmon in 10 to 12 wedges.
2
In a small lidded jar, combine the lime juice, cumin, about half of the chile, a dash of salt and the walnut oil. Tightly cover and shake hard to mix well. Taste the dressing on a small piece of persimmon. There should be just enough chile to add a suggestion of heat. If you'd like it hotter, add more and shake again.
3
Combine the persimmons and the dressing in a work bowl and toss to coat well. Turn the salad out into a decorative bowl and sprinkle with the pomegranate seeds, walnuts and cilantro. Taste and add more salt or lime juice if necessary.
Fuyus are the small, crisp persimmons. They're only slightly sweet, so when paired with an assertive vinaigrette, they make a refreshing salad.
---
Get our new Cooking newsletter.
Your roundup of inspiring recipes and kitchen tricks.
You may occasionally receive promotional content from the Los Angeles Times.