Game Hens Stuffed With Kale, Walnuts and Cranberries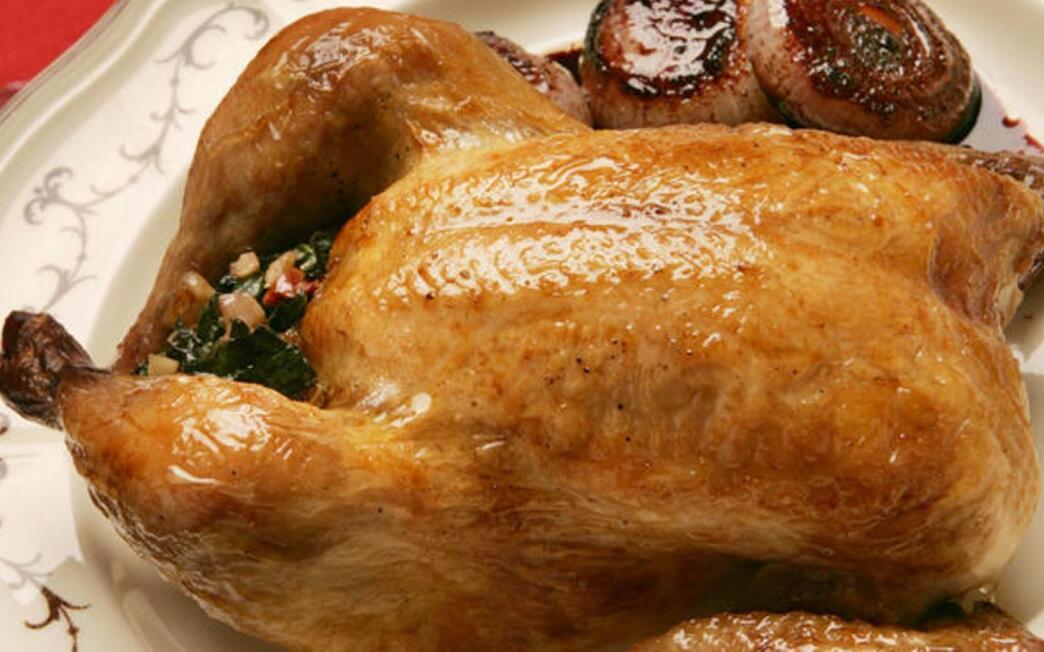 Print Recipe

Print Recipe
These little darlings are so small they'll roast in less than 45 minutes. Really, I prefer 30 to 35. I've found that they stay much juicier if you cook them to an internal temperature of 150 degrees rather than the 160 that is usual for poultry. There is still a tinge of pink at the thigh bone, though, so if that bothers you, cook it all the way.
The stuffing is equally simple -- braise kale just until it starts to get tender, then stir in toasted walnuts and some dried cranberries that you've refreshed in a little orange liqueur.
Each bird only holds about a quarter-cup of stuffing, so you'll need to include another side dish on the plate.
From the story: Shortcut to Fabulous

1
Heat the oven to 400 degrees. In a large skillet over medium-high heat, melt 2 tablespoons butter. Coarsely chop the kale and add it to the skillet. Cook, stirring constantly, until it softens and reduces, about 2 to 3 minutes. Season generously with one-half teaspoon salt, reduce the heat to low and cook, covered, another 2 to 3 minutes until it is quite tender. Reserve.
2
Place the cranberries in a small bowl, add the orange liqueur and set aside to soften, at least 10 minutes. Melt the remaining one-half cup butter in a small skillet with the orange zest. Set aside.
3
Rinse the game hens and pat them dry. Season each generously inside and out with one-fourth teaspoon salt and a grind of pepper. Brush them lightly with some of the orange butter.
4
In a large bowl, combine the kale, the cranberries with their liqueur, the remaining orange butter, the walnuts and a generous grinding of pepper and stir to combine. Stuff the cavities of the game hens with the kale mixture.
5
Tie the birds' leg ends together with kitchen twine to hold the shape and keep the stuffing from spilling out. Arrange the birds on a rack in a roasting pan and cook until a thermometer inserted in the deepest part of the thigh reaches 150 degrees, 30 to 35 minutes, for medium-well; or 160 degrees, 40 to 45 minutes, for well-done. Remove from the oven and let rest 5 minutes before serving.
---
Get our new Cooking newsletter.
You may occasionally receive promotional content from the Los Angeles Times.