Gingergrass' shaking beef salad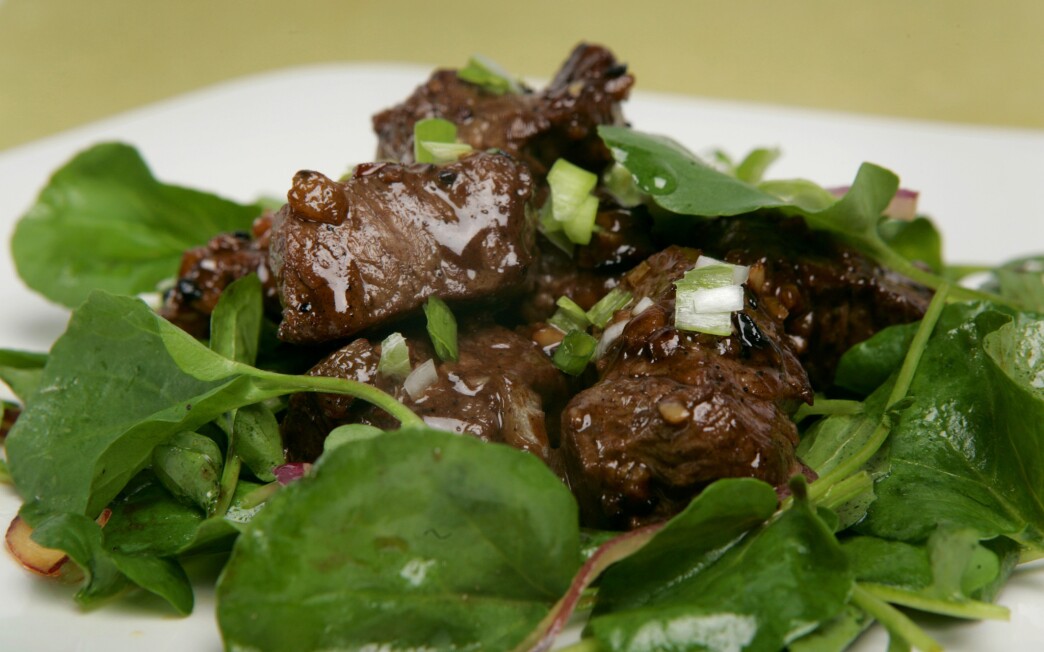 Print Recipe

Print Recipe
Although Southern California menus are filled with salad options year-round, chefs often find renewed inspiration as warm weather arrives. Readers of our Culinary SOS column, which brings requested restaurant recipes into The Times' test kitchen for adaptation to home kitchens, have been asking for all sorts of salads lately. Three recent requests were for burrata salad from Murano Restaurant, Bar & Lounge in West Hollywood, shaking beef salad from Gingergrass in Silver Lake and roasted red and gold beet salad from Canele in Atwater Village.
Neha Sheth, a reader and self-described cheese fanatic from Los Angeles, requested a recipe for the seasonal burrata salad from Murano. The restaurant's version is a twist on the classic pairing of prosciutto and melon and makes for a bold blend of colors and flavors.
"I wanted to bring the classic flavor combination together with a modern take," says chef Kristi Ritchey. "And pink honeydew is so great right now."
The salad begins with thinly sliced pink honeydew -- or any sweet melon -- arranged in a pattern at the base of a plate. Top the melon with peppery arugula tossed in a light Champagne vinaigrette, then mound the salad with thinly sliced prosciutto. A wedge of fresh burrata cheese is nestled into the prosciutto and dressed with a little aged balsamic vinegar, extra virgin olive oil and coarse sea salt. A light sprinkling of candied pecans dots the almost-complete plate.
For extra color and flavor, finish the salad with a drizzle each of bright chive oil and rich, red vincotto. The chive oil brings a fresh -- and colorful -- herbal note to the presentation. And vincotto "is a nice vinegar alternative," notes Ritchey. "It brings acid to the plate but does not take away from the sweetness of the dish."
The shaking beef dish from Gingergrass in Silver Lake is a salad version of the Vietnamese entree. The dish, requested by reader Nicole Veirup in Sherman Oaks, works perfectly as a one-dish meal combining the hot, sauteed beef over a cool watercress salad.
Chef de cuisine Henry Nghe marinates strips of filet mignon in a traditional combination of garlic, soy sauce, fish sauce and sugar. Shortly before serving, he whisks together a light, ginger-garlic dressing that he tosses with a salad of crisp watercress and thinly sliced red onion. The beef is quickly sauteed in a wok or skillet until caramelized and aromatic, then arranged on the chilled salad and topped with chopped green onions.
For chef Corina Weibel of Canele, the flavors of Morocco serve as inspiration for her colorful beet salad, a vivid combination of red and gold beets tossed with baby carrots, tender bundles of mache (the salad green) and paper-thin slices of lemon. "The salad has a wonderful lemon flavor without being too tart," write readers Andrea Horwatt and Wendy Mitchell.
Roast the beets and blanch the carrots ahead of time and cool before assembling the salad. Use Meyer lemon slices when available; otherwise, quickly blanch thin slices of regular lemons to remove tartness. The dish is tied together with an aromatic cumin vinaigrette -- crushed cumin seeds with garlic, lemon juice and a hint of cayenne powder.
Dressing
1
In a medium bowl, whisk together the garlic, ginger powder, sugar, vinegar, soy sauce, grapeseed oil and black pepper. Set aside. Makes slightly more than one-half cup.
Salad and assembly
1
In a nonreactive container, toss the beef with 1 1/2 teaspoons of the minced garlic, the fish sauce, soy sauce and sugar. Cover and refrigerate at least 2 hours, or up to overnight.
2
Heat a large saute pan or wok over high heat and add the oil. Add the beef and sear until browned on all sides, then remove and drain on paper towels.
3
Add the remaining 1 1/2 tablespoons minced garlic and diced onions and saute for 30 seconds, until aromatic.
4
Return the beef to the pan and add the oyster sauce, shaking the pan to distribute the flavors, then remove from the heat.
5
In a medium bowl, toss the watercress with the red onions and a scant tablespoon of the dressing (enough to just coat the greens). Arrange the salad on a plate and top with the cooked beef. Garnish with the chopped green onions; serve immediately.
From Gingergrass in Silver Lake. This makes slightly more dressing than is needed for the recipe; it will keep refrigerated for 1 week.
---
Get our new Cooking newsletter.
You may occasionally receive promotional content from the Los Angeles Times.