Grilled baby new potato salad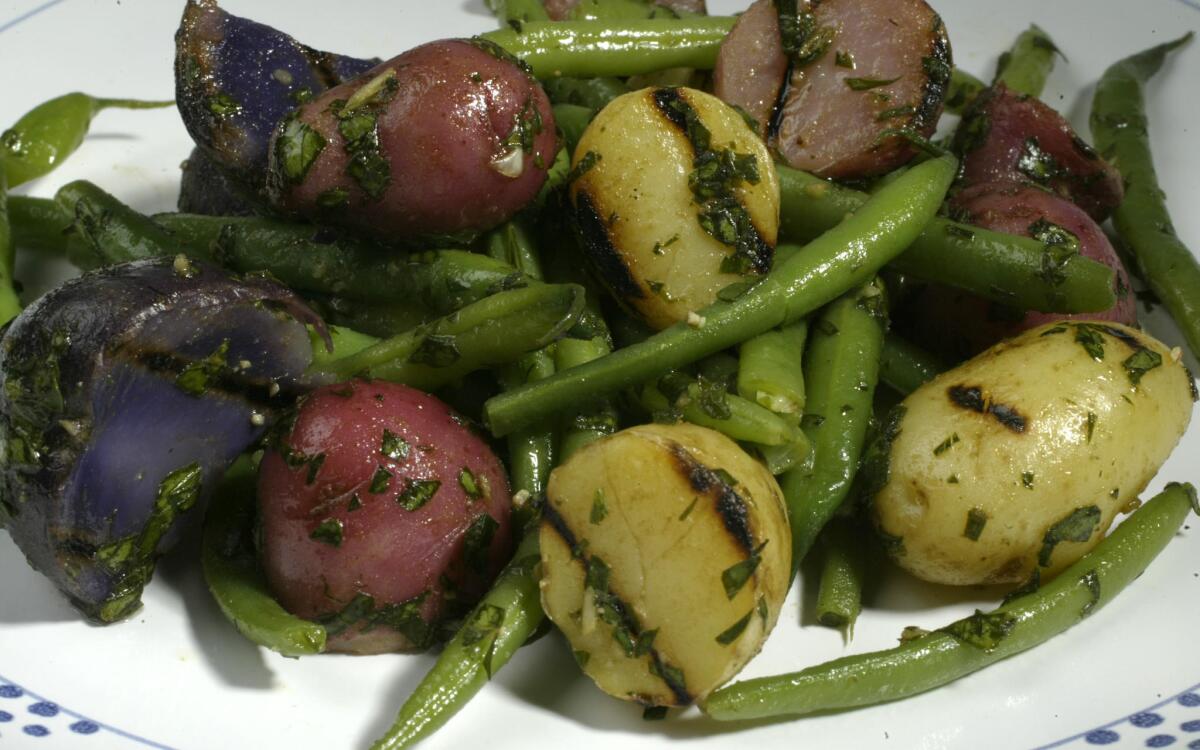 Print Recipe

Print Recipe
Grilled potatoes and green beans are tossed in a light, minty Dijon-balsamic vinaigrette for a refreshing, subtly smoky potato salad. Par cooking the vegetables before grilling them is a neat trick for ensuring that they are cooked all the way through and grilled to your liking.
From the story: Survival and success
1
In a large saucepan, bring the salted water to a boil. Add the potatoes and cook until just soft, about 3 to 5 minutes, or longer depending on the size of the potatoes. Drain into a colander and let dry on paper towels.
2
While the potatoes are boiling, bring a small pot of water to a boil. Cook the green beans until just done but still crisp, about 4 to 5 minutes. Drain immediately and rinse in cold water to stop cooking. Drain and pat dry. Set aside on a small plate.
3
Light an outdoor grill or use a stove top grill pan. Cut the cooked potatoes in half or, if they are tiny, leave whole. Spray the cut side with olive oil. Grill, cut side down, until grill marks appear.
4
While the potatoes are grilling, mix the garlic, mustard, vinegar, parsley and mint in a small bowl. Slowly whisk in the olive oil. When the potatoes are grilled and still hot, toss them in the olive oil mixture and season with salt and pepper to taste. Add the green beans. Serve at room temperature.
Adapted from the just-published cookbook "The Swedish Table," by Helene Henderson (University of Minnesota Press, $30).
---
Get our new Cooking newsletter.
Your roundup of inspiring recipes and kitchen tricks.
You may occasionally receive promotional content from the Los Angeles Times.