Grilled fresh mahi-mahi with jalapeno cilantro sauce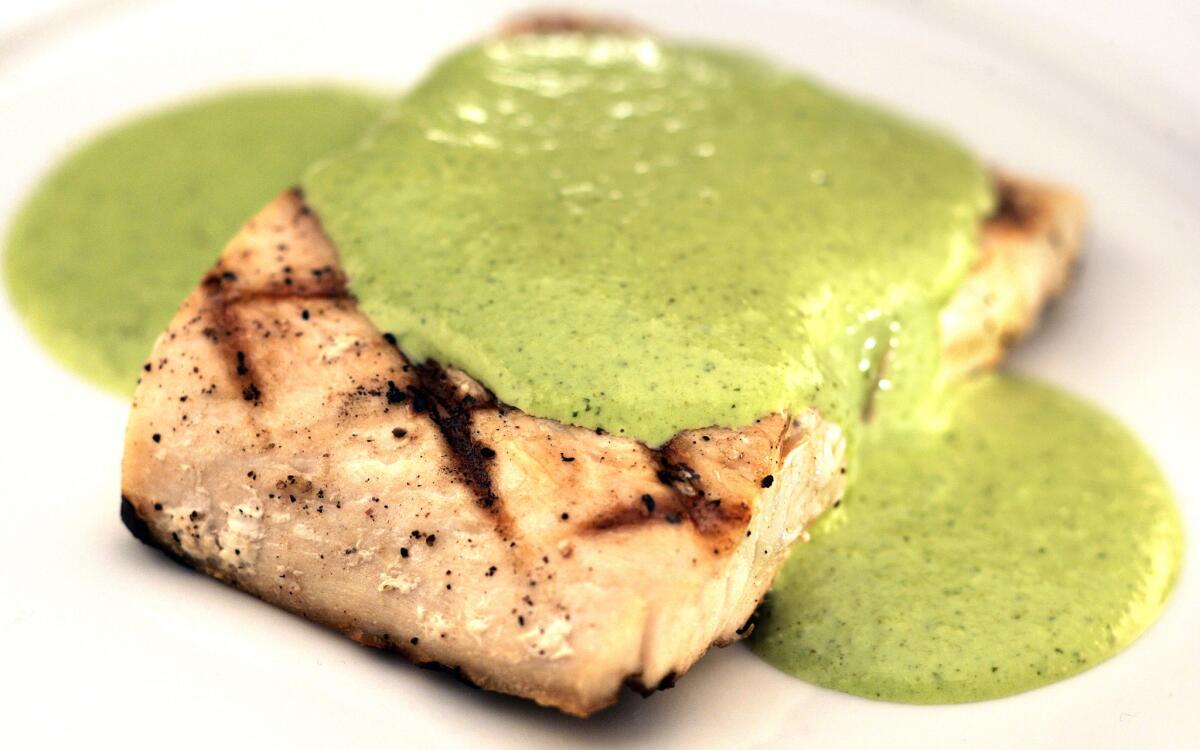 Print Recipe

Print Recipe
Dear SOS: My husband and I recently ate at Opal Restaurant in Santa Barbara and had a cilantro and jalapeno sauce served over mahi-mahi that we are still dreaming about. We tried looking online but couldn't find anything we thought was similar. Can you help get this recipe? Barbara Davilman
Studio City
Dear Barbara: We loved the pairing of fresh cilantro and jalapeno in this very rich, bright and gently spiced cream sauce, which works well served with the simply seasoned and grilled mahi-mahi.
Jalapeno cilantro sauce
1
In a large, heavy-bottom saucepan, heat the olive oil over medium high heat, then add the onions, jalapeno and garlic and cook until caramelized, about 10 minutes, stirring frequently. Stir in the white wine and cook until the wine reduces by half, 2 to 3 minutes. Stir in the heavy cream and cook over high heat until the liquid reduces by half, about 10 minutes.
2
Remove from heat and stir in the cilantro. Blend the sauce using a stand or immersion blender, then strain. Season to taste with salt and pepper. If desired, adjust the heat with Tabasco and brighten with a little lemon juice. This makes about 2 cups sauce. The sauce will keep, refrigerated, up to 2 days.
Grilled mahi-mahi and assembly
1
Brush each side of each mahi-mahi with olive oil and season with a pinch each of salt and pepper. Grill the fish over medium-high heat until firm and opaque on each side, 2 to 4 minutes (timing will vary depending on the thickness of the fillets). Plate the grilled fish, dividing the sauce among each serving. Serve immediately.
Adapted from Opal Restaurant & Bar, where it is served with a fresh herb risotto and roasted corn and wild mushroom relish.
---
Get our Cooking newsletter.
Your roundup of inspiring recipes and kitchen tricks.
You may occasionally receive promotional content from the Los Angeles Times.