Grilled Spring Carrots with Fresh Za'atar and Tahini Labneh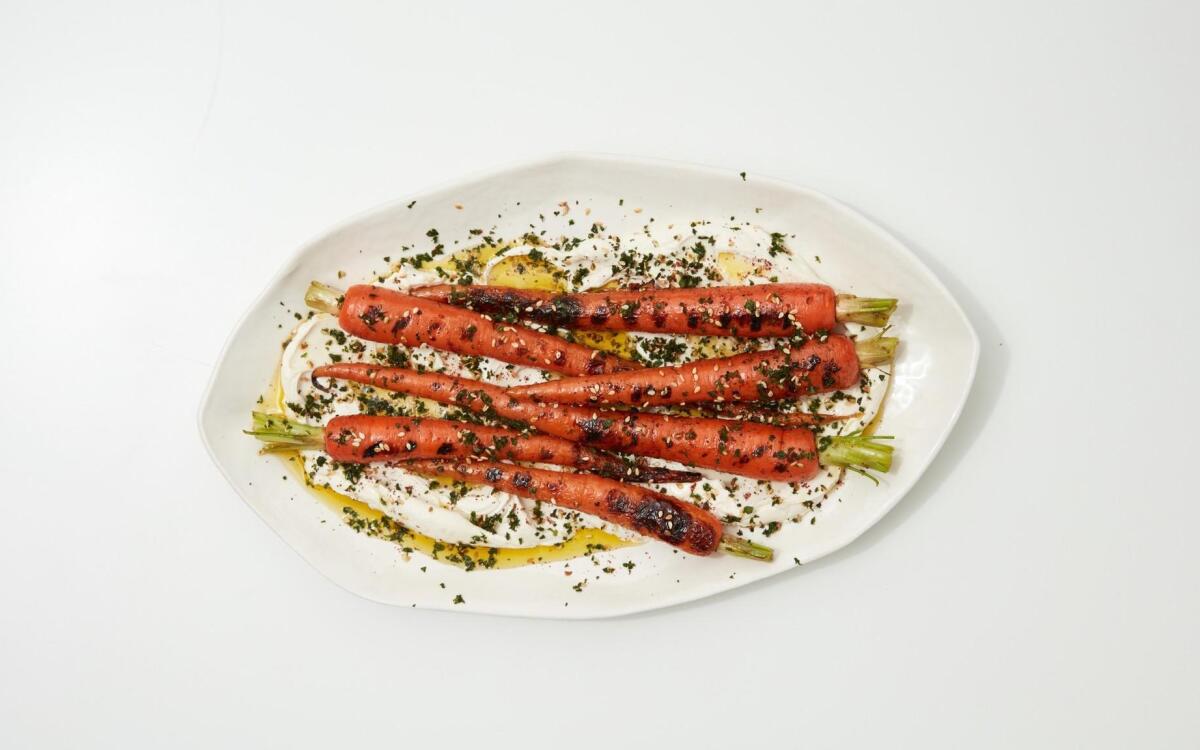 Print Recipe

Print Recipe
Thin, finger-sized farmers market carrots work best here, cooking through in just 20 minutes and concentrating their unmistakable sweetness. If you use thicker carrots, allow more time to cook them, just until a paring knife easily slides in the thickest part, and the ends are nicely caramelized and chewy. Both the za'atar and labneh sauce can be made and stored in the refrigerator for up to 3 days in advance.
From the story: A grilled carrot recipe to star in your summer barbecue
1
Remove the tops from the carrots, pick off all the leaves, then wash and dry the leaves thoroughly (you should have about 3 to 3 1/2 cups). Place all the leaves on your cutting board and finely chop (you should have about 1 1/2 cups). Place 1 cup of the finely chopped carrot top leaves into a bowl and discard or reserve the rest for another use. Stir the sesame seeds, sea salt and sumac into the carrot top leaves in the bowl and reserve the za'atar until ready to use. You can make the za'atar up to 3 days in advance and store in the refrigerator.
2
In another bowl, whisk together the labneh, tahini and 2 tablespoons olive oil. Using a microplane grater, grate the garlic into the labneh mixture and stir until evenly mixed. Season the labneh sauce with salt and pepper.
3
Prepare a charcoal grill for direct, high heat grilling or heat a gas grill to high. (Alternatively, heat a cast-iron grill pan over high heat.) Scrub the carrots clean and dry thoroughly, then place in a bowl. Add the remaining 2 tablespoons olive oil, season with salt and pepper, and toss to coat the carrots with the oil.
4
Place the carrots on the grill and cook, turning as they char lightly, until soft and blackened nicely in spots, about 20 minutes.
5
While the carrots cook, spread the labneh sauce over the bottom of a large serving platter. Transfer the cooked carrots directly from the grill to the platter, piling them up in the center. Sprinkle the carrots with some of the za'atar (you won't use it all) and drizzle with more olive oil to serve.
---
Get our Cooking newsletter.
Your roundup of inspiring recipes and kitchen tricks.
You may occasionally receive promotional content from the Los Angeles Times.