Heirloom tomato bagna cauda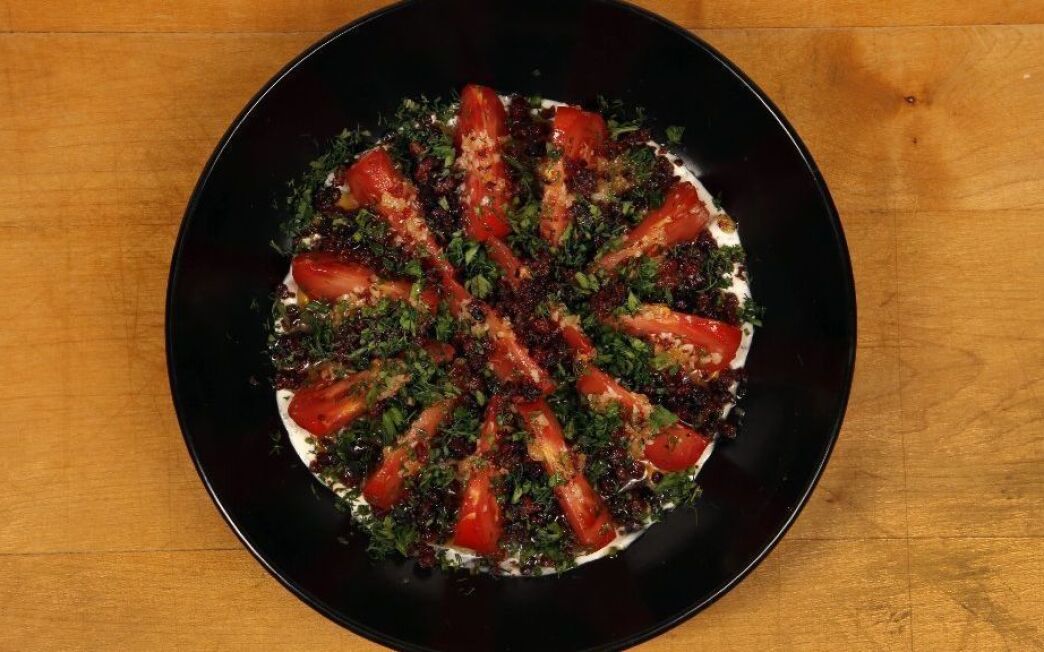 Print Recipe

Print Recipe
Marlo Van Oorschot and her husband couldn't stop thinking about the heirloom tomato and bagna cauda dish they had at Here's Looking at You in Koreatown. The dish — wedges of ripe tomatoes placed over a layer of flavored crème fraîche and topped with bagna cauda (a warm Italian sauce made from olive oil, garlic, butter and anchovies) crispy bits of lap cheong (a Chinese sausage) and fresh chopped herbs — is a dramatic array of colors and flavors. "We grow our own tomatoes and would love to know how to source and prepare the ingredients that made the tomatoes shine," she writes.
"It's kind of a play on a BLT sandwich," says chef Jonathan Whitener, "with that flair on internationalism we have here." Whitener was happy to share his recipe.
1
In a heavy-bottom saucepan, cook the olive oil, garlic and butter over moderate heat, whisking frequently, until the garlic just starts to color, about 7 minutes. Add the anchovies and cook, whisking, until the garlic is golden, 5 to 7 minutes more. Transfer the bagna cauda to a heatproof medium bowl and cool slightly. Whisk in the crushed red pepper and set aside until the bagna cauda is completely cooled, stirring occasionally. Season with ¾ teaspoon salt, or to taste.
2
Meanwhile, in a food processor, pulse the sausages until finely ground.
3
In a large skillet, combine the ground sausage with the water and cook over high heat, stirring frequently, until the water evaporates and the sausage is rendered, about 5 minutes. Add the canola oil and cook over moderately high heat, stirring constantly, until the sausage bits are browned and crisp, about 7 minutes more. Using a slotted spoon, transfer the crispy sausage to paper towels to drain.
4
In a small bowl, mix the chives with the parsley, dill and mint. In a medium bowl, whisk the Kewpie mayo with the crème fraîche, lemon juice and 1/4 cup of the mixed herbs. Season the herbed dressing with ½ teaspoon salt, or to taste.
5
Spread the herbed dressing in 8 very shallow bowls or on a platter. Arrange the tomatoes on top. Spoon some of the bagna cauda over the tomatoes, then sprinkle with the crispy sausage, remaining mixed herbs and fleur de sel. Serve right away.
Adapted from a recipe by Chef Jonathan Whitener at Here's Looking at You. Chinese sausage and Kewpie mayonnaise are available at Asian markets.
---