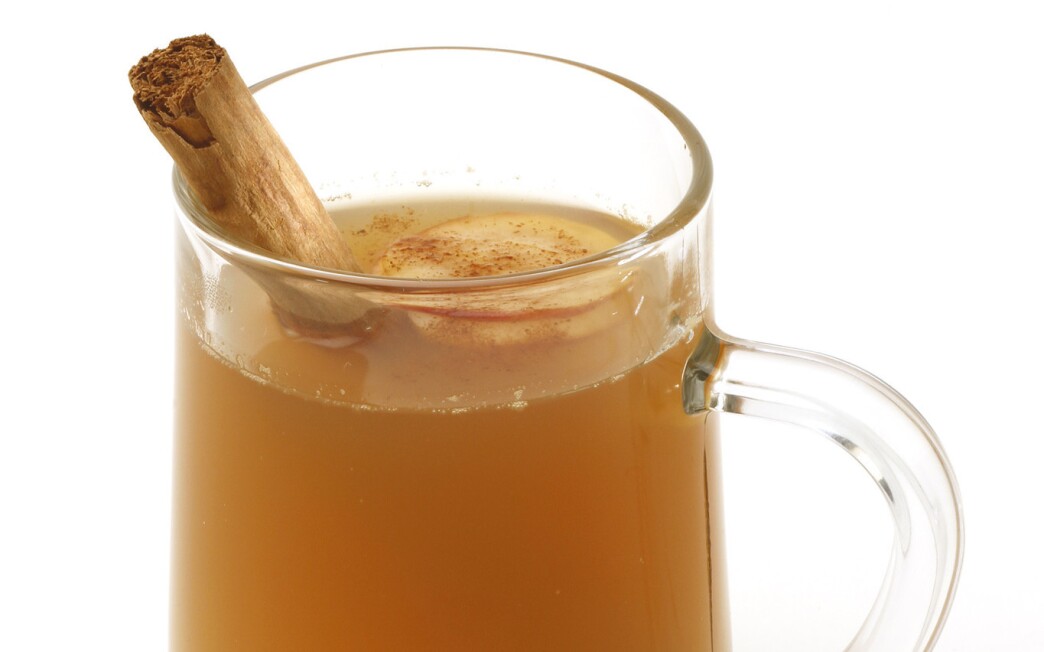 Print Recipe

Print Recipe
After last-minute shopping at two malls and a side trip to find wrapping paper only to come home and discover you've run out of Scotch tape, nothing makes the holidays happier than a good stiff drink. It's even better if it's one that's easy to concoct and uses what's in season.
And now that we're just days from turning the corner to 2011, sharing a cocktail or three with friends and family is imperative -- in a convivial setting, maybe with James Brown's "Soulful Christmas" playing, some mistletoe hanging or even balloons and streamers. (Happy New Year!)
Your liquor cabinet
Speak-easy trends may celebrate esoteric tinctures or rare liqueurs, but, fortunately, the success of a holiday cocktail doesn't rest on whether you've stocked up on unusual spirits or ingredients. Indonesian batavia arrack isn't necessary. No horehound candy (to dissolve in your rye) in your pantry? No problem. And if you don't have the time to barrel-age a couple of gallons' worth of Manhattans for six weeks before your get-together, it's OK.
You're likely to have on hand whiskey, rum, gin, vodka, tequila. And maybe, because it's the season, a bottle of ginger liqueur or pear eau de vie (allspice dram might be pushing it).
In other words, you probably already have the makings of a party.
The flavors of the season also happen to make fantastic drinks. A Champagne cocktail made with persimmon, rosemary and a little nutmeg is like Christmas and New Year's Eve all in one glass.
To help you celebrate, a dozen of L.A.'s best mixologists (including a chef) contributed recipes highlighting four seasonal flavors: pear, persimmon, cranberries and dried spices such as cinnamon, nutmeg or star anise.
Flavorful shortcuts
They don't call for days-long infusions but instead some easy-to-make simple syrups, such as the cinnamon syrup that bartender Alex Day makes for a pear- tequila cocktail called Papi Pera, or the cinnamon-allspice-vanilla syrup that Vincenzo Marianella of Copa d'Oro uses in his Nuit Rouge (ingeniously filled with cranberry-studded ice cubes).
Smitten with persimmons, 320 Main's Jason Schiffer makes a sparkling cocktail with a syrup of the fruit, and Matthew Biancaniello of the Library Bar at the Roosevelt Hotel muddles his (from J.J.'s Lone Daughter Ranch at the Santa Monica and Hollywood farmers markets) with lime and mint for a bourbon drink and garnishes it with ground espresso.
Most of the recipes can be made at the last minute, but Zahra Bates of Providence makes a cranberry compote with ginger and sage in advance. She puts it into a sugar-rimmed Santa's Sidecar but also adds it to cachaca for a Christmas caipirinha. "You or your guests could add it to almost any spirit," Bates says.
Allan Katz of Cana Rum Bar steeps agua de jamaica overnight and uses it for daiquiris, margaritas and gimlets. "It's tasty on its own," Katz says, "and also makes an awesome additive to ... basically anything."
If you want an easy, light version of eggnog, Alex Straus' Hemingway's nog is it -- sort of a cross between eggnog and a rum fizz -- made not with eggs but creme fraiche.
So here they are, 12 cocktail recipes to get you through the rest of the, um, decade.
1
Into an 8-ounce glass mug, pour the Apple Jack and maple syrup. Top off with the hot apple cider, and stir gently with a spoon. Garnish with slices of crab apple, freshly grated cinnamon and a cinnamon stick.
Adapted from Marcos Tello, 1886. For the apple juice, peel and core any type of apple and feed through a juicer. Strain and store, covered, in the refrigerator. Alternatively, unfiltered fresh apple juice can be found in the refrigerated section of well-stocked supermarkets.
---
Get our new Cooking newsletter.
You may occasionally receive promotional content from the Los Angeles Times.