Instant Pot Hatch Chile Pork Tacos With Kohlrabi Mango Slaw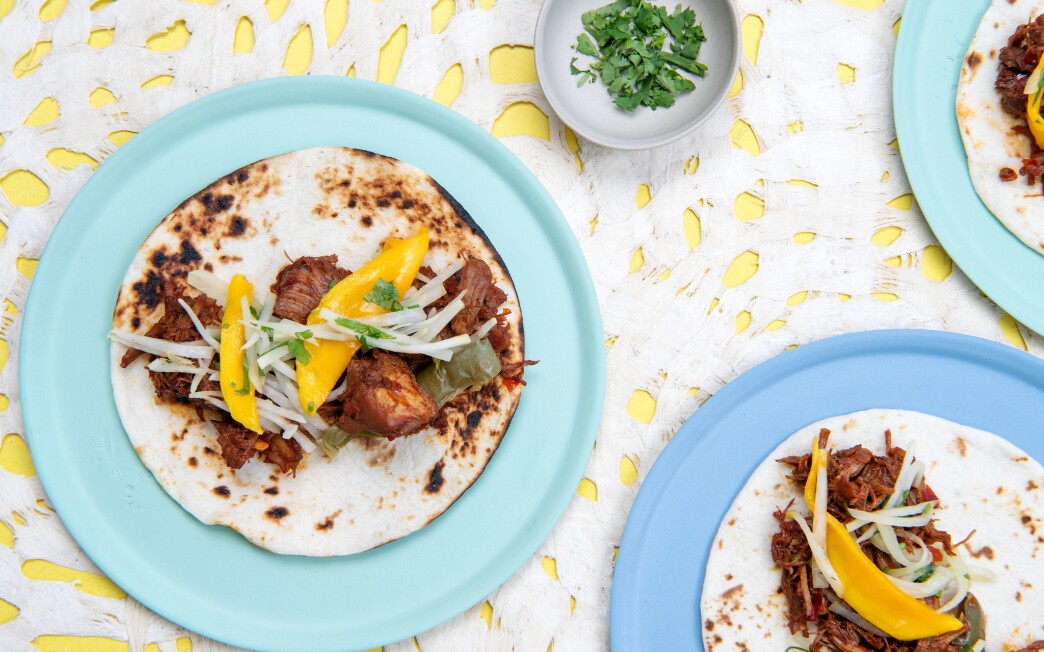 Print Recipe

Print Recipe
Fresh or roasted Hatch chiles balance the richness of the pork while dried ones give the sauce an earthy depth. Since the arrival of the chiles coincides with hot days, this recipe uses an Instant Pot to quickly cook the meat to juicy tenderness without heating up the kitchen. (A pressure cooker can do the same.)
From the story: The once-a-year ingredient you should order now
1
Cut the bone out of the pork and reserve. Cut the meat into 2-inch chunks. Put the pork bone and meat in an Instant Pot, along with the dried and fresh Hatch chiles, the garlic and 1 ½ tablespoons salt. Toss to mix, then seal the Instant Pot and cook on high pressure according to the manufacturer's instructions for 40 minutes.
2
Meanwhile, zest the limes into a large bowl and squeeze in ¼ cup juice. Add the kohlrabi and a pinch of salt and toss to coat. Let stand for at least 30 minutes.
3
When the steam is releasing from the Instant Pot, gently fold the mango and cilantro into the kohlrabi slaw and season to taste with salt.
4
Using a slotted spoon or tongs, transfer the pork to a large, well-seasoned cast iron or nonstick skillet. Spread in an even layer. Set over medium-high heat and cook until the meat crisps and browns, 3 to 5 minutes. While the meat browns, remove the stems from the dried Hatch chiles and transfer to a blender, along with ½ cup cooking liquid. If there are any whole garlic cloves remaining, add them as well. Puree until smooth, adding more liquid a tablespoon at a time, if needed to blend.
5
Pour the chile mixture into the skillet. Stir until the pork is evenly mixed. Season to taste with salt. If the fresh chiles have remained intact, cut them into strips. Serve the pork with the slaw, chile strips and tortillas to fold into tacos.
Make Ahead:
The pork can be refrigerated in its sauce in an airtight container for up to 3 days. Reheat before serving. The slaw can be refrigerated in an airtight container for up to 1 day. Toss well before serving.
---
Get our new Cooking newsletter.
Your roundup of inspiring recipes and kitchen tricks.
You may occasionally receive promotional content from the Los Angeles Times.