Jumbo lump crab cakes from Gulfstream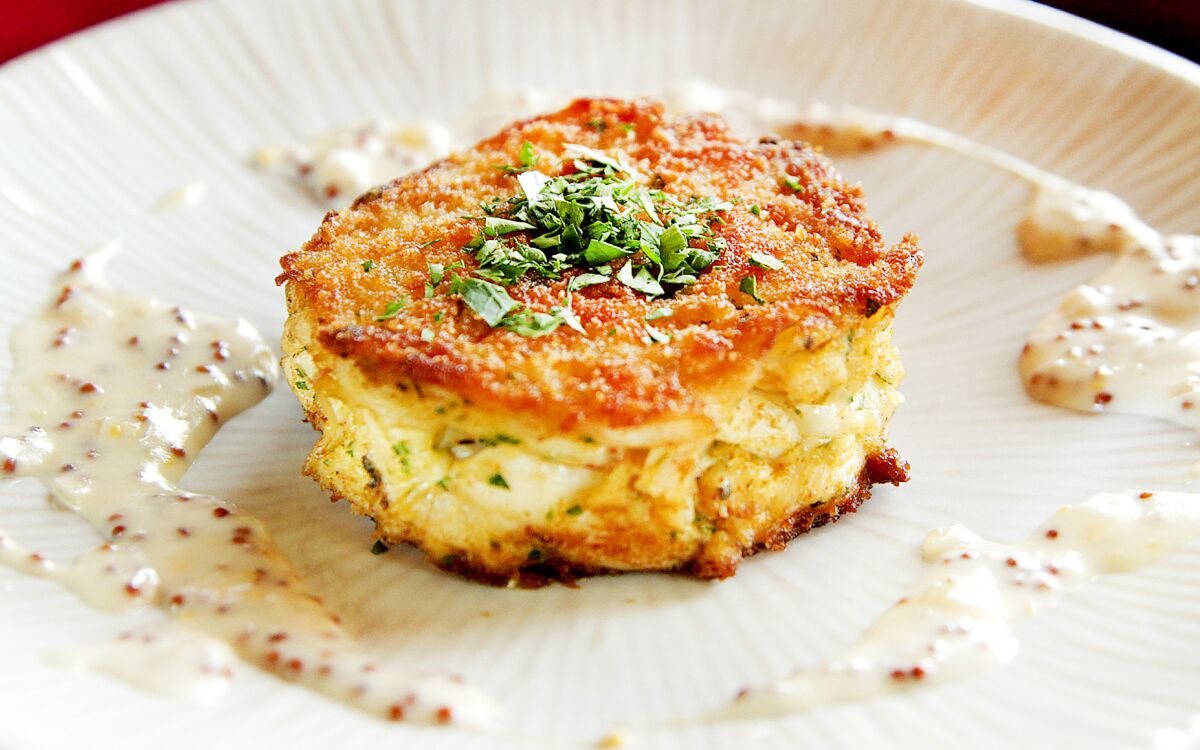 Print Recipe

Print Recipe
Reader Margaret Neldner can't stop thinking about the crab cakes she's enjoyed over the years at Gulfstream in Newport Beach. "I eat crab cakes everywhere and these are by far the outstanding ones," she writes. "I make a pretty good imitation, but would love to have the original recipe."
Generous in size and with only a thin coating of crisp breadcrumbs, Gulfstream uses one-quarter pound of lump crabmeat in the making of each cake, flavoring the mixture with a sprinkling of homemade blackening spice and binding with just a little egg and mayonnaise. Each tender crab cake is served over a rich, whole-grain mustard sauce.
Perfect for a dinner party, the cakes and sauce can be made ahead of time, then finished shortly before serving. Gulfstream was happy to share the recipe so you can enjoy a taste of the restaurant at home.
Blackening spice mix
1
In a small bowl, combine the paprika, oregano, salt, garlic powder, onion powder, cayenne pepper, black pepper and sugar. This makes about 1 tablespoon spice mix, more than is needed for the remainder of the recipe; the mix will keep, sealed in an airtight container at cool room temperature, for weeks.
Mustard sauce
1
In a small saucepan, melt the butter over medium heat. Add the shallot and cook, stirring often, until softened, about 5 minutes. Add the flour and cook, whisking often, until golden and just beginning to smell nutty, about 3 minutes. Whisk in the wine, bring to a boil and when just thick, 30 seconds to 1 minute, whisk in the broth. Bring to a boil and cook until thick enough to coat a spoon, 3 to 4 minutes. Add the cream, bring to a simmer and cook, whisking occasionally, until the mixture is again thick enough to coat a spoon, 3 to 4 minutes. Remove from heat, whisk in mustard, season with salt to taste, cover and keep warm. This makes about 1 1/2 cups of sauce.
Crab cakes
1
In a small bowl, beat the egg just to blend. Remove 2 tablespoons of the egg. Reserve the remaining egg for another use.
2
In another bowl, mix together the 2 tablespoons of beaten egg, mayonnaise, parsley, blackening spice and a pinch of salt. Fold in the crabmeat just until coated, taking care not to break it up too much. Divide the crab mixture into 4 equal portions.
3
Place a 3-inch ring mold or biscuit cutter on a parchment-lined baking sheet and pack one portion of the crab mixture tightly into the mold. Smooth the top and carefully remove the ring mold. Repeat with the remaining 3 portions. Cover with plastic wrap and chill until firm, at least 1 hour and preferably overnight.
4
Heat the oven to 400 degrees. In a large, ovenproof, nonstick skillet heat 1 tablespoon of oil and 1 tablespoon of butter over medium heat. Working with 2 crab cakes, sprinkle 1 teaspoon of breadcrumbs over each and carefully place, crumb side down, in the skillet. Cook, occasionally swirling the fat in the pan, until the bottom sides of the crab cakes are deep, golden brown, 5 to 7 minutes. Sprinkle 1 teaspoon of breadcrumbs over the top sides of each crab cake, then very carefully turn over (you may need to use 2 spatulas as cakes will be very delicate). Cook until breadcrumbs are golden, 2 to 3 minutes. Transfer to a plate. Use paper towels to wipe out the skillet and repeat with remaining oil, butter, crab cakes and breadcrumbs.
5
When the second batch of crab cakes is done, wipe the skillet clean, return the crab cakes from the plate to the skillet and transfer to oven and heat until cooked through, 5 to 7 minutes.
6
Serve crab cakes over mustard sauce topped with parsley.
---
Get our new Cooking newsletter.
Your roundup of inspiring recipes and kitchen tricks.
You may occasionally receive promotional content from the Los Angeles Times.