Kabocha Squash and Chicken Hot Pot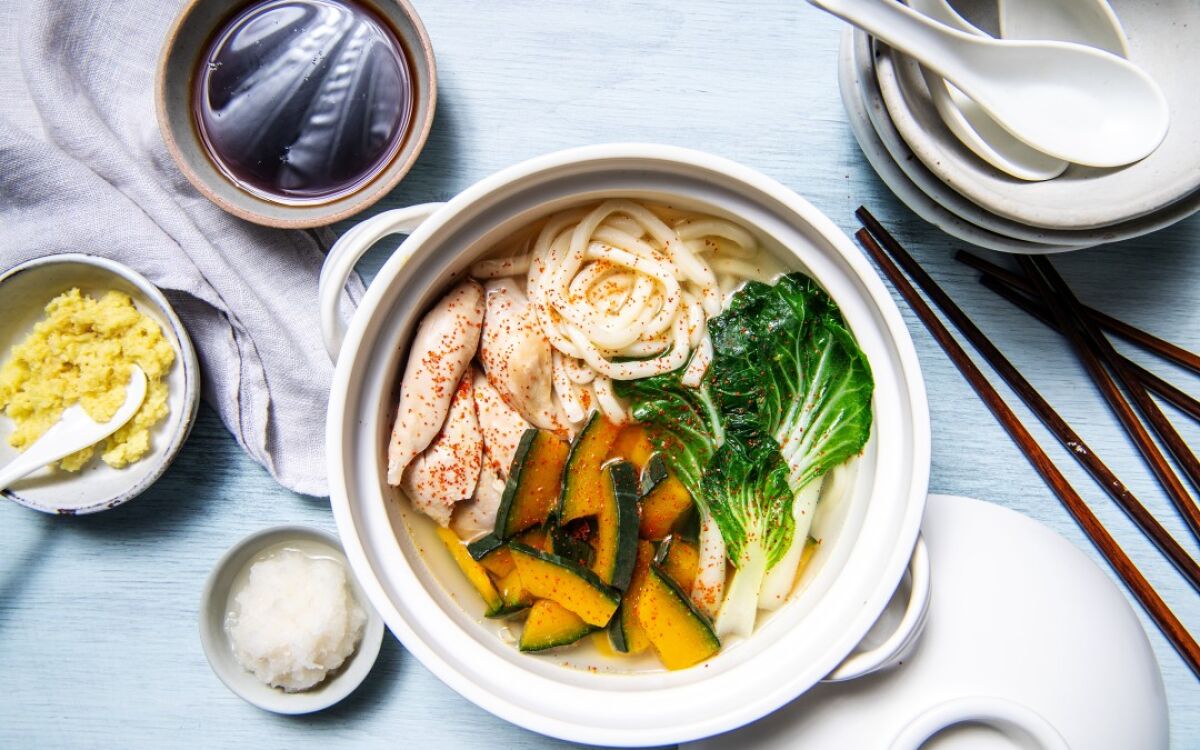 Print Recipe

Print Recipe
1
Put the chicken in a large donabe, Dutch oven or saucepan and cover with 8 cups cold water. Bring to a boil over high heat. Add the salt, then reduce the heat to medium-low. Simmer gently for 20 minutes, skimming any foam that rises to the surface.
2
Meanwhile, make the ponzu sauce: Combine the soy sauce and vinegar in a small saucepan and bring to a boil over high heat. Remove from heat and stir in the lemon juice, then cool to room temperature and reserve.
3
Prepare the vegetables: Seed the squash and cut into 2-inch-wide wedges. Cut each wedge into ⅓-inch-thick slices. Trim the bok choy and cut larger leaves in half. Peel the daikon and ginger and grate on a Microplane zester or Japanese ginger grater into separate bowls.
4
Transfer the chicken to a plate; keep the broth simmering. Add the squash to the broth and simmer until tender, 8 to 10 minutes. While the squash cooks, prepare the udon according to the package's directions. Discard the chicken skin and bones. Pull the meat into large pieces and divide among 4 serving bowls along with the udon.
5
Stir the bok choy into the simmering soup and cook until just wilted and bright green, about 1 minute. Divide the vegetables and broth among the bowls with the chicken and sprinkle with togarashi. Serve with the daikon, ginger and ponzu sauce, seasoning each bowl or spoonful to taste.
Get our new Cooking newsletter.
Your roundup of inspiring recipes and kitchen tricks.
You may occasionally receive promotional content from the Los Angeles Times.