Lentils with kale and butternut squash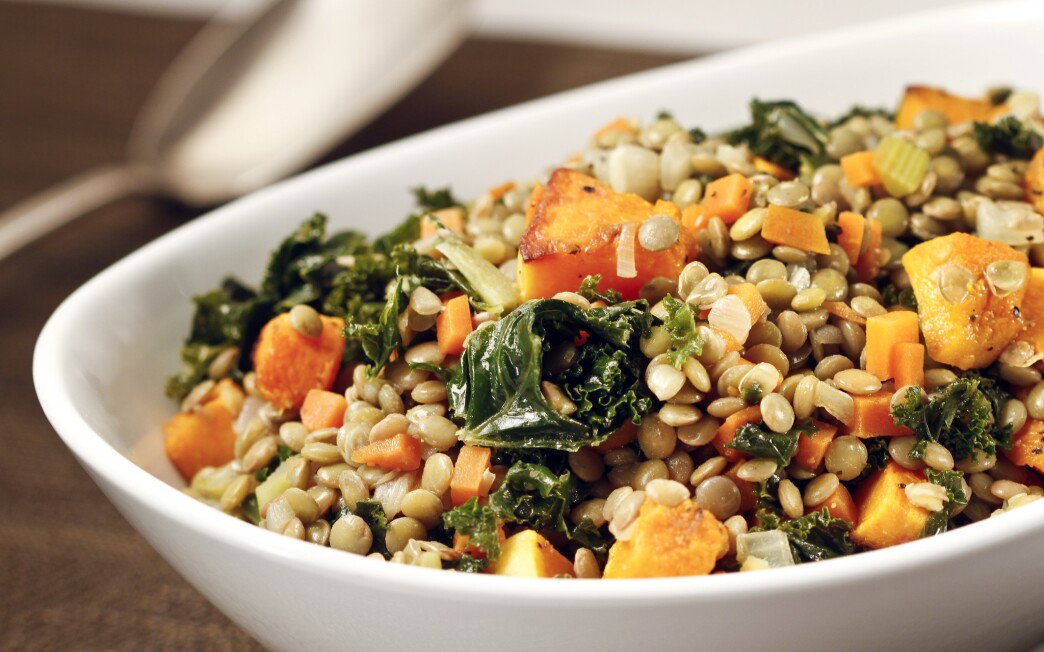 Print Recipe

Print Recipe
Plain brown supermarket lentils are about the same firmness as the far more expensive Du Puys and other exotic lentils. The flavor, although not quite as rich as the exotics, is certainly more than acceptable. Even the most expensive lentils don't cost that much in the grand scheme of things, so I figure $3.50 a pound for the Umbrian lentils is a small enough price to pay for the difference in quality, but it's good to know that you can get a really delicious lentil for less than half that price right in your neighborhood.
1
Heat the oven to 450 degrees. Peel and seed the squash and cut it into roughly three-fourths-inch dice. Line a jellyroll pan with aluminum foil and mound the squash in the center. Drizzle with 1 tablespoon olive oil, sprinkle with cumin, salt and pepper, mix well and arrange in a single layer. Roast until the squash is tender enough to be pierced with a sharp knife, about 15 minutes.
2
Place the lentils in a medium saucepan and cover with water by 2 inches. Season generously with salt and bring just to a boil. Reduce to a simmer and cook until the lentils are tender but firm, about 20 minutes. Drain, rinse well, stir in the vinegar and salt and pepper to taste.
3
While the lentils are cooking, heat 2 tablespoons olive oil in a large skillet over medium heat. Add the carrot, celery, onion and dried red pepper flakes, and cook until the onions and celery are translucent, about 5 minutes. Rinse the kale under water and add it, still dripping, to the skillet in heaping handfuls. Add the minced garlic and salt to taste, and stir to mix well.
4
Cover the pan, leaving the lid ajar, reduce the heat to low, and cook, stirring occasionally, until the kale is very soft, dark and frazzled looking, about 30 minutes. It should be very sweet.
5
Stir the lentils into the cooked kale, taste and adjust seasoning for salt, pepper and vinegar. Gently stir in about 2 cups of the roasted squash before serving.
---
Get our new Cooking newsletter.
You may occasionally receive promotional content from the Los Angeles Times.