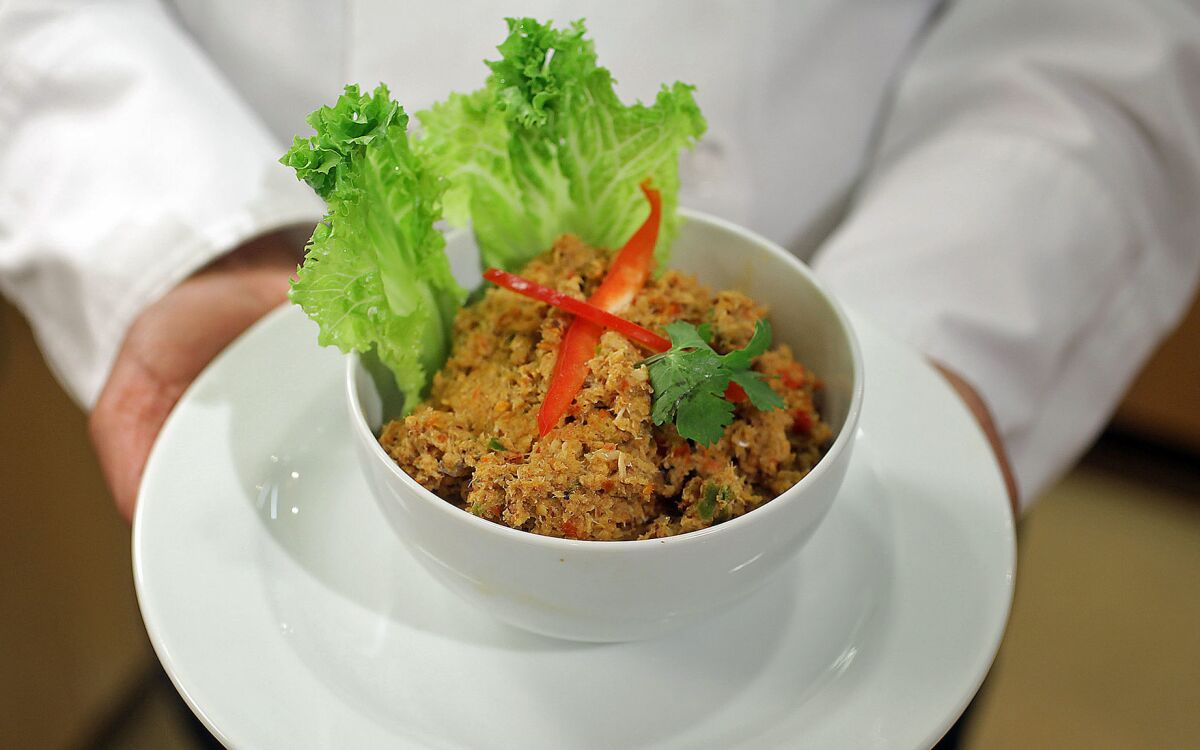 Print Recipe

Print Recipe
"Oh, my gosh, I have to show you this dish! It's so fast and easy — and perfect for dieting!" Jazz Singsanong said breathlessly, scrolling through the Instagram account on her iPhone. She was looking for a photo of one of her restaurant's latest dishes, a simple fish dip, served alongside a platter of colorful vegetables and herbs.
Singsanong, 60, co-owns the celebrated Thai restaurant Jitlada in East Hollywood with her brother, chef Tui Sungkamee, 63. Sungkamee is the creative force behind the restaurant's almost 400 dishes; Singsanong runs the front of the house, often posting photos of food as it comes out of the kitchen, her social media a virtual menu of the southern Thai dishes they know from home, the Nakhon Si Thammarat province of Thailand.
"Just a few ingredients," she exclaimed. "Let us come to the Test Kitchen to make it. Your readers will love it!"
Recipe: Nam prik pla (fish dip)
Thus Singsanong and Sungkamee recently came to The Times' Test Kitchen with a bag of ingredients and a few tools, including Sungkamee's heavy mortar and pestle. They unpacked and settled in at one of the counters near the stove, setting up a wok and quickly chopping and arranging ingredients near the stove.
Sungkamee unwrapped a couple of whole striped bass, seasoning them with a sprinkling of Thai chile powder, fish sauce and a squeeze of lime as he heated a grill. He then wrapped them in foil and set them over the grill to cook for 10 to 15 minutes. As the fish cooked, he heated a wok to make a chile paste.
"The wok is very important in Thai cooking. It's very fast," said Sungkamee. He added a little oil, watching it shimmer in the hot pan, then stirred in a handful of sliced garlic and onion. Unlike a lot of Western cooking, in which garlic is just cooked until it is aromatic, this garlic cooks much longer, to a rich deep brown, drawing out flavors that are part of the foundation of much Asian cooking. "The burning is where the flavor is," he said as he stirred.
Sungkamee added a handful of Thai chiles, then a spoonful of Thai chile powder, tasting the mixture. "It's all up to you. You want more heat, add more. Less heat, add less." Satisfied, he removed the mixture to the mortar, slowly pounding it to a paste.
As her brother worked, Singsanong said that the paste could be made in a food processor or blender but that the flavor was best if ground slowly in a mortar. "We originally did this with no machine. It's better old-school."
When the paste was ready, Sungkamee checked the fish, noting it was done when the skin peeled easily and the flesh was firm and opaque. He flaked the fish, careful to pick out any bones, then ground it using the mortar and pestle. Singsanong stressed that, while they were making this dip using the bass, other fish, or even ground chicken or tofu, could be substituted. They've even made the dish using ground grilled eggplant.
To finish the dip, Sungkamee fired up the wok again, heating a little more oil. He added a spoonful of chile paste, then the ground fish, stirring to combine the flavors. After a couple of minutes, he began to taste it, adjusting the flavorings to his liking: a little fish sauce to season, a squeeze of lime to brighten the flavors and add some acid, a touch of sugar to sweeten, additional chile paste for heat.
While he cooked, Singsanong arranged a platter with wedges of cabbage, crisp lettuce leaves, fresh serrano chiles, cilantro and basil, sliced cucumber, strips of fresh red bell pepper and lime wedges. She said the dish could also be served with rice. As she finished, Sungkamee spooned the dip into a bowl. Simple indeed.
Chili paste
1
Heat a wok over medium heat until hot. Add the oil, then the garlic and onion, and cook, stirring frequently, until fragrant and beginning to brown. Add the chiles and continue to stir-fry until the chiles are softened and everything is well-browned, 8 to 10 minutes. Stir in a tablespoon of chile powder to taste for added heat, if desired. Remove from heat and place in a large mortar. Pound with a pestle until the mixture is reduced to a paste, 10 to 15 minutes. The paste can also be made using a food processor or blender, but the flavor is best using a mortar and pestle. Set the paste aside.
Grilled fish
1
Heat a grill or grill pan over medium heat until hot. Season the fish with a light sprinkling each of chile powder, fish sauce and lime juice. Wrap the fish in foil and place on the grill (if using a pan, cover the pan with an inverted roasting pan to contain the heat. Grill until the skin peels away easily and the flesh is firm and opaque, 10 to 15 minutes, depending on the size of the fish. Remove from heat, skin the fish and separate the meat from the bones, checking to make sure any small bones are removed. Place the meat in a large mortar, and, using the pestle, pound the meat until it is ground.
Boiled cabbage
1
Cook the cabbage in a small pot of simmering water until softened, about 5 minutes. Drain well and set aside.
Nam prik pla
1
Heat a wok over medium heat until hot. Add the oil, and when it begins to shimmer, add 1/3 of the chile paste. Stir-fry the paste until fragrant and the paste begins to brown, 2 to 3 minutes. Add the ground fish and continue to cook, stirring frequently to marry the flavors. Continue to cook for several more minutes, tasting frequently, and continuing to flavor as the fish dip cooks: fish sauce will help to season the dish as if using salt, lime juice will brighten the dish and add a hint of sour flavor, a touch of sugar will sweeten with notes of caramel, and additional chile paste will add more heat.
2
Remove from heat and place the dip in a serving bowl.
3
On a large plate or small platter, arrange the condiments: wedges of fresh and boiled cabbage, lettuce leaves, chiles, cilantro and basil, sliced cucumber, bell pepper and lime wedges. Serve the condiments alongside the dip.
Adapted from a recipe by Tui Sungkamee and Jazz Singsanong of Jitlada Restaurant in Hollywood. The fish can be substituted with chicken, tofu, shrimp and even eggplant; simply grill the meat or vegetable, then grind before completing the dish. The dish can also be served with steamed rice if desired.
---
Get our new Cooking newsletter.
Your roundup of inspiring recipes and kitchen tricks.
You may occasionally receive promotional content from the Los Angeles Times.