Olive oil cake with creme fraiche and candied tangerines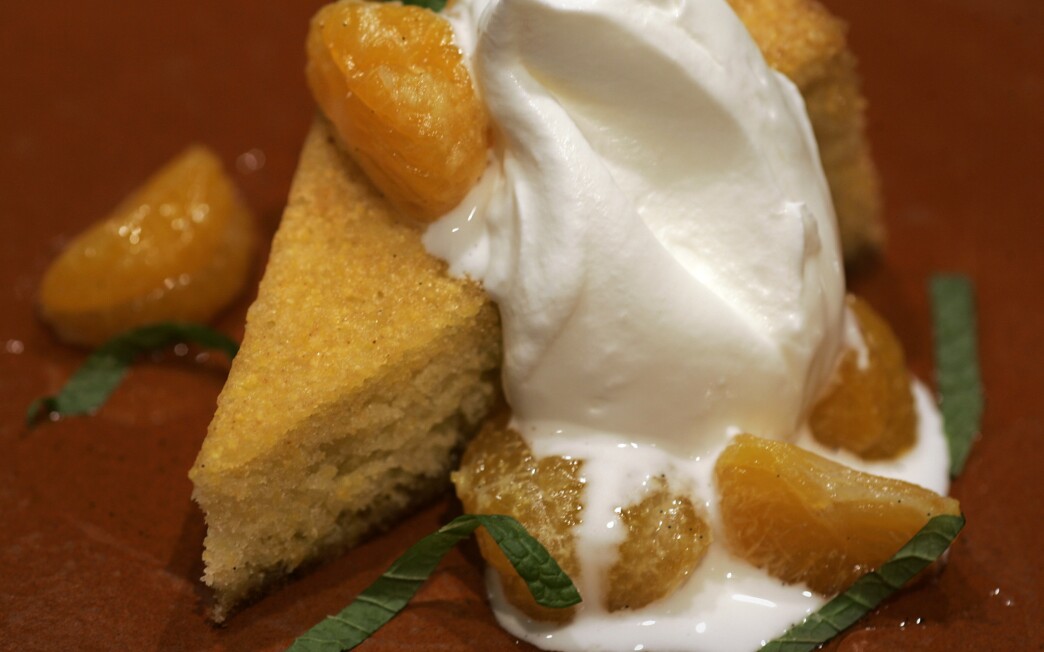 Print Recipe

Print Recipe
A bit of fine couscous gives this cake a surprising texture. You can bake the cake the day before you want to serve it and leave preparing the garnishes for the day of.
From the story: Sunday supper, with L.A. sparkle
Candied tangerines
1
Slice the vanilla bean in half lengthwise and use a paring knife to scrape the seeds and pulp of one-half of the bean into a medium saucepan. Add half of the vanilla pod, the sugar and the water and bring to a boil over medium-high heat.
2
Meanwhile, remove the large white veins, or pith, from the tangerine segments.
3
Reduce the heat to low and add the tangerines to the syrup. Simmer the fruit until the tangerines look a little puffy and shiny, 3 to 5 minutes.
4
Strain the mixture over a bowl and discard the vanilla pod. Return the liquid to the pan and reduce over medium-high heat until it's slightly thickened and coats the back of a spoon.
5
Allow the syrup to cool completely and gently stir in the tangerines.
Cake and assembly
1
Heat the oven to 375 degrees. Brush a 10-inch round cake pan with 1 tablespoon olive oil.
2
Sift the flour and baking powder together and then stir in the couscous and salt. Combine 1 cup olive oil and the brandy in a small bowl.
3
Using a stand mixer fitted with the whisk attachment, beat the eggs, yolks and sugar on high speed for 7 minutes. Remove the bowl from the mixer and alternate folding in the dry and wet ingredients, a third at a time. Pour the batter into the prepared cake pan. Tap the pan on the counter three times to remove any air bubbles.
4
Bake until the cake begins to pull away from the sides of the pan and a knife inserted into the center comes out clean, about 30 minutes. The cake should be golden brown and spring back slightly when you touch the center. Cool the cake on a rack for at least 15 minutes.
5
Using a stand mixer fitted with the whisk attachment, whip the cream and creme fraiche together to soft peaks.
6
Cut slices from the cake and place them on dessert plates. Spoon some of the candied tangerines and syrup over each piece and dollop with the whipped cream.
From "Sunday Suppers at Lucques" by Suzanne Goin.
---
Get our new Cooking newsletter.
You may occasionally receive promotional content from the Los Angeles Times.